Kaatialaite [Fe(H2AsO4)3·5H2O] is a ferric arsenate mineral found in Finland. It is a ferric arsenate mineral. It was named after the type locality in the Kaatiala pegmatite in Finland. It is a rare mineral that occurs in granite pegmatites and in oxidized silver-arsenic veins in gabbro. Additional localities including in Germany, the Czech Republic, and the United States.
General Information
Category: Arsenate mineral
Formula: [Fe(H2AsO4)35H2O]
Crystal system: Monoclinic (Unknown space group)
Kaatialaite is Not Radioactive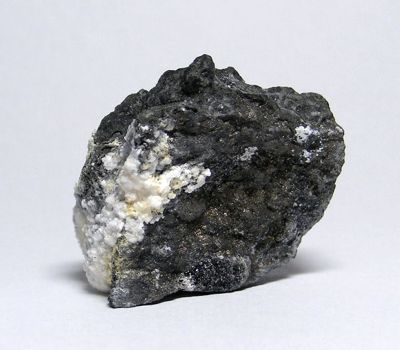 Fig: Kaatialaite
Properties
The water content of the mineral is variable depending on relative humidity. It will also become cloudy upon exposure to light. Associated minerals include arsenolite, lollingite, calcite, and gypsum.
Color: Greenish blue, gray, yellow, white
Streak: White
Diaphaneity: Transparent
Specific Gravity: 2.64
Luster: Earthy
Transparency: Translucent
Occurrence: A secondary mineral in a granite pegmatite (Kaatiala pegmatite, Finland); in an oxidized Ag–As vein in gabbro (Niederbeerbach, Germany).
Association: Arsenolite, l¨ollingite, calcite, gypsum (Kaatiala pegmatite, Finland).
Information Source: