Moolooite is a rare blue-green mineral, a hydrated copper oxalate with an orthorhombic crystalline structure. It is a mineral with the formula Cu++(C2O4)·n(H2O) (n<1) (copper oxalate hydrate). It was named for the original locality on Mooloo Station, Australia.
It is a naturally occurring hydrated copper oxalate from Western Australia It was discovered by Richard M Clarke and Ian R Williams in Bunbury Well, Mooloo Downs station, Murchison, Western Australia in 1986.
General Information
Category: Oxalate mineral
Formula: (repeating unit) Cu(C2O4)·0.4H2O
Strunz classification: 10.AB.15
Crystal system: Orthorhombic
Crystal class: Dipyramidal (mmm)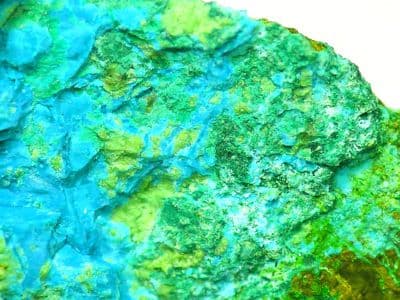 Moolooite – a rare blue-green mineral
Properties
It has an orthorhombic crystalline structure and is formed by the interaction of bird guano with weathering copper sulfides. It is used in plastics to color them blueish-green.
Color: Blue, Green.
Density: 3.43
Diaphaneity: Transparent
Habit: Microscopic Crystals – Crystals visible only with microscopes.
Luster: Earthy (Dull
Streak: light blue
Occurrences
On an outcrop of quartz, thought to have formed by the reaction between bird guano and soluble secondary copper minerals (Mooloo Station, Australia); in a mine shaft near tree roots (Sainte-Marie-aux-Mines, France). It occurs as micro-concretionary crusts and powder in cracks and solution cavities resulting from sulfide oxidation.
A second occurrence is reported from the Sainte-Marie-aux-Mines silver mining district of Vosges Mountains, France.
Association: Opaline silica, sampleite, libethenite, brochantite, antlerite, atacamite, whewellite, chalcopyrite, digenite, covellite, gypsum, barite, jarosite (Mooloo Station, Australia).