The Abacos Islands is a string of quiet Bahamian islands, are located 186 miles east of Palm Beach, Florida and 180 miles off the South Florida coast, and just to the northwest of Eleuthera. They comprise the main islands of Great Abaco and Little Abaco, along with smaller barrier cays. The northernmost are Walker's Cay, and its sister island Grand Cay. To the south, the next inhabited islands are Spanish Cay and Green Turtle Cay, with its settlement of New Plymouth, Great Guana Cay, private Scotland Cay, Man-O-War Cay, and Elbow Cay, with its settlement of Hope Town. Southernmost are Tilloo Cay and Lubbers Quarters. Another of note off Abaco's western shore is onetime Gorda Cay, now a Disney Island and cruise ship stop and renamed Castaway Cay. Also in the vicinity is Moore's Island.
The pace is decidedly (and intentionally) slower here than in Nassau or Freeport, with the main attractions being the crystal-clear waters and secluded beaches of the Atlantic Ocean and The Sea of Abaco. Great Abaco, at 120 miles in length, is the largest island in the Abaco chain and is home to an abundance of wildlife, including wild horses, boars, and the noted Abaco Parrot. Small, offshore barrier islands create the protected Sea of Abaco, ideal for boating with countless deserted sand beaches and romantic "out island" villages. The Abaco Club is a secluded enclave situated on Winding Bay, nestled amongst the palms on the island's western shore.
On the Big Island of Abaco is Marsh Harbour, the Abacos' commercial hub and the Bahamas' third largest city, plus the resort area of Treasure Cay. Both have airports. A few mainland settlements of significance are Coopers Town and Fox Town in the north and Cherokee and Sandy Point in the south. Administratively, the Abaco Islands constitute seven of the 31 Local Government Districts of the Bahamas: Grand Cay, North Abaco, Green Turtle Cay, Central Abaco, South Abaco, Moore's Island, and Hope Town.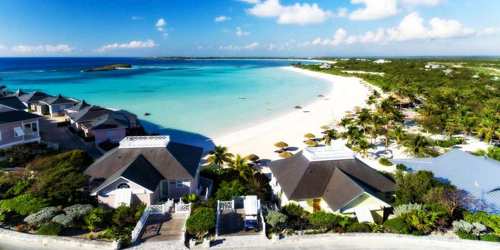 Almost 300 kilometers east of Florida, the beautiful Abacos Island, in the Bahamas, offer some of the world's best waters for boating and sailing. These peaceful Atlantic islands, also called the Out Islands or Family Islands, seem a world away from the crowded tourist strips of nearby Florida, with their secluded pine-fringed beaches; flourishing coral reefs; and sleepy fishing villages, where golf carts and boats are the main mode of transport. British Loyalists settled these islands, and you can witness this heritage in the cute and colorful colonial cottages lining the narrow streets.
The Abacos are truly heaven on earth for boaters, sailors, snorkelers, divers, and fishermen. Whether visitors are looking to cruise amongst the islands and cays in search of a beach to call their own for an afternoon, or to go diving amongst the brilliant tropical fish while visitors explore wrecks or caves, the aquamarine waters around these islands are brimming with possibilities. Bonefishing is a particular favorite of Abaco visitors, and there are excellent bonefishing waters within minutes of the Club.
The Abaco Islands consist of limestone with some elevation and are protected on the ocean side by the third-largest barrier reef in the world. The cays are mostly green with mangroves and white-sand beaches. Most of the islands are uninhabited. The Abaco Islands and their cays have been called Out Islands, Family Islands and Friendly Islands. These Islands were first inhabited by the Lucayans. The first European settlers of the islands were Loyalists fleeing the American Revolution who arrived in 1783, as was also the case at Cat Island. These original Loyalist settlers made a modest living by salvaging wrecks, by building small wooden boats, and by basic farming.
The Great and Little Abaco islands are accompanied by a long chain of smaller islands ringing the eastern side of Abaco Island. All of these islands together are many times referred to as "The Abacos." All of these islands are a part of what is referred to as the "Bahamas Out Islands" or the "Family Islands." Some of the more notable Abaco islands are Elbow Cay, Green Turtle Cay, Man O War Cay, Great Guana Cay, Treasure Cay, Lubbers Quarters and Tilloo Cay some 100 plus Cays and small islands in all! It's not too hard to find that perfect beach for a picnic lunch.
The Abacos are located just North of the Tropic Zone, in the general area of 26° North and 77° West. These islands are a combination of coral formations and relatively flat limestone. One of the more striking features of the Abacos is the clear glass appearance of the turquoise water accompanied by pure white powder sand beaches mostly uncrowded too.
On 1st September 2019, Hurricane Dorian made landfall on Elbow Cay in the Abaco Islands at 16:40 UTC with winds of 185 mph (295 km/h) and wind gusts up to 225 mph (360 km/h), tying Dorian with the 1935 Labor Day hurricane as the strongest landfalling Atlantic hurricane on record. There are reports of major damage throughout the islands which has been described as "catastrophic damage" and "pure hell".
The largest town in the Abacos is Marsh Harbour, located south central on the eastern shore of Abaco Island. Marsh Harbour was settled in the late 1700s by the Loyalists escaping the American Revolution. This settlement was followed by Hope Town, located on Elbow Cay, and then Green Turtle Cay. Hope Town is well known for it oft photographed candy cane lighthouse.
The Abaco Islands boast important natural areas, especially important coral reef areas, barrier-island terrestrial habitats and large forests of Bahamian pine (Pinus caribaea var. bahamensis), some of which still contain old-growth trees. As development expands in the Abacos, local groups have begun to fight for the preservation of their natural resources, such as in the development case on Great Guana Cay.
The Abacos are also well known for their parks, too both on land and below the sea. The Fowl Cay Government Preserve is a particular favorite, with abundant sea life, reef formations, and undersea tunnels to explore. The south end of Great Abaco, near Hole in the Wall, is home to Abaco National Park, 20,000+ acres of wilderness that's home to more than 1000 of the brilliantly colored (and often boisterous) Abaco Parrots.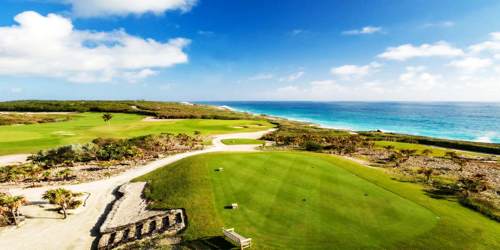 Abaco is also known for its intact elkhorn and staghorn coral structures, and for a breed of feral horse, the Abaco Barb, which became extinct in 2015. Abaco weather is pleasant year-round. The temperatures average mid-60s to upper 80s in the summer. Prime season starts around November and runs through April and into May. June and July are a good time of year to find discounts for a Bahamas vacation.
Prime areas for low-key vacations include cute Elbow Cay, with its famous candy-striped lighthouse; charming three-mile long Green Turtle Cay, which feels like stepping back in time to the old Bahamas; and Treasure Cay, on Great Abaco, with its ravishing white-sand beach lapped by waters in technicolor turquoise. Guana Cay, Walker's Cay, and Man "O' War Cay are other popular islands. Favorite pursuits include fishing, diving, snorkeling, relaxing, and chatting with the locals, and with miles of pristine beaches, it's easy to find visitors' own private patch of soft, white sand.
The Abaco Islands have been long famous for shipbuilding. Their chief exports are lumber, fruit, and pearl shells. Crawfish (Caribbean spiny lobster) are exported to the United States. Pulpwood is shipped to a Florida plant for processing. Tourism is a major portion of the economy. Some 40% of Bahama's GDP comes from tourism. Sailing, fishing, and diving are among some of the more popular water sports in the Abaco Islands as it is in much of the Bahamas.
Information Sources: