Bali (/'ba:li) island and propinsi (or provinsi; province) in the Lesser Sunda Islands, Indonesia. Located east of Java and west of Lombok, the province includes the island of Bali and a few smaller neighboring islands, notably Nusa Penida, Nusa Lembongan, and Nusa Ceningan. The provincial capital, Denpasar, is the most populous city in the Lesser Sunda Islands and the second largest, after Makassar, in Eastern Indonesia. Bali is the only Hindu-majority province in Indonesia, with 83.5% of the population adhering to Balinese Hinduism. Area province, 2,232 square miles (5,780 square km). Pop. (2000) province, 3,151,162; (2010) province, 3,890,757.
There is no other place like Bali in this world. The Island of the Gods offers great beaches, countless waves for surfing and wonderful natural sites to visit and explore colorful ceremonies, and gifted artists. There is an unbelievably wide range of hotels, resorts and villas, restaurants & bars, spas and not to forget: world-class activities and shopping in Bali all within close distance and at very fair prices. Bali is famous for a very high value-for-money-ratio, which allows traveler to enjoy and afford the wonder of this island, regardless of their budget.
Bali is Indonesia's main tourist destination, with a significant rise in tourism since the 1980s. Tourism-related business makes up 80% of its economy. It is renowned for its highly developed arts, including traditional and modern dance, sculpture, painting, leather, metalworking, and music. The Indonesian International Film Festival is held every year in Bali. Other international events held in Bali include the Miss World 2013 and 2018 Annual Meetings of the International Monetary Fund and the World Bank Group. In March 2017, TripAdvisor named Bali as the world's top destination in its Traveller's Choice award.
Incense wafts from Hindu temples, rice paddies glow in electric greens, and the food jolts the taste buds. Surfing, swimming, shopping, and sunbathing are the prime pursuits on this exotic isle, as well as sightseeing in the lush countryside. Soak up the spiritual side of Bali in Ubud, see Seminyak, and family-friendly Sanur, feel the pumping pulse of touristy Kuta, or explore the attractions on the neighboring volcanic island of Lombok.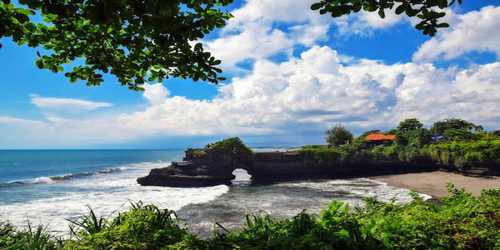 Bali is the home of the Subak irrigation system, a UNESCO World Heritage Site. It is also home to a unified confederation of kingdoms composed of 10 traditional royal Balinese houses, each house ruling a specific geographic area. The confederation is the successor of the Bali Kingdom. The royal houses are not recognised by the government of Indonesia; however, they originated before Dutch colonisation.
Most of Bali is mountainous (essentially an extension of the central mountain chain in Java), the highest point being Mount Agung, or Bali Peak, 10,308 feet (3,142 metres) in height and known locally as the "navel of the world." It proved to be an active volcano, erupting in 1963 (after a dormancy of 120 years), killing more than 1,500 persons and leaving thousands homeless. The main lowland is south of the central mountains. The period of the southeast monsoon (May to November) is the dry season. Bali's flora (mostly hilly tropical rain forest) and fauna resemble those of Java. Some teak grows on Bali, and the giant banyan (waringin) trees are held sacred by the Balinese. Tigers are found in the west, and deer and wild pigs are numerous.
Bali was inhabited around 2000 BCE by Austronesian people who migrated originally from the island of Taiwan to Southeast Asia and Oceania through Maritime Southeast Asia. Culturally and linguistically, the Balinese are closely related to the people of the Indonesian archipelago, Malaysia, the Philippines and Oceania. Stone tools dating from this time have been found near the village of Cekik in the island's west.
In ancient Bali, nine Hindu sects existed, namely Pasupata, Bhairawa, Siwa Shidanta, Vaishnava, Bodha, Brahma, Resi, Sora and Ganapatya. Each sect revered a specific deity as its personal Godhead.
When Islam triumphed over Hinduism in Java (16th century), Bali became a refuge for many Hindu nobles, priests, and intellectuals. Today it is the only remaining stronghold of Hinduism in the archipelago, and Balinese life is centred on religion a blend of Hinduism (especially that of the Shaivite sect), Buddhism, Malay ancestor cult, and animistic and magical beliefs and practices. Places of worship are numerous and widespread, and there is a firm belief in reincarnation. Caste is observed, though less strictly than is the case in India, because the great majority of the population belongs to the Sudra, the lowest caste. The nobility is divided into priests (Brahman), the military and ruling royalty (Kshatriya), and the merchants (Vaishya). Some Muslims and Chinese live in northern and western Bali, and there are a few Christians. The Balinese language is distinct from that of eastern Java, but the upper-class form contains many Javanese and Sanskrit words.
Bali was occupied by the Japanese during World War II. In 1946 a battle was fought between Dutch troops and Indonesian revolutionary forces at Marga in western Bali. Bali was included in the "Republic of the United States of Indonesia" when the Netherlands recognised Indonesian independence on 29th December 1949. The first governor of Bali, Anak Agung Bagus Suteja, was appointed by President Sukarno in 1958, when Bali became a province. A terrorist bombing on the island in 2002 killed some 200 people.
The island of Bali lies 3.2 km (2.0 mi) east of Java, and is approximately 8 degrees south of the equator. Bali and Java are separated by the Bali Strait. East to west, the island is approximately 153 km (95 mi) wide and spans approximately 112 km (70 mi) north to south; administratively it covers 5,780 km2 (2,230 sq mi), or 5,577 km2 (2,153 sq mi) without Nusa Penida District; its population density is roughly 750 people/km2 (1,900 people/sq mi).
The two major towns are Singaraja and Denpasar, the provincial capital; others include Klungkung, a centre of wood carving and gold and silver industries; Gianyar, with a lively market; Kuta, Sanur, and Nusa Dua, centres of the flourishing tourist trade; and Ubud, in the foothills, a centre for European and American artists, with a fine art museum. All Balinese villages have temples and an assembly hall, usually located on a square that serves for festivals and markets. Each family lives in its own compound surrounded by earthen or stone walls.
Bali's central mountains include several peaks over 2,000 metres (6,600 feet) in elevation and active volcanoes such as Mount Batur. The highest is Mount Agung (3,031 m, 9,944 ft), known as the "mother mountain", which is an active volcano rated as one of the world's most likely sites for a massive eruption within the next 100 years. The island is surrounded by coral reefs. Beaches in the south tend to have white sand while those in the north and west have black sand. Bali has no major waterways, although the Ho River is navigable by small sampan boats. Black sand beaches between Pasut and Klatingdukuh are being developed for tourism, but apart from the seaside temple of Tanah Lot, they are not yet used for significant tourism.
Balinese farmers, raising principally rice, are organized into cooperative water-control boards. The average farm is 2.5 acres (1 hectare). About one-fourth of the agricultural acreage is irrigated, the remainder being used for yams, cassava, corn (maize), coconuts, fruits, and, occasionally, oil palm and coffee plantings. A large cattle population is supplemented by smaller livestock. There are several meat-processing plants; fishing is only a minor occupation. Food must be imported because of the growing population, but exports include beef, pork, coffee, copra, and palm oil. Tourism and the sale of craft articles are important to the economy. There is an airport near Denpasar.
Being just 8 degrees south of the equator, Bali has a fairly even climate all year round. Average year-round temperature stands at around 30 °C (86 °F) with a humidity level of about 85%. Day time temperatures at low elevations vary between 20 to 33 °C (68 to 91 °F), but the temperatures decrease significantly with increasing elevation.
The west monsoon is in place from approximately October to April, and this can bring significant rain, particularly from December to March. During rainy season there are comparatively fewer tourists seen in Bali. During the Easter and Christmas holidays, the weather is very unpredictable. Outside of the monsoon period, humidity is relatively low and any rain is unlikely in lowland areas.
The Balinese are fond of music, poetry, dancing, and festivals, are extraordinarily able in arts and crafts, and are passionately fond of betting games, especially cockfighting. A typical Balinese gamelan (orchestra) consists of various percussion instruments, a two-string violin, and a flute; and every village has its gamelan club. Stage plays and, especially, dancing are an integral part of Balinese life, serving magico-religious purposes or telling stories by pantomime. The artistic temperament is also evident in sculpture, painting, silverwork, and wood carving and bone carving and in the animal-shaped wooden coffins in which corpses are carried to the cremation ground.
Bali authorities reported the island had 2.88 million foreign tourists and 5 million domestic tourists in 2012, marginally surpassing the expectations of 2.8 million foreign tourists. Based on a Bank Indonesia survey in May 2013, 34.39 per cent of tourists are upper-middle class, spending between $1,286 to $5,592, and are dominated by Australia, India, France, China, Germany and the UK. Some Chinese tourists have increased their levels of spending from previous years. 30.26 percent of tourists are middle class, spending between $662 to $1,285. In 2017 it was expected that Chinese tourists would outnumber Australian tourists.
In January 2020, 10000 Chinese tourists cancel trips to Bali over the COVID-19 coronavirus pandemic.
Information Sources: