Bologna (/bəˈloʊnjə/, UK also /bəˈlɒnjə/, Italian: boˈloɲɲa; Emilian (Bolognese dialect): Bulåggna (buˈlʌɲːa); Latin: Bononia) city, capital of Emilia-Romagna region, in northern Italy, north of Florence, between the Reno and Savena rivers. It lies at the northern foot of the Apennines, on the ancient Via Aemilia, 180 ft (55 meters) above sea level. Its Italian nickname, "La Dotta, La Grassa, e La Rossa", sums up the very best of what this central Italian city has to offer.
Between the XVII and XIX century, Bologna was a must-see city for European great musicians, such as Farinelli, Rossini, and the young Mozart. The 18th century Teatro Comunale (the City Theatre), the G.B. Martini Conservatorio (the Conservatoire), and the Museo Internazionale Della Musica (the International Music Museum) together give evidence of the extraordinary music history of this city.
La Dotta, or "the Educated" honors the University of Bologna, the oldest university in the Western world. La Grassa or "the Fat" praises Bologna's renowned cuisine, a number of the most effective Italian food within the world. And la Rossa or "the Red" refers to the stunning red buildings and rooftops throughout the historic medieval city manufactured from clay. Bologna is the seventh most populous city in Italy with about 390,000 inhabitants and 150 different nationalities. Its metropolitan area is home to more than 1,000,000 people.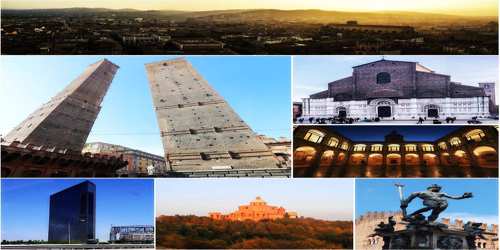 Bologna is a city of two intriguing halves; one side is a hard-working, high-tech city located in the super-rich Po valley where suave opera-goers waltz out of regal theatres and into some of the nation's finest restaurants. The other is a bolshie, politically edgy city that hosts the world's oldest university and is legendary for its graffiti-embellished piazzas full of mildly inebriated students swapping Gothic fashion tips.
Bologna remains relatively unknown by tourists on their quest to see Italy's most iconic landmarks, which is precisely the reason visitors or travelers should go. It lies in between two of Italy's most visited cities 'Venice' and 'Florence' and is just an hour from both.
Bologna is an important agricultural, industrial, financial and transport hub, where many large mechanical, electronic and food companies have their headquarters as well as one of the largest permanent trade fairs in Europe. According to the most recent data gathered by the European Regional Economic Growth Index (E-REGI) of 2009, Bologna is the first Italian city and the 47th European city in terms of its economic growth rate. As a consequence, Bologna is also one of the wealthiest cities in Italy, often ranking as one of the top cities in terms of quality of life in the country: in 2019 it ranked 14th out of 107 Italian provinces.
The arcaded streets of the central a part of town, built on the old Roman town, still preserve a medieval aspect, characterized by the leaning Asinelli and Garisenda towers (300 feet (91 meters) and 150 feet (46 meters), respectively, and both inbuilt 1109–19). Among numerous medieval palaces (palazzi) the foremost notable are the Palazzi Comunale (town hall), Podestà, Mercanzia (chamber of commerce), and Re Enzio (where King Enzio, son of Emperor Frederick II, was imprisoned from 1249 until his death in 1272). The Palazzo Bevilacqua (1477–82), with an impressive inner courtyard, is one in all the best in Bologna.  The seat of an archbishop, the city has many magnificent churches, including San Petronio (begun 1390, never completed), where the emperor Charles V was crowned by Pope Clement VII (1530); San Francesco (1236–63; restored after World War II damage); San Domenico, formed in 1221 to house the tomb of the saint; the Baroque San Pietro Metropolitana cathedral; and Santa Maria dei Servi. San Stefano is the name given to a group of four Romanesque churches of the 11th to 13th centuries erected on the ruins of a pagan temple and incorporating earlier foundations.
The economic and demographic decline of Bologna became even more noticeable ranging from half of the 18th century. In 1790 town had 72,000 inhabitants, ranking because the second largest within the Papal States; however, this figure had remained unchanged for many years. The economy was stagnant due to Papal policies that distorted trade with heavy custom duties and sold concessions of monopolies to single manufacturers thus lowering competition, depressing productivity, and incentivizing corruption.
Today, visitors or travelers can discover a rich, live music program, on some occasions absolutely exceptional. Because of such a wide, deeply engrained custom, Bologna was named UNESCO "Creative City of Music" in 2006.
Time spent in Bologna means, among other things, eating well. Its food traditions have made it famous throughout the world and today it's truly the capital city of culinary taste and quality. Dishes range from tortellini to tagliatelle, and native cuisine is predicated principally upon handmade egg pasta, rich dried and cured meats (above all the famous mortadella of Bologna), choice meats and good wines.
Bologna has a mid-latitude, four-season humid subtropical climate (Köppen climate classification: Cfa). nnual precipitation oscillates between around 450 mm (18 in) and 900 mm (35 in), with the majority generally falling in spring and autumn.
Bologna is noted for its great communal and university libraries and others with special collections, such as that of the conservatory. The Civic Museum founded in 1712 and accommodated since 1881 in the Palazzo Galvani, contains important remains of past civilizations, including collections from the Umbrian (Villanova) civilization and the Etruscan necropolis. The art gallery houses a fine collection of paintings of the Bolognese school (the Carracci, Francesco Albani, Guido Reni, Domenichino, Guercino, Francia, Pellegrino Tibaldi) and numerous other works, the most famous of which is Raphael's "St. Cecilia."
In terms of total GDP, the Metropolitan City of Bologna generated a worth of about €35 billion ($40.6 billion) in 2017, adore €34,251 ($40,165) per capita, the third-highest figure among Italian provinces (after Milan and Bolzano/Bozen). The economy of Bologna is characterized by a flourishing industrial sector, traditionally centered on the transformation of agricultural and zootechnical products (Granarolo, Segafredo Zanetti, Conserve Italia), machinery (Coesia, IMA), energy (Hera Group), automotive (Ducati, Lamborghini), footwear, textile, engineering, chemical, printing and publishing (il Mulino, Monrif Group, Zanichelli).
Bologna is only 37 minutes from Florence, one hour from Milan: the high-speed rail network places our city at the heart of Italy on the move. In addition, Bologna is where all main Italian motorways meet and link to the principal connections with other European countries. Don't forget that here's the top of Italian motor industries, including prestigious companies such as Lamborghini and Ducati, and not far from Bologna Ferrari.
Bologna is of paramount importance as a road and rail center through which must pass most traffic between central and southern Italy and the north. Bologna has also two other nicknames: the first one, "the towered" (la turrita) refers to the high number of medieval towers that can be found in the city, even if today only 24 towers are still standing. The second one, "the learned" (la dotta) is a reference to its university.
Information Sources: