The Cévennes National Park (French: Parc national des Cévennes) nature reserve located in the départements of Lozère and Gard, southern France. Created in 1970, the park has its administrative seat in Florac at Florac Castle. It is located mainly in the départements of Lozère and Gard and covers some parts of Ardèche and Aveyron. The Aven Armand cave is located in the park.
In 2011, the Park was made a part of The Causses and the Cévennes, Mediterranean agro-pastoral Cultural Landscape UNESCO World Heritage site.
The park occupies 353 square miles (913 square km) of the Cévennes and Causses regions southeast of the Massif Central. It is dominated by calcareous (limestone) plateaus, the highest point being Mount Lozère (5,584 feet (1,702 m)). Forests cover more than half the park; trees include evergreen oaks, chestnuts, common and durmast oaks, beeches, Scots pines, and birches.
The park includes several mountains and plateaus, including: Mont Lozère, Mont Aigoual, Causse Méjean, France. Mont Lozère is the highest peak in the area, reaching 1,699 meters. Down in the south of France, this rural expanse of the mountainous countryside has everything: caves, torrents, biodiversity, and remote village life. Not only is Cévennes a Biosphere Reserve thanks to its wealth of flora and fauna, but the way it captures rural life in France has helped it to become a UNESCO World Heritage site.
The Cévennes country is rich of history, with a strong cultural identity, being at the heart of Camisard revolt, which followed the revocation of the Edict of Nantes (the Edict of Fontainebleau), after which Protestants were actively prosecuted. Numerous testimonies of Camisard war in the Cévennes abund in towns and villages of the Cévennes National Park. A permanent exhibition devoted to the memory of Camisards has been elaborated at the old temple of Le Rouve (commune of Saint-André-de-Lancize).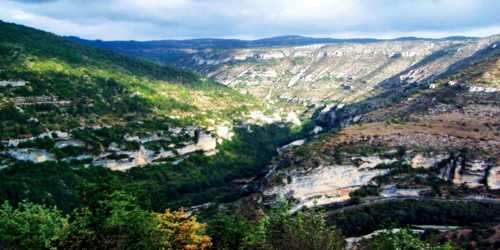 Cevennes is the only national park in France that has human settlements at its core there are some 250 villages within its borders. People have lived here since at least 400,000 B.C. By about 2,500 B.C. they were erecting standing stones, called megaliths, which can still be seen today. Later, the Romans left their mark with enduring buildings, burial sites, and roads. Many churches from the Middle Ages also still stand, although most of that era's castles are in ruins.
Cevennes National Park is home to an outstanding trio of caves: Aven Armand, Dargilan, and Bramabiau, which have attracted visitors since the end of the 19th century. Aven Armand is large enough to hold Notre-Dame Cathedral and has more than 400 giant stalagmites. Dargilan, known as the "pink cave," has a 21,528-square-foot (2,000-square-meter) calcite flow the world's largest, and Bramabiau is essentially an underground canyon cut by the subterranean Bonheur River.
Spring and summer showcase more than 1,700 flowering plants, including lady's slipper orchids, lilies, and wild daffodils. In total, the park shelters some 2,300 plant species, though it occupies only half a percent of the nation's land area. Matgrass and hair grass abound.
The local bird population, once abundant but decimated by hunting prior to the creation of the park, still includes golden eagles, peregrine falcons, hen harriers, Montague's harriers, eagle owls, stone curlews, and little bustards. Animals include otters, badgers, foxes, martens, wild boars, roe deer, and moufflons, and livestock are allowed to graze. The castle of Roquedols has been ceded to the park. More than 584,000 acres (236,300 hectares) adjoining the park have been designated as a peripheral, or buffer, zone.
Information Sources: