Durmitor (Montenegrin and Serbian Cyrillic: Дурмитор, pronounced: durmǐtɔr or dǔrmitɔr) National Park is home to the section of the Dinaric Alps that passes through northwest Montenegro. Durmotir is one of Montenegro's and Mother Nature's showpieces. Its highest peak, Bobotov Kuk, reaches a height of 2,523 meters (8,278 ft). The national park covers the Durmitor mountain range and a narrow branch heading east along the Tara River towards Mojkovac. West of the park, the mighty Tara marks the border with Bosnia and joins the Piva River near Šćepan Polje. At 80 kilometers (50 mi) long and 1,300 meters (4,300 ft) deep, the Tara River Canyon in Durmitor National Park is the deepest gorge in Europe.
The massif is limited by the Tara River Canyon on the north, the Piva River Canyon on the west, and by the Komarnica River Canyon on the south. To the east, the Durmitor opens to a 1,500 m (4,921 ft) high plateau, called Jezerska površ (Plateau of Lakes). The Sinjavina mountain is located to the east of the Jezerska površ plateau. The Durmitor is for the most part located in the Žabljak municipality.
Durmitor is a rugged yet gorgeous national park. Durmitor is home to 163 bird species, about 50 types of mammals and purportedly the greatest variety of butterflies in Europe. It's very unlikely visitors will spot bears and wolves, which is either a good or bad thing depending on their perspective. The massif gives its name to the national park that comprises it. Durmitor National Park was founded in 1952, and designated as a World Heritage Site in 1980.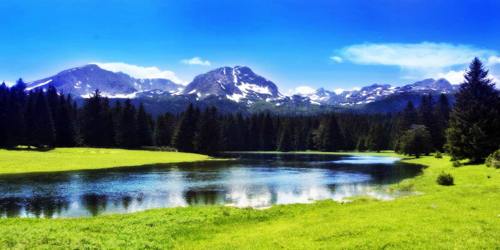 The name Durmitor is derived from Balkan Romance-Vlach, meaning "sleeping place" (cognate with English dormitory). There are similarly named mountains such as Visitor (visător, "dreamer") and Cipitor (aţipitor, "sleeper") across former Yugoslavia.
Mother Nature spared no expense when gifting Durmitor with soaring limestone peaks, azure-blue canyons and serene glacial lakes (known locally as 'mountain eyes'). Despite its many attractions, Durmitor is best known for the spectacular canyons of the Draga, Sušica, Komarnica and Tara Rivers, the latter stands out as Europe's deepest gorge. Durmitor is a popular tourism destination, known for superb hiking, climbing, mountaineering and canoeing opportunities. The nearby town of Zabljak is Montenegro's primary ski resort.
Montenegro has its fair share of mountainous terrain. Durmitor National Park alone boasts a colossal 48 peaks all over 2,000m high, with the highest, Bobotov Kuk, reaching 2,523m. The park is home to 18 glacial lakes and five canyons, with the Tara River crowned the deepest canyon in Europe and one of the deepest in the world at 82km long and 1,300m deep. Stumbling upon a secret this spectacular is a real game-changer for lovers of nature, hiking, photography, skiing, and activity breaks at pocket-friendly prices.
The massif has 48 peaks above 2,000 meters (6,562 ft). Highest peaks are:
Bobotov kuk 2,522 m (8,274 ft)
Bezimeni vrh (Nameless Peak) 2,487 m (8,159 ft)
Šljeme 2,455 m (8,054 ft)
Istočni vrh Šljemena (East Peak of Sljeme) 2,445 m (8,022 ft)
Soa / Đevojka 2,440 m (8,005 ft)
Milošev tok 2,426 m (7,959 ft)
Bandijerna 2,409 m (7,904 ft)
Rbatina 2,401 m (7,877 ft)
Lučin vrh 2,396 m (7,861 ft)
Prutaš 2,393 m (7,851 ft)
Minin bogaz 2,387 m (7,831 ft)
Planinica 2,330 m (7,644 ft)
Kobilja glava 2,321 m (7,615 ft)
Savin Kuk 2,313 m (7,589 ft)
Šupljika 2,310 m (7,579 ft)
Besides the extraordinary landscape beauty and the fascinating geological heritage, Durmitor National Park is also home to an impressive biological diversity. At the habitat level, a rare old-growth stand of European Black Pine deserves to be mentioned. Favored by the altitudinal gradient of more than 2,000 meters and both alpine and Mediterranean climatic influences, there are more than 1,600 vascular plants in the wider Durmitor Massif. A great percentage is found in the park and many are rare and endemic species. Large mammals include Brown Bear, Grey Wolf, and European Wild Cat. Among the 130 recorded birds are Golden Eagle, Peregrine Falcon, and Capercaillie. Likewise noteworthy is the rich fish fauna, which includes the endangered Danube Salmon.
Durmitor features 18 glacial lakes, scattered over mountain massif and Jezerska Površ plateau. The lakes add significantly to the beauty of the mountain, and have been nicknamed Gorske Oči, or "mountain eyes". The park is inhabited by farmers and shepherds, traditionally using the high-altitude meadows as summer pastures. The property is well protected and its status and international recognition have helped to prevent irreparable damage from threats, such as upstream pollution and proposed dam construction.
The most popular time to visit Durmitor National Park is between May and October when the weather is good, all hiking routes are open and the park brims with activity. March and April are also great months to visit. The mountains are still snow-capped, and crisp, sunny days make for ideal walking conditions.
As this is technically in-between seasons, not all activities are available and the park is very serene as a result. It's an ideal time for landscape and wildlife photographers.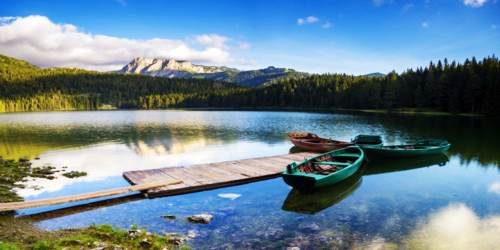 Durmitor Mountain is the center of Montenegrin mountain tourism. The tourist facilities are concentrated around the town of Žabljak. In winter, the main activities on Durmitor are skiing and snowboarding. In summer, the activities shift to hiking, mountaineering, and recreational tourism. Water sports are also practiced in the area. One of the most prominent attractions of Durmitor mountain are 18 glacial lakes, the best known of which is the Black Lake.
White water rafting is available pretty much all year round, with spring months offering a pacier experience in contrast to calm summer waters. The views alone make this activity worthwhile.
Information Sources: