Göreme National Park (pronounced (ˈɟœɾeme); Turkish: Göreme Tarihî Milli Park) is a national park in central Turkey. The park is located in the volcanic zone of Hasan Mountain and Erciyes Mountain is formed of plateaus, plains, small mountain plants, high hills, alluvial stream and river valleys, drainage deltas and eroded steep valleys and high flat areas. Found in a spectacular landscape, entirely sculpted by erosion, the Goreme valley and its surroundings contain rock-hewn sanctuaries that provide unique evidence of Byzantine art in the post iconoclastic period. Dwellings, troglodyte villages, underground towns, and the remains of a traditional human habitat dating back to the 4th century can also be seen there.
Göreme National Park occupies an area of nearly 100 km2 (39 sq mi) and is located in Nevşehir Province. It became a UNESCO World Heritage Site in 1985 under the name Goreme National Park and the Rock Sites of Cappadocia. The park features a rocky, water- and wind-eroded landscape with a network of ancient, interconnecting underground settlements.
Göreme National Park is named for the settlement of Göreme, where many people continue to live in the hollowed-out tuff formations. Similar lifestyles persist in other Cappadocian villages, but some villages have witnessed epidemics of mesothelioma, a form of cancer linked to exposure to erionite. Common in tuff formations, erionite is a mineral with a texture like wool fibers, and it is known to cause cancer. Epidemiologists linked the local rocks to mesothelioma in the 1970s, after studies conducted in the village of Karain. Two other villages, Tuzkoy (not shown) and Sarihidir, also showed high rates of mesothelioma, but scientists were perplexed by the sporadic nature of the disease, with only some families succumbing to it.
The park area consists of plateaus and high hills, dissected by streams and river valleys carved out by the water, the valleys having steeply sloping sides. Part of this rugged area consists of basalt and thick beds of tuff. The tuff is the result of ash emitted from volcanoes millions of years ago, which solidified into soft rock, and has since been overlain by solidified lava which forms a protective capping. This has been eroded over the millennia to form the multi-colored cliffs, rock towers, pillars, tent rocks and fairy chimney rock formations present in the park. This area experiences annual precipitation of 380 mm (15 in) and there is little vegetation except in riverine corridors.
The defining features of Goreme Historical National Park in Cappadocia, central Turkey, are unusual rock formations known as "fairy chimneys." These natural wonders are augmented by the cultural heritage of the region's inhabitants, who as far back as the third century hewed homes, churches, and entire underground cities into the landscape.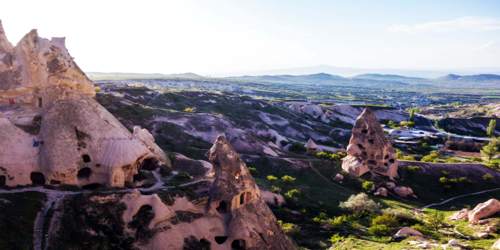 It is believed that the first signs of monastic activity in Cappadocia date back to the 4th century at which time small anchorite communities, acting on the teachings of Basileios the Great, Bishop of Kayseri, began inhabiting cells hewn in the rock. In later periods, in order to resist Arab invasions, they began banding together into troglodyte villages or subterranean towns such as Kaymakli or Derinkuyu which served as places of refuge.
Cappadocian monasticism was already well established in the iconoclastic period (725-842) as illustrated by the decoration of many sanctuaries which kept a strict minimum of symbols (most often sculpted or tempera painted crosses). However, after 842 many rupestral churches were dug in Cappadocia and richly decorated with brightly colored figurative painting. Those in the Göreme Valley include Tokalı Kilise and El Nazar Kilise (10th century), St. Barbara Kilise and Saklı Kilise (11th century) and Elmalı Kilise and Karanlık Kilise (end of the 12th – the beginning of the 13th century).
Geographical Location –
In Nevsehir Province of Central Anatolia, between Nevsehir city and the towns of Avanos and Urgup. Goreme Historical National Park circumference is approximately 40 km, extending from the bridge at Urgup then leading north for 6 km following the River Damsa. The boundary then heads west, immediately to the north of Zelve and south of the River Kizilirmak, by Avanos to Toprak Hill.
Underground Dwellings and The Rock Sites –
People have made use of the soft tuff rock to hollow out underground dwellings. The earliest monastic activity in Cappadocia is thought to have been in the fourth century when anchorites started hewing out cells from the rock. In order to resist Arab marauders, they linked these cells and created underground communities, with chapels, storerooms, and living quarters. Villages and small towns were developed in this way, and by 842, underground churches were being richly decorated with colored paintings.
People still live in these underground dwellings today, and it has been found that they experience an unexpectedly high incidence of mesothelioma, a form of cancer. This has been linked to the inhalation of erionite fibers, a mineral common in tuff formations.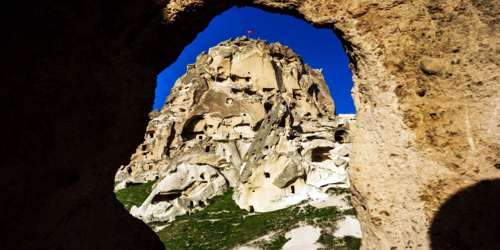 Cappadocia which is unique in the world and is a miraculous nature wonder is the common name of the field covered by the provinces of Aksaray, Nevsehir, Nigde, Kayseri, and Kirsehir in the Central Anatolian region. About 30 million years ago, in what is now central Turkey, volcanoes spewed ash over the landscape. Eventually, the ash solidified into rock, called tuff, tens of meters thick. In the millions of years that followed, wind and water eroded the tuff into odd shapes, including spires, cones, even a camel. In more recent times, a different force went to work on the rocks of this region. The tuff was soft and easily worked, and people made this place home, hollowing out the rocks, and carving windows, doors, and curving stairways. Locals even carved churches into the rock. In 1985 Cappadocia's Goreme National Park and the Rock Sites of Cappadocia were declared a UNESCO.
In all of the underground cities, there are ventilation chimneys reaching place by place to a depth of 80 meters and until the underground waters. These chimneys were opened due to meet the need of both the ventilation and water. Within the cities that are tepid in winters and cool in summers, there are kitchens, cribs, wine houses, depots for cereals, meeting saloons, toilets shortly every kind of living space necessary for living. Within all the cities there are locking stones which can be opened and closed only from inside against to the threats which may come from outside. Also known as 'Peri Bacalari'.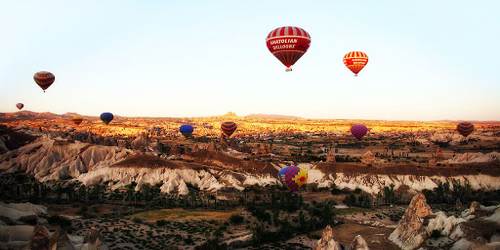 Cappadocia Balloon Tour –
Cappadocia balloon tour begins every day at sunrise. Balloon tour takes almost an hour but if visitors want to join the deluxe balloon tour it takes 1.30 hour. Visitors can take their own flight certificates after the tour. Comfortable clothes and shoes are recommended. Visitors can see the deep canyons, valleys, and fairy chimneys from the air.
Goreme Open Air Museum –
The first structure is the monastery of nuns at the Goreme Open Air Museum. In fact, the monastery of nuns known as six or seven floors but can be visited only three floors yet. The connection between the floors of the monastery is provided with tunnel and tunnel entrance are closed with sliding stones like underground cities of Cappadocia. There is a dining hall in the first floor, the second floor has a chapel which decorated with frescoes and the third floor also has a church with geometric decoration. There is Monastery of Priests near the Monastery of the nuns. Only a few rooms on the ground floor can be visited for into the rock layers are destroyed. A little later there is Hagios Basileos church which is known a tomb chapel walls decorated with frescoes. Near this church, there is Aynali monastery with places around a courtyard. Aynali monastery has a big room that suppositional meeting room, a church, and tomb rooms. Elmali monastery, for many years been used as a loft, all entries have been closed and thus without destroying frescoes hardly reached today. Understanding that the church is decorated in two different periods by means of red paint figurative decorations bottom of the poured frescoes. There is Barbara Church behind the Elmali monastery, Barbara Church walls are decorated with geometric figures and animal pictures. Just ahead Church of Hagia Katherina' frescoes largely damaged. Yilanli church has a church, refectory, and other places. It has been named as Yilanli Church (Church with snake) for on one of the frescoes St. Georgios fight with a dragon on a horse.
Information Sources: