Hallstatt (UK: /ˈhælstæt, ˈhælʃtæt/ HAL-s(h)tat, US: /ˈhɔːlstæt, ˈhɔːlstɑːt, ˈhɑːlstɑːt, ˈhɑːlʃtɑːt/ HAWL-sta(h)t, HAHL-s(h)taht, German: ˈhalʃtat) is listed as a UNESCO World Heritage site and is one of the most beautiful towns in Austria. It is the perfect place for both adventure seekers and people looking for some relaxing downtime. It is a small town in the district of Gmunden, in the Austrian state of Upper Austria. Situated between the southwestern shore of Hallstätter See and the steep slopes of the Dachstein massif, the town lies in Salzkammergut region, on the national road linking Salzburg and Graz.
Hallstatt is growing in popularity for its fairy-tale-like village, dramatic landscapes, and numerous attractions. The quaint village, situated on Lake Hallstatt's western shore in the mountainous region of Salzkammergut, is home to fewer than 1,000 inhabitants, an ancient salt mine, and unparalleled views of the Austrian Alps.
Hallstatt is known for its production of salt, dating back to prehistoric times, and gave its name to the Hallstatt culture, the archaeological culture linked to Proto-Celtic and early Celtic people of the Early Iron Age in Europe, c.800–450 BC.
Hallstatt is at the core of the "Hallstatt-Dachstein/Salzkammergut Cultural Landscape" declared as one of the World Heritage Sites in Austria by UNESCO in 1997. It is an area of over-tourism.
Sitting right beside the most romantic lake in Austria, Hallstatt is home to about 900 residents. Visitors can easily spend a day or two canoeing on the lake, biking around town, and hiking to nearby mountains and glaciers. This little town can be crisscrossed on foot in 20-30 minutes while enjoying lakeside restaurants, street-food kiosks, and many art and souvenir shops.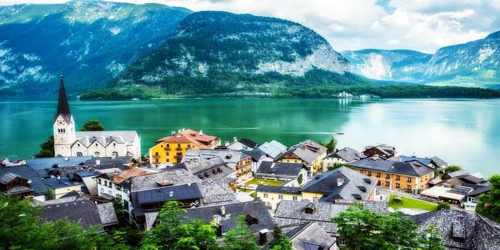 History –
In 1846, Johann Georg Ramsauer (1795–1874) discovered a large prehistoric cemetery at the Salzberg mines near Hallstatt (47.561°N 13.642°E), which he excavated during the second half of the 19th century. Eventually the excavation would yield 1,045 burials, although no settlement has yet been found. This may be covered by the later village, which has long occupied the entire narrow strip between the steep hillsides and the lake.
During excavation between 1846 and 1899, more than 2,000 graves were found at Hallstatt. The majority fall into two groups, an earlier (c. 1100/1000 to c. 800/700 BC) and a later (c. 800/700 to 450 BC). Near the cemetery was a prehistoric salt mine; because of the preservative nature of the salt, implements, parts of clothing, and even the bodies of the miners themselves have been discovered.
Hallstatt remains are generally divided into four phases (A, B, C, and D), although there is some disagreement among scholars as to how these phases should be dated. In Phase A iron was rare, but Villanovan (q.v.) influences are apparent. Cremation was practiced in cemeteries of flat graves (or under very low mounds). The pottery in southwest Germany was thin-walled, some of it betraying strong metallic influence, while farther east the Silesian influence (Lusatian B) is noticeable.
Phase B, confined to the western regions, was marked by the reassertion of the Old Bronze Age population of southwest Germany over the comparatively new Urnfield peoples. The tumulus (barrow) again became common in burial, and cremation is predominant. The pottery (sometimes polychrome) is extremely well made.
Hallstatt C is characterized by the first appearance of iron swords mixed amongst the bronze ones. Inhumation and cremation co-occur. For the final phase, Hallstatt D, daggers, almost to the exclusion of swords, are found in western zone graves ranging from c. 600–500 BC. There are also differences in the pottery and brooches. Burials were mostly inhumations. Halstatt D has been further divided into the sub-phases D1–D3, relating only to the western zone, and mainly based on the form of brooches.
Major activity at the site appears to have finished about 500 BC, for reasons that are unclear. Many Hallstatt graves were robbed, probably at this time. There was widespread disruption throughout the western Hallstatt zone, and the salt workings had by then become very deep. By then the focus of salt mining had shifted to the nearby Hallein Salt Mine, with graves at Dürrnberg nearby where there are significant finds from the late Hallstatt and early La Tène periods.
Much of the material from early excavations were dispersed and is now found in many collections, especially German and Austrian museums, but the Hallstatt Museum in the town has the largest collection.
Hallstatt art in general is severely geometric in style; the advances made were on technical rather than aesthetic lines. There is a general tendency toward the extravagant and the Baroque, and the Greek Orientalizing influence is hardly felt. The typical bird motif, probably derived from Italy, may perhaps be traced back to late Helladic times in Greece. Plant patterns are very rare, although contrasts in color and the breaking up of smooth surfaces were often used. The arrangement of figures in pairs is very characteristic; the designs, however, seem to be more concerned with a rigid symmetry, rather than treating the arrangement as an organic whole.
Tourists are told that Hallstatt is the site of "the world's oldest pipeline", which was constructed 400 years ago from 13,000 hollowed-out trees. There is so little space for cemeteries that every ten years bones used to be exhumed and removed into an ossuary, to make room for new burials. A collection of elaborately decorated skulls with the deceased's name, profession, date of death inscribed on them is on display at the local chapel.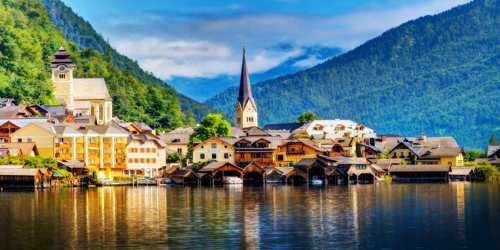 Overtourism –
Hallstatt is one of the most scenic towns in Austria, and it is a fairy-tale-like town sprinkled with pastel-colored houses and winding cobblestone streets and surrounded by the striking Northern Limestone Alps. The natural beauty and picturesque and enchanting views attract visitors to the tiny town year after year.
Halstatt's tourism began in the 19th century but greatly increased after it was named a UNESCO World Heritage Site in 1997. It became popular among Asian tourists in 2006 when it was featured on a South Korean television show. Social media images of it, captioned "the most Instagrammable town in the world," went viral in Southeast Asia. A replica was planned and then built in China in 2011. In 2013 it was rumored in China to be the model for the movie Frozen's Arendelle village. By 2017 local churches were employing bouncers to prevent services being disrupted by tourists.
Each season brings something different to Hallstatt, making the town a magical place to visit at any time of year. Winter brings stunning views of snow-capped mountains, while fall offers changing colors and crisp yet comfortable temperatures. In the spring, the town comes to life and the region's local flora is in full bloom, and summer offers warm temperatures ideal for swimming and boating.
There is also a lookout point in Salzwelten which has amazing views of the lake, surrounding mountains and the town of Hallstatt. The town in 2020 was focusing on "quality" tourism. From fall 2020 there will be assigned time slots for tour buses to cope with the problem. The arrivals will be limited to 54 per day, which is about half of the current number. Buses with an overnight booking in the town will receive preference.
Hallstatt is full of pastel-colored houses and picturesque streets ideal for getting lost in. Some of the town's most beloved residents are the swans who have made their home in and around Lake Hallstatt. The celebrated birds were imported in the late 19th century by Empress Elisabeth of Austria and her husband, Emperor Franz Josef I, who once owned a summer resort in Hallstatt.
Hallstatt currently welcomes around one million visitors annually and is quickly becoming a popular tourist destination. While tourism is incredibly beneficial for the local economy, more visitors could result in a loss of authenticity and tranquility in this charming and traditional Austrian village.
Information Sources: