Kraków (/ˈkrækaʊ, -koʊ/, also US: /ˈkreɪk-, ˈkrɑːkaʊ/, UK: /ˈkrækɒf/, Polish: ˈkrakuf), also spelled 'Cracow', city and capital of Małopolskie województwo (province), southern Poland, lying on both sides of the upper Vistula River. Kraków was the official capital of Poland until 1596 and has traditionally been one of the leading centers of Polish academic, economic, cultural, and artistic life. Cited as one of Europe's most beautiful cities, its Old Town has declared the first UNESCO World Heritage Site in the world.
Situated on the famous River Vistula, the city founded by the mythical Krak is surprisingly easy to navigate, whether visitors or travelers prefer to enlist the help of modern-day mobile phone apps or instead enjoy a more traditional system of maps and arrows pointing to the most important sites around the city center. Its marketplace, Rynek Główny (Main Square), has existed since the 13th century, and a modern landscaped area is laid out on the site of past fortifications.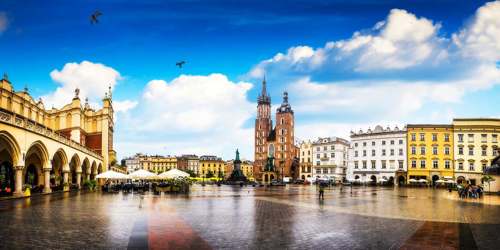 The city has grown from a Stone Age settlement to Poland's second most important city. It began as a hamlet on Wawel Hill and was already being reported as a busy trading center of Central Europe in 965. With the establishment of new universities and cultural venues at the emergence of the Second Polish Republic in 1918 and throughout the 20th century, Kraków reaffirmed its role as a major national academic and artistic center. The city has a population of about 770,000, with approximately 8 million additional people living within a 100 km (62 mi) radius of its main square.
Home to the Old Town, the Kazimierz district, and Wawel Castle, Kraków's historic center has been named a UNESCO World Heritage Site. The Kazimierz district was Kraków's center for Jewish life for over 500 years before it was destroyed in WWII, and now it's an exciting bohemian area known for its sites, art galleries, and cafes.
The city's factory workers played a role in Poland's labor movement of the 1980s, and the economic strength of its heavy industry helped Kraków whether the country's economic turbulence after the fall of the communist regime. However, the massive refineries and manufacturing facilities have turned the area into one of the most polluted in Europe, threatening public health and the city's architectural treasures.
The minimalist, concrete and glass building of the MOCAK Museum of Contemporary Art stands in the Schindler Factory compound and is considered something of a gem of modern architecture. It is Poland's first contemporary art museum built for that purpose after the war and forms part of the Kraków Technology Trail, together with the Glass and Ceramics Centre, also in Zabłocie. In 2000, Kraków was named European Capital of Culture. In 2013, Kraków was officially approved as a UNESCO City of Literature. The city hosted the World Youth Day in July 2016.
Rynek Główny, the main market square, is also a must-see, as it's not only 10 acres, but it houses one of the city's top icons, Cloth Hall a 14th-century hall that was basically the world's first shopping mall.
The public transportation network makes it easy for visitors or travelers to travel throughout the city, but it's also possible to explore on foot if visitors or travelers choose. Kraków boasts many stunning walking routes they can take advantage of, like the Royal Way, and even a riverbank along the Vistula next to the castle.
The city's full official name is Stołeczne Królewskie Miasto Kraków, which can be translated as "Royal Capital City of Kraków". In English, a person born or living in Kraków is a Cracovian (Polish: krakowianin or krakus). While in the 1990s the English version of the name was often written Cracow, the most widespread modern English version is Krakow.
Average temperatures in summer range from 18.6 to 20.4 °C (65 to 69 °F) and in winter from −0.6 to 0.8 °C (31 to 33 °F). The average annual temperature is 10.0 °C (50 °F). In summer temperatures often exceed 25 °C (77 °F), even reaching 30 °C (86 °F), while in winter temperatures drop to −5 °C (23 °F) at night and about 0 °C (32 °F) during the day. During very cold nights the temperature can drop to −15 °C (5 °F). The city lies near the Tatra Mountains, there are often occurrences of halny blowing (a foehn wind), causing temperatures to rise rapidly, and even in winter reach up to 20 °C (68 °F).
Thousands of historic buildings and sites dot the city. Most prominent are the many churches, including St. Mary's Church (Kościół Mariacki), the main section of which dates from 1497. It contains a stained-glass window from 1370 and a magnificent altar (1477–89) by Veit Stoss (Wit Stosz). Wawel Cathedral houses several ornate chapels and burial chambers, along with a collection of ecclesiastical art. Originally constructed in the early 11th century, the cathedral was rebuilt in 1142 and 1364, and it was renovated in 1712 in its current Gothic style. Two defensive fortifications remain from medieval times, a legacy of the city's perpetual struggle against invaders. The Barbican, a circular bastion with brick walls that are 10 feet (3 meters) thick, was built in the 15th century adjacent to the other remaining structure, the 13th-century Florian Gate. The city's Jewish quarter, in the district of Kazimierz, contains Remu'h Cemetery, which includes numerous well-preserved tombstones from the 16th century. Cloth Hall is a fine example of Renaissance architecture.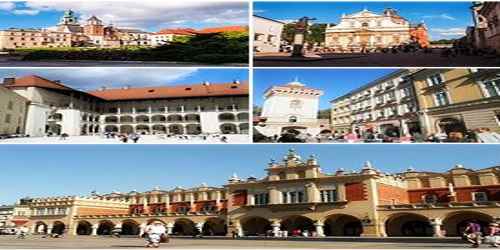 Other striking examples of architecture include the historical power plant with a gigantic steel and concrete frame towering above it. This is an architectural expression of Tadeusz Kantor's idea of wrapping objects in order to draw attention to their essence and provoking the discovery of hidden secrets. It's certainly eye-catching! The building houses the Cricoteka Centre for the Documentation of the Art of Tadeusz Kantor and is located in the Podgórze district.
There are about 40 parks in Kraków including dozens of gardens and forests. Several, like the Planty Park, Botanical Garden, Zoological Garden, Park Krakowski, Jordan Park, and Błonia Park are located in the center of the city; with Zakrzówek, Lasek Wolski forest, Strzelecki Park and Park Lotników (among others) in the surrounding districts. Parks cover about 318.5 hectares (787 acres, 1.2 sq mi) of the city. There are five nature reserves in Kraków with a total area of 48.6 ha (120 acres). Smaller green zones constitute parts of the Kraków-Częstochowa Upland Jurassic Landscape Parks' Board, which deals with the protected areas of the Polish Jura. Under its jurisdiction are: the Bielany-Tyniec Landscape Park (Park Bielańsko-Tyniecki), Tenczynek Landscape Park (Park Tencziński), and Kraków Valleys Landscape Park (Park Krajobrazowy Dolinki Krakowskie), with their watersheds.
Another must-see is the magnificent, modern, timber, and glass-fronted Małopolska Garden of Arts, which combines sound, theatre, installation, and multimedia art. It also happens to be the experimental space of the Juliusz Słowacki Theatre, an institution founded more than a century ago and the second oldest in Kraków after the Helena Modrzejewska National Stary Theatre.
Meanwhile, the beautiful red-brick Home Army Museum (Muzeum Armii Krajowej) has been organized within the renovated 19th-century walls of a former auxiliary building of the Kraków Fortress, now roofed with armored glass. The unique collection of mementos and personal effects donated directly by veterans is really nothing short of amazing.
UNESCO added the salt mine to the World Heritage list in 1978. Also on the list is the 16th-century park at Kalwaria Zebrzydowska that is known for its sanctuary of the Virgin Mary, a favorite pilgrimage site for Saint John Paul II, who was born nearby in Wadowice. Kraków and its environment, surrounded by mountains, suffer from Europe's dirtiest air pollution because of smog, caused by burning coal for heating, especially in winter.
History, culture, nightlife, cuisine, and art combine to keep Kraków at the top of the list of the best places to visit in Europe. The Kraków urban-industrial agglomeration includes the nearby industrial towns of Skawina, Wieliczka, and Niepołomice. Kraków is a major rail junction, with connections to the other cities of central and Eastern Europe. The city also has an international airport (Kraków-Balice John Paul II International Airport) and is an attractive site for foreign investments.
Information Sources: