Mount Etna: Surprise Explosion on Sicilian Volcano
Mount Etna, Europe's largest volcano, made headlines Thursday (16th March 2017) when an explosion injured at least 10 people. A BBC crew captured the moment in a harrowing video, showing scorching hot rocks and ash pelleting visitors. None of the injuries were serious — mostly bruises and burns.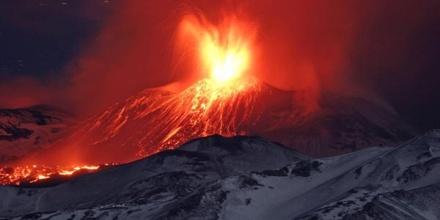 Thursday's explosion on the Sicilian volcano was unexpected, but not unusual, says Marco Neri, a volcanologist and senior researcher at the National Institute of Geophysics and Vulcanology in Catania, Sicily. Mount Etna is one of the world's most active volcanos, and since 2011 there have been about 60 eruptions, Neri says. Thursday, some of that scorching lava got into contact with snow, causing the water's near-instantaneous evaporation and resulting in the explosion of steam, ash, and rocks.
Volcanic rocks and steam from the eruption injured at least 10 people, witnesses and media reported, and the network's science reporter who was on assignment on Etna, Rebecca Morelle, described the experience in a series of tweets. The BBC crew was shaken but mostly unharmed, having suffered minor cuts, bruises and burns, she wrote.
Morelle said the explosion was "a reminder of how dangerous and unpredictable volcanoes can be".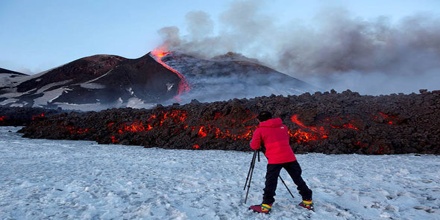 About Mount Etna
Mount Etna is an extremely active volcano, one of the most active in the world. It's also a very beautiful volcano, characterized by a very diversified and singular erupting ability. There are few volcanoes like Etna; in fact, it's considered a sort of natural lab. For vulcanologists, it's a wonderful object to study. It's also considered a harmless volcano ("vulcano buono") although the term is improper, because usually its volcanic activity doesn't kill.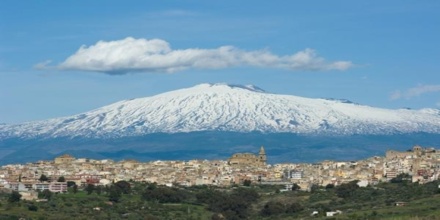 Mount Etna is an active stratovolcano on the east coast of Sicily, Italy, in the Metropolitan City of Catania, between the cities of Messina and Catania. It is the tallest active volcano in Europe, currently 3,329 m (10,922 ft) high, though this varies with summit eruptions. It is the highest peak in Italy south of the Alps. Etna covers an area of 1,190 km2 (459 sq mi) with a basal circumference of 140 km. This makes it by far the largest of the three active volcanoes in Italy, being about two and a half times the height of the next largest, Mount Vesuvius.
Volcanic activity first took place at Etna about 500,000 years ago, with eruptions occurring beneath the sea off the ancient coastline of Sicily. About 300,000 years ago, volcanism began occurring to the southwest of the summit (centre top of volcano) then, before activity moved towards the present centre 170,000 years ago.
Etna's lava definitely inexorably destroys everything it meets, but it doesn't kill. Instead, the volcano is a formidable magnet for tourists. For thousands of years, it's created a kind of stone that's been possible to excavate and use to build homes. To this day, it's still an important reservoir of drinkable water. Inside the volcano, there's a very rich aquifer that gives drinkable water to half of Sicily.
Surprise Explosion
Aut horities said about 35 tourists were in an area they had permission to enter on the volcano, when the explosion occurred about midday on Thursday (local time).
The guides who accompanied them helped bring them to safety. The president of the Italian Alpine Club chapter in Catania, Umberto Marino, was traveling up the volcano in a snowcat when injured people started running in his direction.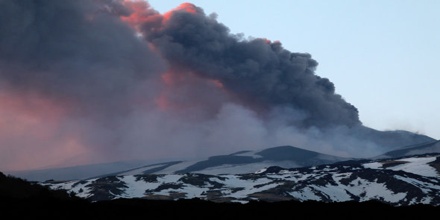 "The material thrown into the air fell back down, striking the heads and bodies of people who were closest," Mr Marino was quoted by local media as saying.
According to Italian news agency ANSA, four people including three German tourists were hospitalised, mostly with head injuries — though none of the injuries was listed as grave.
Mount Etna has been active for the past two days, creating a visual spectacle as it spews lava and ash into the air.
A new lava flow started from the south-eastern crater on Wednesday and was advancing with a temperature above 1000 degrees Celsius in an area covered by snow.
Mount Etna so active, because Sicily is at the center of the Mediterranean Sea, and because the center of the Mediterranean — like Italy, Greece, and Turkey — sits above the meeting place between the African tectonic plate and the European one. This very complex clash of the two plates allows for the creation of volcanos like Etna, like the Aeolian Islands, the volcanoes in the Lazio region, and also the mountain ranges like the Apennine Mountains and the Alps. The most evident result of this clash manifests itself through earthquakes. So Mount Etna is very active because of the geodynamic conditions of the Mediterranean region and of eastern Sicily that make it that way.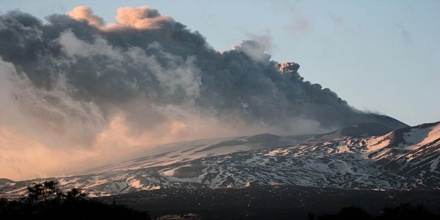 Bad Affect for Environment
Mount Etna definitely produces a lot of CO2, and especially a lot of SO2 (sulfur dioxide). This information is often associated to pollution, but without volcanoes and without earthquakes, our planet would be dead because it wouldn't have an atmosphere. The atmosphere we breathe today was produced by billions of years of volcanic activity, so let's slow down when we say that volcanoes pollute. Volcanoes are our life. Without volcanoes, we wouldn't be here having this conversation.