Mount Rainier (pronounced: /reɪˈnɪər/), also known as Tahoma or Tacoma, highest mountain (14,410 feet (4,392 meters)) in the state of Washington, U.S., and in the Cascade Range. is a large active stratovolcano in the Cascade mountain range located 59 miles (95 km) south-southeast of Seattle, in Mount Rainier National Park. It is the highest mountain in the U.S. state of Washington, and of the Cascade Range of the Pacific Northwest, the most topographically prominent mountain in the contiguous United States, and the tallest in the Cascade Volcanic Arc.
The mountain was originally named Tahoma or "Great Snowy Peak" by the Yakima Indians. Captain George Vancouver renamed it after Admiral Peter Rainier of the British Navy during a scouting expedition on May 8, 1792. This name was hotly contested for over 100 years, because Americans felt it shouldn't be named after a British officer who had never even been to the U.S.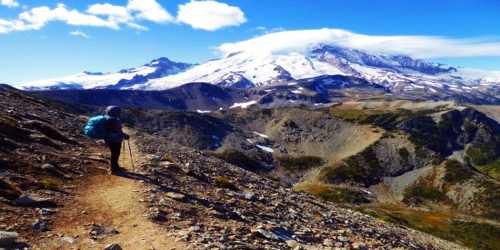 Mt. Rainier is considered one of the most dangerous volcanoes in the world, and it is on the Decade Volcano list. Because of its large amount of glacial ice, Mt. Rainier could produce massive lahars that could threaten the entire Puyallup River valley. "About 80,000 people and their homes are at risk in Mount Rainier's lahar-hazard zones."
Its edifice, capped by snow and 25 glaciers, has been built up by untold eruptions over the past 500,000 years. It last erupted in 1894-95, when small summit explosions were reported by observers in Seattle and Tacoma. Mount Rainier's next eruption might be of similar or larger size and could produce volcanic ash, lava flows, and avalanches of intensely hot rock and volcanic gases, called "pyroclastic flows." Some of these events swiftly melt snow and ice and could produce torrents of meltwater that pick up loose rock and become rapidly flowing slurries of mud and boulders known as "lahars."
The mountain is geologically young, formed by successive lava flows from eruptions that began about one million years ago. The dormant volcano last erupted about 150 years ago. Covering 100 square miles (260 square km), Rainier is surrounded by the largest single-mountain glacier system in the United States outside Alaska. Some two dozen named glaciers and a number of smaller patches of permanent ice and snow radiate from the broad summit, including Nisqually Glacier, whose retreat and advance over the last 150 years has helped scientists determine patterns in the Earth's climate. The mountain has three major peaks: Liberty Cap, Point Success, and Columbia Crest (the latter is the summit, located on the rim of the caldera). Rainier is noted for dense stands of coniferous trees on its lower slopes, scenic subalpine and alpine meadows with a profusion of wildflowers during the warmer months waterfalls and lakes, and an abundance of wildlife.
Mount Rainier was first known by the local Salishan speakers as Talol, Tacoma, or Tahoma. One hypothesis of the word origin is (təˡqʷuʔbəʔ) 'mother of waters' in the Lushootseed language spoken by the Puyallup people. The linguist William Bright gives the origin as Salish pronunciation: (təqʷúbə) 'snow-covered mountain'. Another hypothesis is that Tacoma means "larger than Mount Baker" in Lushootseed: Ta 'larger', plus Koma (Kulshan), (Mount Baker). Other names originally used include Tahoma, Tacobeh, and Pooskaus. The current name was given by George Vancouver, who named it in honor of his friend, Rear Admiral Peter Rainier. The map of the Lewis and Clark expedition of 1804–1806 refers to it as Mt. Regniere.
It is the highest volcano of the Cascade Range and the fifth highest mountain of the continental USA. This is a huge mountain with multiple glaciers and routes of all technical levels.  Mount Rainier, the most heavily glaciated peak in the contiguous United States, offers an exciting challenge to the mountaineer.  The regularly climbed routes are the Disappointment Cleaver and the Emmons Glacier which are consider class 4 routes. More than 10,000 people a year try to scale this mountain and many expeditions for bigger mountains come to Rainier for their training runs.
In contrast to lava flows and pyroclastic flows that are unlikely to extend farther than 10 miles from the volcano's summit and remain within Mount Rainier National Park, the largest lahars can travel for tens of miles and reach Puget Sound. Volcanic ash will be distributed downwind, most often toward the east, away from Puget Sound's large population centers. Airborne plumes of volcanic ash can greatly endanger aircraft in flight and seriously disrupt aviation operations. Although seldom life-threatening, volcanic ash fallout on the ground can be a nuisance to residents, affect utility and transportation systems, and entail substantial clean-up costs.
Mount Rainier is ranked third of the 128 ultra-prominent mountain peaks of the United States. Mount Rainier has a topographic prominence of 13,210 ft (4,026 m), which is greater than that of K2, the world's second-tallest mountain, at 13,189 ft (4,020 m). On clear days it dominates the southeastern horizon in most of the Seattle-Tacoma metropolitan area to such an extent that locals sometimes refer to it simply as "the Mountain." On days of exceptional clarity, it can also be seen from as far away as Corvallis, Oregon, (at Marys Peak) and Victoria, British Columbia.
The English explorer George Vancouver sighted the summit on 8th May 1792, and named it for fellow navigator Peter Rainier. The first well-documented ascent was completed by Hazard Stevens and Philemon Van Trump on 17th August 1870. Each year several thousand people attempt the climb to the summit, many of them on a guided two-day trip from the Paradise area on the mountain's southern slope. Rainier is sometimes referred to by its Native American name, Mount Tacoma, or Tahoma.
The summit of this mountain is unique to the mountains. There are actually 3 separately classified summits of this peak, Columbia Crest which is the highest point at 14,411 feet, Point Success at 14,158 feet to the southwest, and Liberty Cap at 14,112 feet to the northwest all separated by a large crater. The most standard routes actually bring you to the crater rim at 14,150 feet. A lot of climbers consider this as the summit, or close enough, but to attain the true summit, it is an hour walk round trip a quarter-mile across the crater to Columbia Crest.
The Carbon, Puyallup, Mowich, Nisqually, and Cowlitz Rivers begin at eponymous glaciers of Mount Rainier. The sources of the White River are Winthrop, Emmons, and Fryingpan Glaciers. The White, Carbon, and Mowich join the Puyallup River, which discharges into Commencement Bay at Tacoma; the Nisqually empties into Puget Sound east of Lacey, and the Cowlitz joins the Columbia River between Kelso and Longview.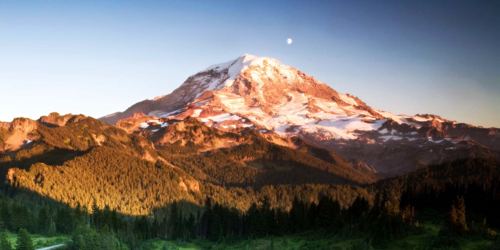 At Mount Rainier, the risk from lahars is greater than from lava flows, volcanic ash fall, or other volcanic phenomena because some pathways for future lahars are densely populated and contain important infrastructures such as highways, bridges, ports, and pipelines. Lahars look and behave like flowing concrete, and they destroy or bury most manmade structures in their paths. Past lahars probably traveled 45 to 50 miles per hour and were as much as 100 feet or thicker where confined in valleys near the volcano. They thinned and spread out in the wide valleys downstream, slowing to 15 to 25 miles per hour. Deposits of past lahars are found in all of the valleys that start on Mount Rainier's flanks.
About two mountaineering deaths each year occur because of rock and icefall, avalanche, falls, and hypothermia. These incidents are often associated with exposure to very high altitude, fatigue, dehydration, and/or poor weather. The worst mountaineering accident on Mount Rainier occurred in 1981, when eleven clients and their guides lost their lives in an avalanche/ice fall on the Ingraham Glacier. This was the largest number of fatalities on Mount Rainier in a single incident since 32 people were killed in a 1946 plane crash on the South Tahoma Glacier.
The ecosystem on the mountain is very diverse, owing to the climate found at different elevations. Scientists track the distinct species found in the forest zone, the subalpine zone, and the alpine zone. They have discovered more than one thousand species of plants and fungi. The mountain is also home to 65 species of mammals, 5 reptile, 182 bird, 14 amphibians, and 14 of native fish, in addition to an innumerable amount of invertebrates.
The USGS, in cooperation with the Pacific Northwest Seismic Network at the University of Washington, continuously monitors Mount Rainier and assesses potential hazards stemming from volcanic activity. Volcanoes often show signs of unrest, such as increased seismicity (earthquakes) and emission of volcanic gases and swelling of the volcano, days to months in advance of an eruption. When unrest is detected, scientists will notify emergency-management officials and increase monitoring efforts.
Information Sources: