Palawan (pronounced /pəˈlɑːwɑːn/) island, the southwestern-most large island of the Philippines. It is officially known the Province of Palawan (Cuyonon: Probinsya i'ang Palawan / Paragua; Tagalog: Lalawigan ng Palawan; Hiligaynon: Kapuoran sang Palawan; Cebuano: Lalawigan sa Palawan), is an archipelagic province of the Philippines that is located in the region of MIMAROPA. It is also known as the Philippine's "last ecological frontier".
This island province stretches southwest to Borneo with lush limestone peaks rising from a jewel-like sea so clear, that you can almost see the expressions on the fish from above the surface. Slivers of gleaming white sand fringed with rustling palms rim many of these jungle-clad islands, while under the water, coral reefs flourish with an impressive diversity of tropical fish, offering some of the best diving in the world. Other attractions include the islands' unique wildlife, emerald lakes, and quaint fishing villages.
Palawan is long and narrow and trends northeast-southwest between the South China and Sulu seas. It has a maximum width of 24 miles (39 km) and a mountainous backbone that runs its entire 270-mile (434-km) length, with Mount Mantalingajan (6,840 feet (2,085 meters)) in the south as its highest peak. The archipelago off the southern tip that includes the Balabac and Bugsuk island groups is a remnant of a land bridge that connected Palawan and the island of Borneo during the Pleistocene Epoch (about 2,600,000 to 11,700 years ago); for that reason the animal life and vegetation are more closely related to those of Borneo than to those of the other Philippine islands.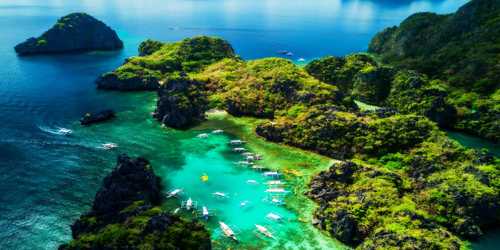 The province is named after its largest island, Palawan Island (09°30′N 118°30′E), measuring 450 kilometers (280 mi) long, and 50 kilometers (31 mi) wide. The early history of Palawan was determined by a team of researchers led by Dr. Robert B. Fox. They found evidence in the Tabon Caves that humans have lived in Palawan for more than 50,000 years. They also found human bone fragments, from an individual known as Tabon Man, in the municipality of Quezon, as well as tools and other artifacts. Although the origin of the cave dwellers is not yet established, anthropologists believe they came from Borneo. The Tabon Caves are now known as the Cradle of Philippine Civilization.
Palawan's long, irregular coastline is fringed with coral reefs, and some 1,800 smaller islands and islets lie near Palawan; the main island groups are the Calamian (north), the Dumaran-Cuyo (northeast), and the Balabac-Bugsuk (south). A discontinuous coastal plain that seldom extends more than 5 miles (8 km) inland supports most of the island's population. The plain, which is best developed on the southeastern coast, constitutes the main agricultural area and has the island's only all-weather road. Puerto Princesa, on the east-central coast of Palawan island, is the island's largest city.
Based on the International Union for Conservation of Nature (IUCN) classification, it has 105 out of the 475 threatened species in the Philippines. Of the 105 threatened species, 67 are endemic to the Philippines, while 42 of the 67 Philippine endemics are Palawan endemics. Its coastal and marine ecosystems include coral reef (379 species of corals), seagrass meadow (13 species), and mangrove (31 species, distributed in 44,500 hectares of mangrove forests, the highest remaining mangrove cover in the Philippines). It also harbors several marine mammals such as marine turtles, dugong, and whale shark. The characteristics of terrestrial and freshwater ecosystems are also diverse. It is composed of oldgrowth and secondgrowth tropical rainforest, karstic limestone, forest over ultramafic rocks, casuarinas and beach forest.
They serve as habitats to freshwater fish (total of 18 Philippines endemics), amphibians (26 Philippines endemics), reptiles (69 species), birds (279 species), migratory birds, terrestrial mammals (58 species, 16 are Palawan endemics).
The Palawano and Tagbanwa, are believed to be direct descendants of Palawan's earliest settlers. They developed an informal form of government, an alphabet, and a system of trading with seafaring merchants. Surviving ancient tribal artwork include reliefs of elephants, sharks, and fish found at Tabon Caves. Approximately 5,000 years ago, a culturally distinct period characterized by jar burials is evident. This era lasted till AD 500. Over 1500 jars and a mural depicting a burial procession were found.
Palawan's almost 2,000 kilometers (1,200 mi) of irregular coastline is lined with rocky coves and sugar-white sandy beaches. It also harbors a vast stretch of virgin forests that carpet its chain of mountain ranges. The mountain heights average 3,500 feet (1,100 m) in altitude, with the highest peak rising to 6,843 feet (2,086 m) at Mount Mantalingahan. The vast mountain areas are the source of valuable timber. The terrain is a mix of coastal plain, craggy foothills, valley deltas, and heavy forest interspersed with riverine arteries that serve as irrigation.
Scattered settlement and shifting agriculture predominate, with rice as the main food crop. Corn (maize), coconuts, beans, and sweet potatoes are also grown. Large-scale commercial fishing operations are carried out at Puerto Princesa and Taytay. Mineral resources include mercury, silica, and chromite. Oil drilling off Palawan's northern coast began in 1992. Most of the island is the forest homeland of the Batah, Palawan, and Tagbanuas ethnic groups. Christian migrants (Visayans, Tagalogs, Ilocanos, and Bicolanos) have settled in the north and east.
The population of Palawan in the 2015 census was 849,469 people, with a density of 58 inhabitants per square kilometre or 150 inhabitants per square mile. When Puerto Princesa City is included for geographical purposes, the population is 1,104,585 people, with a density of 65/km2 (168/sq mi).
There are some Moro (Muslim) villages in the south. The Tabon Caves on the island's isolated southwestern coast are an important archaeological site. Areas on and around Palawan notably in the Calamian Group were heavily damaged by Super Typhoon Haiyan, a powerful tropical cyclone that devastated the central Philippines in early November 2013. Area 4,550 square miles (11,785 square km). Pop. (2000) including associated nearby islands, 755,412; (2010) including associated nearby islands, 994,340.
The major economic activities are agriculture and fisheries. Other important industries are tourism, on-shore, and off-shore mining, gathering of minor forest products, and pearl farming.
Information Sources: