About Typhoid Fever
Definition
Typhoid Fever, also known simply as Typhoid, is an infection caused by a strain of bacteria called Salmonella typhii, which is related to the bacteria that causes salmonella food poisoning. The infection can affect the whole body and damage multiple organs. Unless treated, this infection can have life threatening consequences. The acute illness is characterized by prolonged fever, headache, nausea, loss of appetite, and constipation or sometimes diarrhoea. Symptoms are often non-specific and clinically non-distinguishable from other febrile illnesses. However, clinical severity varies and severe cases may lead to serious complications or even death. It occurs predominantly in association with poor sanitation and lack of clean drinking water. Diagnosis is by either culturing the bacteria or detecting the bacterium's DNA in the blood, stool, or bone marrow. Culturing the bacterium can be difficult. Bone marrow testing is the most accurate. Symptoms are similar to that of many other infectious diseases. Typhus is a different disease.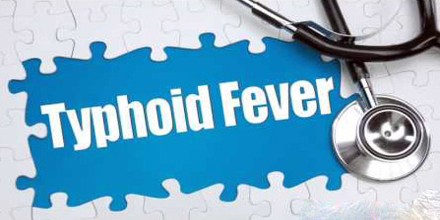 In 430 BC, a plague, which some believe to have been typhoid fever, killed one-third of the population of Athens, including their leader Pericles. Following this disaster, the balance of power shifted from Athens to Sparta, ending the Golden Age of Pericles that had marked Athenian dominance in the Greek ancient world. The ancient historian Thucydides also contracted the disease, but he survived to write about the plague. His writings are the primary source on this outbreak, and modern academics and medical scientists consider typhoid fever the most likely cause. In 2006, a study detected DNA sequences similar to those of the bacterium responsible for typhoid fever in dental pulp extracted from a burial pit dated to the time of the outbreak.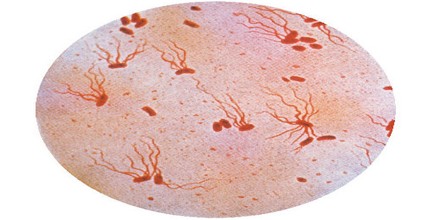 Causes, Sign and Symptom of Typhoid Fever
Typhoid Fever is contracted by the ingestion of the bacteria in contaminated food or water. Patients with acute illness can contaminate the surrounding water supply through stool, which contains a high concentration of the bacteria. Contamination of the water supply can, in turn, taint the food supply. About 3%-5% of patients become carriers of the bacteria after the acute illness. Some patients suffer a very mild illness that goes unrecognized. These patients can become long-term carriers of the bacteria. The bacteria multiply in the gallbladder, bile ducts, or liver and passes into the bowel. The bacteria can survive for weeks in water or dried sewage. These chronic carriers may have no symptoms and can be the source of new outbreaks of typhoid fever for many years.
Typhoid Fever is common in parts of the world where levels of sanitation and hygiene are poor and there is a higher risk of ingesting contaminated drinking water.
An estimated 16 to 33 million cases occur worldwide each year leading to approximately 216,000 deaths, according to the World Health Organization. Children and younger adults between the ages of 5 and 19 years are at the greatest risk of infection. The incubation period is usually 1-2 weeks, and the duration of the illness is about 3-4 weeks.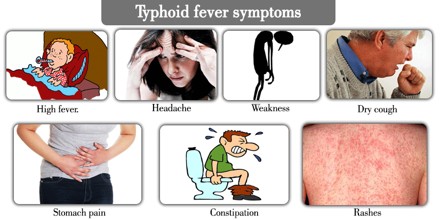 Some of the symptoms of this condition include:
Fever that usually reaches 39-40°C (103-104°F)
Headache and muscle pain
Abdominal bloating and pain
Vomiting, constipation or diarrhea
Generalized aches and pains
The fever becomes constant. Improvement occurs in the third and fourth week in those without complications. About 10% of people have recurrent symptoms after feeling better for one to two weeks. Relapses are actually more common in individuals treated with antibiotics.
Treatment and Prevention of Typhoid Fever
Typhoid Fever is treated with antibiotics which kill the Salmonella bacteria. Prior to the use of antibiotics, the fatality rate was 20%. Several antibiotics are effective for the treatment of typhoid fever. Two typhoid vaccines are currently recommended for use by:
an injectable polysaccharide vaccine based on the purified Vi antigen (known as Vi-PS vaccine) for persons aged two years and above;
and a live attenuated oral Ty21a vaccine in capsule formulation for those over five years of age.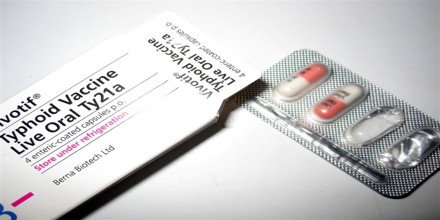 WHO recommends the use of the Vi-PS and Ty21a vaccines to control endemic disease and for outbreak control. WHO further recommends that all typhoid fever vaccination programmes should be implemented in the context of other efforts to control the disease, including health education, water quality and sanitation improvements, and training of health professionals in diagnosis and treatment.
Several Vi polysaccharide–protein conjugate vaccine candidates are under development or are nationally licensed but not on the international market and anticipated to be available in the future for infant immunization.
Sanitation and hygiene are important to prevent typhoid. Typhoid does not affect animals other than humans. Typhoid can only spread in environments where human feces are able to come into contact with food or drinking water. Careful food preparation and washing of hands are crucial to prevent typhoid. Industrialization, and in particular, the invention of the automobile, contributed greatly to the elimination of typhoid fever, as it eliminated the public health hazards associated with having horse manure in the public street which led to large number of flies.