Peanut Oil
Introduction: Peanut oil, also referred to as groundnut oil or arachis oil, is a vegetable-derived oil made from the edible seeds of the peanut plant. It is mild flavored oil that is excellent for frying and is often used in Asian cuisines. Peanut oil is offered in several varieties and can be purchased at most major groceries stores. The oil is available with a strong peanut flavor and aroma, analogous to sesame oil.
Peanut oil is also one of the world's traditional deep-frying oils because it can reach such a high temperature which keeps the outside of the food crispy and the inside very moist. Peanut oil works well with all types of cooking and has been the oil of choice for frying by numerous restaurants for many years because it tastes great.
Though the peanut plant flowers above ground, the seeds or peanuts actually develop underground. This is why peanuts are also known as groundnuts. Peanuts are often grouped with tree nuts like walnuts and almonds, but they are actually a type of legume that belongs to the pea and bean family.
Depending on processing, peanut oil can have a wide range of flavors that vary from mild and sweet to strong and nutty.
Its major component fatty acids are oleic acid (46.8% as olein), linoleic acid (33.4% as linolein), and palmitic acid (10.0% as palmitin). The oil also contains some stearic acid, arachidic acid, behenic acid, lignoceric acid, and other fatty acids.
Antioxidants such as vitamin E are sometimes added to improve the shelf life of the oil.
There are several different types of peanut oil. Each one is made using different techniques:
Refined peanut oil: This type is refined, bleached and deodorized, which removes the allergenic parts of the oil. It is typically safe for those with peanut allergies. It is commonly used by restaurants to fry foods like chicken and french fries.
Cold-pressed peanut oil: In this method, peanuts are crushed to force out the oil. This low-heat process retains much of the natural peanut flavor and more nutrients than refining does.
Gourmet peanut oil: Considered a specialty oil, this type is unrefined and usually roasted, giving the oil a deeper, more intense flavor than refined oil. It is used to give a strong, nutty flavor to dishes like stir-fries.
Peanut oil blends: Peanut oil is often blended with a similar tasting but less expensive oil like soybean oil. This type is more affordable for consumers and is usually sold in bulk for frying foods.
Peanut oil is widely used around the world but is most common in Chinese, South Asian, and Southeast Asian cooking. It became more popular in the United States during World War II when other oils were scarce due to food shortages.
It has a high smoke point of 437℉ (225℃) and is commonly used to fry foods.
Health Benefits of Peanut Oil: Peanut oil is one of the healthiest oils. It is a vegetable oil that is naturally trans fat-free, cholesterol free, and low in saturated fats. Peanut oil is high in unsaturated fats, especially monounsaturated fat, like olive oil. It is also a source of the antioxidant, vitamin E and phytosterols, which benefit heart health. Peanut oil is also a perfect choice for healthier frying because it can be heated to a higher temperature than other oils, and this results in lower oil pick up in the food.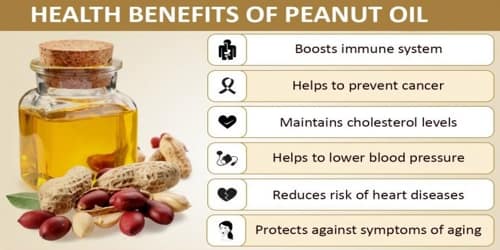 Just one tablespoon of peanut oil contains 11% of the recommended daily intake of vitamin E.
Vitamin E is actually the name for a group of fat-soluble compounds that have many important functions in the body. The main role of vitamin E is to function as an antioxidant, protecting the body from harmful substances called free radicals.
Peanut Oil Nutrient Composition –
Here is the nutritional breakdown for one tablespoon of peanut oil :
Calories: 119
Fat: 14 grams
Saturated fat: 2.3 grams
Monounsaturated fat: 6.2 grams
Polyunsaturated fat: 4.3 grams
Vitamin E: 11% of the RDI
Phytosterols: 27.9 mg
The fatty acid breakdown of peanut oil is 20% saturated fat, 50% monounsaturated fat (MUFA) and 30% polyunsaturated fat (PUFA).
The main type of monounsaturated fat found in peanut oil is called oleic acid, or omega-9. It also contains high amounts of linoleic acid, a type of omega-6 fatty acid, and smaller amounts of palmitic acid, a saturated fat.
Uses of Peanut Oil: Unrefined peanut oil has a smoke point of 320 °F/160 °C. and is used as a flavorant for dishes akin to sesame oil. The refined peanut oil has a smoke point of 450 °F/232 °C is commonly used for frying volume batches foods like french fries. Although most varieties of peanut oil have a very light, neutral flavor, they can sometimes have a slightly nutty flavor. Roasted peanut oils are strongly flavored and are usually added after cooking for added flavor.
Peanut oil is also unique because it does not absorb flavors from the foods that are fried in it, meaning that multiple food types can be fried in the same batch of oil without cross-contamination of flavors. For this reason, peanut oil has become a favorite in large-scale food operations where multiple food types are often cooked in a fryer before the oil is replaced.
At the 1900 Paris Exhibition, the Otto Company, at the request of the French Government, demonstrated that peanut oil could be used as a source of fuel for the diesel engine; this was one of the earliest demonstrations of biodiesel technology.
Some medicines and vitamins use arachis oil as a suspension agent.
Information Source: