Sesame Oil
Introduction: Sesame oil or gingelly oil, which comes from sesame seeds, is a lesser-known vegetable oil. It is, in fact, one of the healthiest alternatives to normal vegetable oils. Sesame seeds are small yellowish brown seeds that are primarily found in Africa, but they also grow in smaller numbers on the Indian subcontinent. Besides being used as cooking oil in South India, it is used as a flavor enhancer in Middle Eastern, African, and Southeast Asian cuisines. It has a distinctive nutty aroma and taste.
The oil extracted from Sesame seed is popular in alternative medicine, from traditional massages and treatments to the modern day. This oil is popular in Asia and is also one of the earliest-known crop-based oils, but worldwide mass modern production continues to be limited even today due to the inefficient manual harvesting process required to extract the oil.
Sesame oil has gained quite a bit of popularity in recent years because it is relatively inexpensive to extract (simple hot water flotation or a variety of pressing techniques). However, this oil is best acquired when the seeds are completely ripe, which means that the outer shells burst. The problem is the manual processing that sesame seeds require, because of which there will always be more demand than supply.
Historically, sesame was cultivated more than 5000 years ago as a drought-tolerant crop and was able to grow where other crops failed. Sesame seeds were one of the first crops processed for oil as well as one of the earliest condiments. Sesame was cultivated during the Indus valley civilization and was the main oil crop. It was probably exported to Mesopotamia around 2500 BC.
Nutritional Value of Sesame Oil:
One tablespoon (13.6 g) of Sesame oil serves 120.2 Calories. The total fat content is 13.6 g, out of which saturated fat content is 1.9 g and monounsaturated fat is 5.4 g. Sesame oil is rich in linoleic acid and oleic acid. The vitamin E content is 0.2 mg (2%) and vitamin K is 1.8μg (2%). There is a predominance of gamma-tocopherol over the other isomers of Vitamin E. the oil do not contain any carbohydrates, proteins, and fibers. The amount of Choline in the oil is 1%.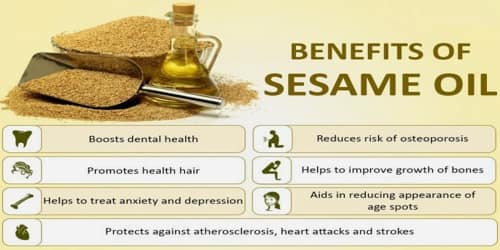 Health Benefits of Sesame Oil:
Mentioned below are the best health benefits of Sesame Oil –
Helps in treats premature graying of hair: Massaging of hair and scalp with sesame oil can help in preventing premature graying and helps in retaining the natural color of hair for longer. Regular use of this oil can help in keeping hair dark and healthy.
Helps in maintaining good skin health: Sesame oil is valued in Ayurveda because of its antibacterial and anti-inflammatory properties. It is commonly used in beauty treatments for the skin because it is an excellent moisturizer, promotes regeneration of healthy skin, has anti-aging properties, and is considered to be a natural SPF. It is also used extensively as massaging oil because of its warming property and its ability to seep deep into the skin.
Helps in detoxification of skin: The antioxidants present in sesame oil helps in detoxifying one's skin. The antioxidants absorb all those water-soluble toxins, thus enabling detoxification. Washing of face regularly with a mixture of ½ cup sesame oil, ½ cup apple cider vinegar, and ¼ cup water helps detoxify skin and provides a healthy and glowing skin.
Helps in Rheumatoid Arthritis: Sesame seeds are a powerhouse of vitamins and minerals. They are loaded with copper, zinc, magnesium, iron, and calcium. It is particularly known for its zinc and copper contents, which help in the production of red blood cells, blood circulation, and metabolism. Copper is also known for its anti-inflammatory properties, and helps reduce arthritis pain, swelling of joints and strengthens the bones.
Helps in lowering of blood pressure: Sesame oil was used commonly in cooking since the ancient times. Sesame oil as edible oil lowers blood pressure, decreases lipid peroxidation, and increases antioxidant status in hypertensive patients.
Helps to Fight Stress and Depression: Sesame oil contains an amino acid known as tyrosine, which is directly connected to serotonin activity. Serotonin is a neurotransmitter which impacts our mood. An imbalance of it could lead to depression and stress. Sesame oil in diet help in the production of serotonin which in turn help in feeling positive and keeping chronic stress away.
Oil Pulling for improving oral health: Oil pulling is an ancient Ayurvedic technique which is followed for promoting oral health and removing plaque. A tablespoon of oil is taken on an empty stomach and swished around in the mouth for 20 minutes and then spat out. It is believed to remove toxins from the body.
Acts as a natural anti-inflammatory agent: Sesame seed oil has anti-inflammatory properties which makes it an innate healing agent. The antibacterial properties help in fighting various bacteria, including staphylococcus, streptococcus, and athlete's foot fungus, affecting the skin.
Helps in preventing diabetes: Sesame seeds are a good source of magnesium as well as various other nutrients. All these together enable sesame to lower the levels of glucose in the blood, thereby thwarting the risk of diabetes.
Helps in natural cure for anemia: Sesame oil has a huge content of iron. That is why they are one of the most recommended home remedies for anemia as well as other iron-deficient problems.
Has innate anti-cancerous properties: Sesame oil contains magnesium, a mineral that has a rich anti-cancerous reputation. These also contain an anti-cancer compound known as phytate. The synergic actions of these ingredients make sesame oil reduce the risk of colorectal tumors and, even preventing their onset.
Helps in improving eye health: According to traditional Chinese medications, eyes and liver shared a very cordial relationship. Sesame oil is a natural tonic for the liver that enables better flow to blood, which, in turn, is believed to nourish eyes. These therapeutic effects can also treat blurred vision, tired and sore eyes.
Uses of Sesame Oil: Sesame oil is most popular in Asia, especially in Korea, China, and the South Indian states of Karnataka, Andhra Pradesh, and Tamil Nadu, where its widespread use is similar to that of olive oil in the Mediterranean.
East Asian cuisines often use roasted sesame oil for seasoning.
The Chinese use sesame oil in the preparation of meals.
In Japan, rāyu is a paste made of chili-sesame oil seasoning and used as a spicy topping on various foods, or mixed with vinegar and soy sauce and used as a dip.
In South India, before the advent of modern refined oils produced on a large scale, sesame oil was used traditionally for curries and gravies. It continues to be used, particularly in Tamil Nadu and Andhra Pradesh, mixed with foods that are hot and spicy as it neutralizes the heat. It is often mixed in with a special spice powder that accompanies idli and dosa as well as rice mixed with spice powders (such as paruppu podi).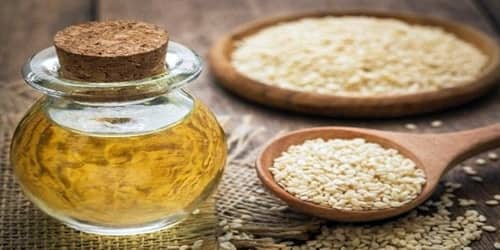 To use sesame oil as a part of people's massage routine, follow these instructions:
Place the sesame oil in a squeeze bottle. Place the bottle in a pot of warm water to warm the oil. Test the oil before using to make sure it is not too hot.
Undress and stay in a warm room, using a towel that people don't mind getting oily.
Pour small amounts of oil in people's palm, and start massaging their scalp and face with circular strokes. Be sure to massage the ears and place some warm oil in the ears.
Massage the rest of the body. Use long strokes on the limbs and long areas of the body, like the back and flank. Start at the extremities and move towards the center of the body. Use circular strokes on the joints, and don't forget to give attention to the small joints. Also, use circular strokes on the chest and abdomen.
After people have completed the self-nurturing massage, enjoy a warm shower or bath, taking care not to slip with oily feet.
In industry, sesame oil may be used as –
a solvent in injected drugs or intravenous drip solutions,
a cosmetics carrier oil,
coating stored grains to prevent weevil attacks. The oil also has synergy with some insecticides.
Low-grade oil is used locally in soaps, paints, lubricants, and illuminants.
Information Source: