Vitamin D Deficiency
Introduction
Vitamin D is a fat-soluble vitamin that is naturally present in very few foods, added to others, and available as a dietary supplement. It is also produced endogenously when ultraviolet rays from sunlight strike the skin and trigger vitamin D synthesis. Vitamin D obtained from sun exposure, food, and supplements is biologically inert and must undergo two hydroxylations in the body for activation. Vitamin D promotes calcium absorption in the gut and maintains adequate serum calcium and phosphate concentrations to enable normal mineralization of bone and to prevent hypocalcemic tetany. It is also needed for bone growth and bone remodeling by osteoblasts and osteoclasts. Without sufficient vitamin D, bones can become thin, brittle, or misshapen. Vitamin D sufficiency prevents rickets in children and osteomalacia in adults. Together with calcium, vitamin D also helps protect older adults from osteoporosis.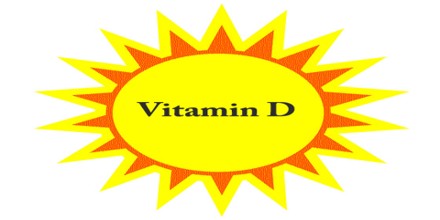 Several forms (vitamers) of vitamin D exist. The two major forms are vitamin D2 or ergocalciferol, and vitamin D3 or cholecalciferol; vitamin D without a subscript refers to either D2 or D3 or both. These are known collectively as calciferol. Vitamin D2 was chemically characterized in 1931. In 1935, the chemical structure of vitamin D3 was established and proven to result from the ultraviolet irradiation of 7-dehydrocholesterol.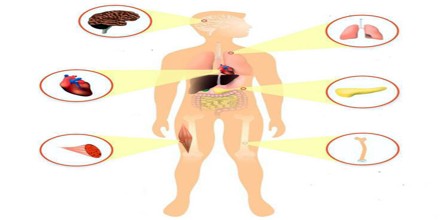 Causes and Symptom of Deficiency
Vitamin D deficiency has become a worldwide problem in the elderly and remains common in children and adults. The main reasons for low levels of vitamin D are:
Lack of vitamin D in the diet, often in conjunction with inadequate sun exposure
Inability to absorb vitamin D from the intestines
Inability to process vitamin D due to kidney or liver disease
A diet deficient in vitamin D in conjunction with inadequate sun exposure causes osteomalacia or rickets when it occurs in children, which is a softening of the bones. In the developed world, this is a rare disease. Deficiency results in impaired bone mineralization and bone damage which leads to bone-softening diseases, including rickets and osteomalacia.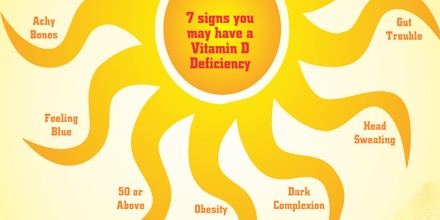 Prolonged exclusive breastfeeding without the AAP-recommended vitamin D supplementation is a significant cause of rickets, particularly in dark-skinned infants breastfed by mothers who are not vitamin D replete. Additional causes of rickets include extensive use of sunscreens and placement of children in daycare programs, where they often have less outdoor activity and sun exposure. Rickets is also more prevalent among immigrants from Asia, Africa, and the Middle East, possibly because of genetic differences in vitamin D metabolism and behavioral differences that lead to less sun exposure.
In adults, vitamin D deficiency can lead to osteomalacia, resulting in weak bones. Symptoms of bone pain and muscle weakness can indicate inadequate vitamin D levels, but such symptoms can be subtle and go undetected in the initial stages.
7 Signs People May Be Vitamin D Deficient
Patients Have Darker Skin
Patient Feel "Blue"
Patient's ages are 50 or Older
Patients are overweight or obese (or Have a Higher Muscle Mass)
Patients Bones Ache
Head Sweating
Patients Have Gut Trouble
Symptoms of bone pain and muscle weakness can mean people have a vitamin D deficiency. However, for many people, the symptoms are subtle. Yet, even without symptoms, too little vitamin D can pose health risks. Low blood levels of the vitamin have been associated with the following:
Increased risk of death from cardiovascular disease
Cognitive impairment in older adults
Severe asthma in children
Cancer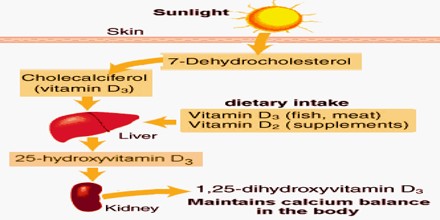 Treatment and Prevention of Vitamin D Deficiency
Treatment for vitamin D deficiency involves getting more vitamin D through diet and supplements. Although there is no consensus on vitamin D levels required for optimal health and it likely differs depending on age and health conditions — a concentration of less than 20 nanograms per milliliter is generally considered inadequate, requiring treatment.
Vitamin D supplements should be taken with a meal that contains fat. Studies have shown that when taken on an empty stomach versus with a meal containing fat, there was an average of 32% more vitamin D absorption in the fat-containing meal. This ranged from 11%-52%. Even an 11% reduction is significant and can impact your vitamin level. A recent study instructed people to take their supplement with their largest meal, typically the one with the most fat, and in three months, their blood levels went up an average of 56.7%.
Most people can get at least some of their vitamin D needs from the sun. The amount found in food is not enough for treating a deficiency and may not be enough for most people to maintain adequate levels unless combined with sun exposure.