About Lung Cancer
Definition
Lung cancer is one of the most common forms of cancer. It is also known as lung carcinoma, is a malignant lung tumor characterized by uncontrolled cell growth in tissues of the lung. The lung is a very common site for metastasis from malignant tumors in other parts of the body. Most cancers that start in the lung, known as primary lung cancers, are carcinomas. The two main types are small-cell lung carcinoma (SCLC) and non-small-cell lung carcinoma (NSCLC). The most common symptoms are coughing (including coughing up blood), weight loss, shortness of breath, and chest pains. The majority of lung cancer is diagnosed at a relatively late stage; only 10% of all lung cancer patients are ultimately cured. Eight out of 10 lung cancers are due to tobacco smoke.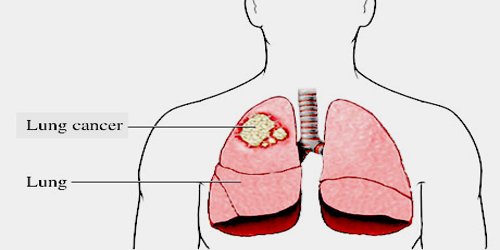 Lung cancers can arise in any part of the lung, but 90%-95% of cancers of the lung are thought to arise from the epithelial cells, the cells lining the larger and smaller airways (bronchi and bronchioles); for this reason, lung cancers are sometimes called bronchogenic cancers or bronchogenic carcinomas. Cancers also can arise from the pleura, also called mesotheliomas or rarely from supporting tissues within the lungs, for example, the blood vessels.
Avoidance of risk factors, including smoking and air pollution, is the primary method of prevention. Treatment and long-term outcomes depend on the type of cancer, the stage (degree of spread), and the person's overall health. Most cases are not curable. Common treatments include surgery, chemotherapy, and radiotherapy. NSCLC is sometimes treated with surgery, whereas SCLC usually responds better to chemotherapy and radiotherapy.
Types of Lung Cancer
Cancer that begins in the lungs is called primary lung cancer. Cancer that spreads to the lungs from another place in the body is known as secondary lung cancer. There are two main types of primary lung cancer. These are classified by the type of cells in which the cancer starts. They are:
Non-small-cell lung cancer – the most common type, accounting for more than 80% of cases; can be either squamous cell carcinoma, adenocarcinoma or large-cell carcinoma
Small-cell lung cancer – a less common type that usually spreads faster than non-small-cell lung cancer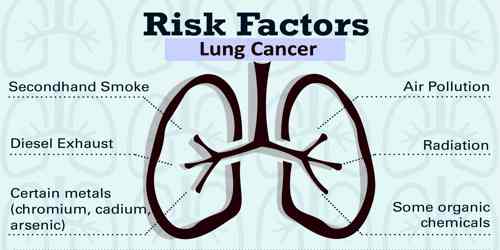 Casuses, Sign and Symptoms of Ling Cancer
Lung cancer mainly affects older people. It's rare in people younger than 40, and the rates of lung cancer rise sharply with age. Lung cancer is most commonly diagnosed in people aged 70-74. Although people who have never smoked can develop lung cancer, smoking is the main cause (accounting for over 85% of cases).
Smoking – Smoking cigarettes is the single biggest risk factor for lung cancer. It's responsible for more than 85% of all cases. Tobacco smoke contains more than 60 different toxic substances, which can lead to the development of cancer. These substances are known to be carcinogenic (cancer-producing). Smoking cannabis has also been linked to an increased risk of lung cancer. Most cannabis smokers mix their cannabis with tobacco.
Radon Gas – Radon is the second-most common cause of lung cancer in the USA, causing about 21,000 deaths each year. It is a colorless and odorless gas generated by the breakdown of radioactive radium, which in turn is the decay product of uranium, found in the Earth's crust.
Occupational exposure and pollution – Exposure to certain chemicals and substances used in several occupations and industries has been linked to a slightly higher risk of developing lung cancer. These chemicals and substances include: arsenic, asbestos, beryllium, cadmium, coal and coke fumes, silica, and nickel.
Genetics – About 8% of lung cancer is due to inherited factors. In relatives of people with lung cancer, the risk is doubled. This is likely due to a combination of genes. Polymorphisms on chromosomes 5, 6 and 15 are known to affect the risk of lung cancer.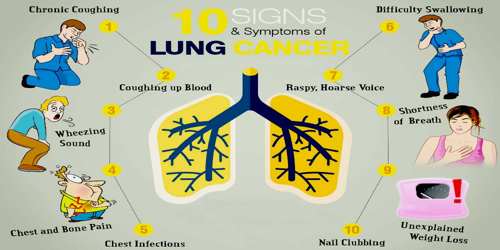 The signs and symptoms of lung cancer can take years to develop and they may not appear until the disease is advanced. Symptoms of lung cancer that are in the chest:
Coughing, especially if it persists or becomes intense
Pain in the chest, shoulder, or back unrelated to pain from coughing
A change in color or volume of sputum
Shortness of breath
Changes in the voice or being hoarse
Harsh sounds with each breath (stridor)
Recurrent lung problems, such as bronchitis or pneumonia
Coughing up phlegm or mucus, especially if it is tinged with blood
Coughing up blood
Symptoms of lung cancer that may occur elsewhere in the body:
Loss of appetite or unexplained weight loss
Muscle wasting, which is also known as cachexia
Fatigue
Headaches, bone or joint pain
Bone fractures not related to accidental injury
Neurological symptoms, such as unsteady gait or memory loss
Neck or facial swelling
General weakness
Bleeding
Blood clots
Diagnosis and Treatment of Lung Cancer
Lung cancer often appears as a solitary pulmonary nodule on a chest radiograph. However, the differential diagnosis is wide. Lung cancer can also be an incidental finding, as a solitary pulmonary nodule on a chest radiograph or CT scan done for an unrelated reason. The definitive diagnosis of lung cancer is based on histological examination of the suspicious tissue in the context of the clinical and radiological features.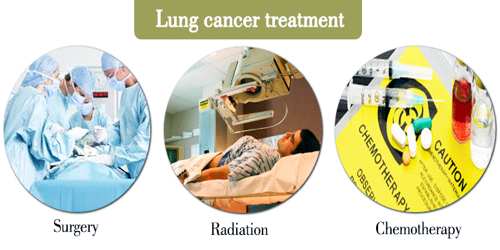 The treatment of lung cancer requires a team approach. Surgical oncologists are surgeons specialized in the removal of cancers. Thoracic surgeons or general surgeons may also surgically treat lung cancers. Medical and radiation oncologists are specialists in the treatment of cancers with medications and radiation therapy, respectively. Other specialists who may be involved in the care of people with lung cancer include pain and palliative-care specialists, as well as pulmonary specialists.
Smoking prevention and smoking cessation are effective ways of preventing the development of lung cancer. The long-term use of supplemental vitamin A, vitamin C, vitamin D or vitamin E does not reduce the risk of lung cancer. Some studies suggest that people who eat diets with a higher proportion of vegetables and fruit tend to have a lower risk, but this may be due to confounding with the lower risk actually due to the association of a high fruit/vegetables diet with less smoking.
Reference: