About Lyme Disease
Definition
Lyme disease is a disease caused by the bacterial spirochete Borrelia burgdorferi, transmitted by deer ticks and characterized initially by a bull's-eye-shaped rash followed by flu-like symptoms such as fever, joint pain, and headache. If untreated, it can result in chronic arthritis and neurologic or cardiac dysfunction. It is named after Lyme, Connecticut, where it was first reported.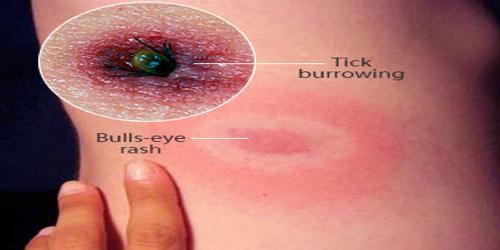 Lyme disease is medically divided into three phases: early localized disease with skin inflammation; early disseminated disease with heart and nervous system involvement, including palsies and meningitis; and late disease, featuring motor and sensory nerve damage and brain inflammation and arthritis
Symptoms can occur anywhere from 3 to 30 days after the bite, and symptoms can be wide-ranging, depending on the stage of the infection. Lyme disease is diagnosed based on symptoms, physical findings (e.g., rash), and the possibility of exposure to infected ticks.  Laboratory testing is helpful if used correctly and performed with validated methods. Most cases of Lyme disease can be treated successfully with a few weeks of antibiotics. Treatment is usually for two or three weeks. Some people develop a fever and muscle and joint pains from treatment which may last for one or two days. In those who develop persistent symptoms, long-term antibiotic therapy has not been found to be useful.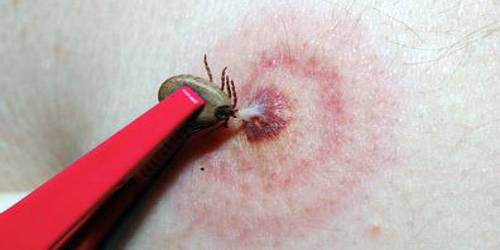 Causes, Sign, and Symptoms of Lyme Disease
Lyme disease is a tick-borne disease caused by a bacterium called a "spirochete." In the United States, the actual name of the bacterium is Borrelia burgdorferi. In Europe, the bacteria Borrelia afzelii and Borrelia garinii also cause Lyme disease. Lyme disease is not contagious from an affected person to someone else. Lyme disease can cause abnormalities in the skin, joints, heart, and nervous system.
Lyme disease is classified as a zoonosis, as it is transmitted to humans from a natural reservoir among small mammals and birds by ticks that feed on both sets of hosts. Most infections are caused by ticks in the nymphal stage because they are very small and thus may feed for long periods of time undetected. Larval ticks are very rarely infected.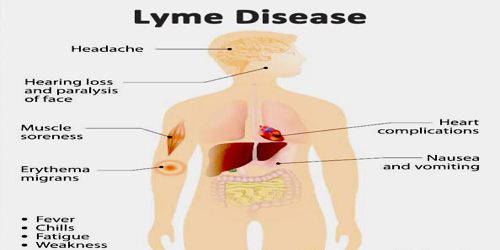 Lyme disease can produce a wide range of symptoms, depending on the stage of infection. These include fever, rash, facial paralysis, and arthritis.
Early Signs and Symptoms (3 to 30 days after tick bite)
Fever, chills, headache, fatigue, muscle and joint aches, and swollen lymph nodes
Erythema migrans (EM) rash:
Occurs in approximately 70 to 80 percent of infected persons
Begins at the site of a tick bite after a delay of 3 to 30 days (average is about 7 days)
Expands gradually over a period of days reaching up to 12 inches or more (30 cm) across
May feel warm to the touch but is rarely itchy or painful
Sometimes clears as it enlarges, resulting in a target or "bulls-eye" appearance
May appear on any area of the body
See examples of EM rashes
Later Signs and Symptoms (days to months after tick bite)
Severe headaches and neck stiffness
Additional EM rashes on other areas of the body
Arthritis with severe joint pain and swelling, particularly the knees and other large joints.
Facial palsy (loss of muscle tone or droop on one or both sides of the face)
Intermittent pain in tendons, muscles, joints, and bones
Heart palpitations or an irregular heartbeat (Lyme carditis)
Episodes of dizziness or shortness of breath
Inflammation of the brain and spinal cord
Nerve pain
Shooting pains, numbness, or tingling in the hands or feet
Problems with short-term memory
Diagnosis, Treatments, and Preventions of Lyme Disease
In early Lyme disease, doctors can sometimes make a diagnosis simply by finding the classic red rash (described above), particularly in people who have recently been in regions in which Lyme disease is common. Blood tests for antibodies to Lyme bacteria are generally not necessary or helpful in early-stage disease, but it can help in diagnosis in later stages.
Diagnosis of late-stage Lyme disease is often complicated by a multifaceted appearance and nonspecific symptoms, prompting one reviewer to call Lyme the new "great imitator". Lyme disease may be misdiagnosed as multiple sclerosis, rheumatoid arthritis, fibromyalgia, chronic fatigue syndrome, lupus, Crohn's disease, HIV, or other autoimmune and neurodegenerative diseases.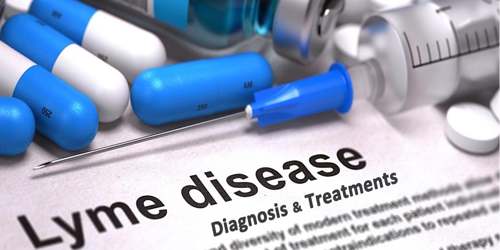 Patients treated with appropriate antibiotics in the early stages of Lyme disease usually recover rapidly and completely. Antibiotics commonly used for oral treatment include doxycycline, amoxicillin, or cefuroxime axetil. Patients with certain neurological or cardiac forms of illness may require intravenous treatment with drugs such as ceftriaxone or penicillin.
About 30,000 cases of Lyme disease are reported to the CDC each year, the agency says, but that doesn't reflect every case that's diagnosed. The CDC estimates about 329,000 cases of Lyme disease occur each year. Protective clothing includes a hat, long-sleeved shirt, and long pants tucked into socks or boots. Light-colored clothing makes the tick more easily visible before it attaches itself. People should use special care in handling and be allowing outdoor pets inside homes because they can bring ticks into the house. People who work in areas with woods, bushes, leaf litter, and tall grass are at risk of becoming infected with Lyme at work. Employers can reduce the risk for employees by providing education on Lyme transmission and infection risks, and about how to check themselves for ticks on the groin, armpits, and hair. Work clothing used in risky areas should be washed in hot water and dried in a hot dryer to kill any ticks.
Reference: