Introduction
ARISTOPHARMA LTD. started through the formation of a proprietorship firm with the introduction of a few products in oral liquid & tablet form in 1986. In 1990 new manufacturing unit was commissioned at Shampur-Kadamtali with highly sophisticated and advanced facilities. In 1998 Production line was diversified with the addition of cream and ointment in the portfolio. In 2000 Company starts its international operation – Vietnam being the first country to export, and then export to Sri Lanka, Singapore, Myanmar, Hong Kong, Ukraine, UAE, and Mauritius etc country.
In 2002 Sterile Products Block is commissioned & Ophthalmic Products are introduced in the market. In 2009 Agreement is signed with APC, Australia to set up its 3rd plant at Gacha, Gazipur for Europe/American Market. Export starts to United Arab Emirates of Middle East and Nigeria of Africa. In 2010 Export starts to Pakistan. The new expansion building of factory starts operation with the facilities for inhalers, insulins, lyophilized injections, pre-filled injections, suppositories etc.
Plant of ARISTOPHARMA LTD.
Manufacturing facilities
The state-of-the-art-manufacturing facility of ARISTOPHARMA is located at Shampur-Kadamtali. The facility is planned and designed with fine tuned future orientation to meet the local as well as international demand both qualitatively & quantitatively.  Moreover, to meet the need of the market, company has set up a new plant beside its existing one. With 66000 sq. ft. floor area this new plant would help us to manufacture some new, high-tech products like inhalers, insulins, lyophilized injections, pre-filled injections, suppositories etc. The company is now working to build its 3rd plant at Gacha, Tongi for exporting its medicines to US & European market.
 The ophthalmic and parenteral products are manufactured in the newly commissioned sterile product block. This block, built on a turn-key basis by RETAN LTD. of Belgium brings in world class facilities for manufacturing sterile ophthalmic & parenteral dosage forms. This facility equipped with HEPA filter, laminar air flow and class 100 clean room is believed to be the most modern in the country. A good blend of Pharmacists, Chemists, Microbiologists & Engineers led by the Director, Production pay their relentless efforts to bring in the highest quality products.
Quality Assurance
In ARISTOPHARMA quality comes first, profit comes to its sequence & that is reflected in its motto: 'Quality – the unit we count'. Strict quality control procedures are maintained at every step starting from sourcing of raw materials to dispatch of finished products. The latest WHO approved current Good Manufacturing Practices (cGMP) & current Good Laboratory Practices (cGLP) are followed in every step of operation. Written Standard Operating Procedures (SOPs) are maintained for every process. The total Quality Assurance activities are accomplished by two departments – Quality Compliance & Quality Control, which are comprised of competent Pharmacists, Chemists, Biochemists & Microbiologists.
Product Development
The motto of ARISTOPHARMA's product development is to invent a healthier tomorrow. Their thrash is to support the valued customers with advanced & latest medicines at an affordable price. Every year around 20-30 new products are added to its portfolio, which is one of the many reasons that ARISTOPHARMA stands as one of the fastest growing pharmaceutical companies in the country.
Marketing
The theme of ARISTOPHARMA's Marketing is to care for its customers and this responsibility doesn't lie only on the shoulder of Marketing Department rather all the company's departments work together to serve the customers' interests and not only the external customers, but also the internal customers i.e. employees. The core marketing job is accomplished by six departments- Product Management, Sales, Distribution, Medical Services, Sales Training and Market Research.
Product management department (PMD)
Product Management Department lies in the center of all marketing activities. A dedicated team with solid professional background comprising Pharmacists, MBAs, Biochemists and Medical Graduates work in this department
 Sales Department

The sales department lies as an important part of marketing as they do the implementation part of all strategies. A large team of around 1200 highly skilled sales people work throughout the country to bring in success for the company.
Distribution Department
To make its quality products available at every corner of the country, ARISTOPHARMA has a strong distribution network comprising of 14 depots throughout the country. A dedicated team of around 450 people and a fleet of vehicles comprising delivery vans, three wheelers etc are engaged to distribute time of the products throughout the country.
Medical Services Department (MSD)
ARISTOPHARMA, believe that their responsibility does not end only in manufacturing and marketing quality medicines but also extends to the total improvement of the healthcare sector of the country. To do this, ARISTOPHARMA has established an independent Clinical Research and Medical Services Department (CRMSD) for the first time in Bangladesh. CRMSD comprised of medical graduates, assists in conducting Clinical Researches with their own medicines on their local people upon collaboration with different medical institutions. It also arranges seminars & symposia, publishes newsletters & articles and provides other professional services to the doctors.
Sales Training Department
They organize training for sales people. Training is organized both in the entry level as well as for existing people to keep them updated with product knowledge, selling skills etc.
Market Research Team (MRT)
The Market Research Team conducts prescription audit throughout the country to find out the prescription behavior of the doctors, which acts as the major input for formulating marketing strategies.
Export
With the aim to cope up with the challenges of globalization, ARISTOPHARMA started its export operation in 2000, Vietnam being the first destination. Today ARISTOPHARMA export to 12 countries of three continents namely Singapore, Sri Lanka, Myanmar, Vietnam, Bhutan, Pakistan, UAE & Macau of Asia; Ukraine of East Europe & Nigeria, Mauritius of Africa. Apart from usual tablet, capsule, syrup, suspension or cream/ointment, it also exports sophisticated ophthalmic dosage forms to Hong Kong and Myanmar. It is the 1st pharmaceutical company in Bangladesh to export to a developed country like Hong Kong & 2nd company to export to Singapore.
Now ARISTOPHARMA is moving aggressively to increase its market share in the operating countries as well as to invade new countries. Some other African countries & countries of Middle East are under active search.
Human resource
Skilled human resources are the key driving force of ARISTOPHARMA. Their success is based on attracting, developing & retaining talented & motivated human resource.
The employees of ARISTOPHARMA believe in collaborative spirit. They appreciate that working as a team multiplies the strength of the individuals involved as well as the impact of the results.
Skill acquisition & development of all staff is key to a company's growth, we believe. In this regard, they are always on the look out to identify training needs of their employees in order to enable them to carry out the entrusted responsibilities. Training programs undertaken, not only address skills relating to the specialty of the individuals concerned, but also improving leadership skill.
The total no. of employees in ARISTOPHARMA is around 3000, and 60% of them are
 Pharmacists
 Chemists
 Biochemists
 Microbiologists
 Engineers
 CMAs
 CAs
 MBAs
 Doctors
 Others (Graduates)
Some products of AristopharmaWide range of diversified products including antibiotics, antiulcerants, nsaids, antihistamines, antidiabetics, antihypertensives, Vitamines and supliments, antipsychotics, ophthalmic products, injectable products, etc build aristopharma portfolio.
Trade name

Generic name

Dosage form

Strength

Pack size

DIGEL

Al/Mg Hydroxide

Suspension

200 ml

EMEP

Esomeprazole

Tablet

20 mg

60's

Capsule

20 mg

60's

40 mg

40's

Injection

40 mg

1's

LUMERAN

Ranitidine HCl

Tablet

150 mg

100's

300 mg

50's

OMEP

Omeprazole

Capsule

20 mg

100's

40 mg

30's

IV Injection

40 mg

1's

PROTON-P

Pantoprazole

Tablet

20 mg

50's

40 mg

50's

IV Injection

40 mg

1's

RABE-20

Rabeprazole

Tablet

20 mg

50's
Trade name

Generic name

Dosage form

Strength

Pack size

APULDON

Domperidone

Tablet

10 mg

100's

Suspension

5 mg/ml

60 ml

Paediatric Drops

5 mg/ml

15 ml

AVOLAC

Lactulose

Oral Solution

3.35 g/5ml

100 ml

200 ml
 Training
The term training refers to the acquisition of knowledge, skills, and competencies as a result of the teaching of vocational or practical skills and knowledge that relate to specific useful competencies. During In Plant Training we know about how the pharmaceutical raw materials are processed from the dispensing of the materials to the finished products with maintaining its quality. In-plant training is a very important part in Pharmacy Education to achieve practical knowledge for every student.
Why In Plant Training is needed?
In Pharmaceutical Industry to build up the carrier as an industrial pharmacist every pharmacy graduate must have a practical experience on developing formulations, manufacturing, quality control and industrial management. It forms the core of apprenticeships and provides the backbone of content at institutes of technology. In addition to the basic training required for a trade, occupation or profession, observers of the labor-marketrecognize today the need to continue training beyond initial qualifications, to maintain, upgrade and update skills throughout working life. People within many professions and occupations may refer to this sort of training as professional development. To make the pharmacy graduates more competent and more experienced In-Plant training is essential.
On-the-job training takes place in a normal working situation, using the actual tools, equipment, documents or materials that trainees will use when fully trained. On-the-job training has a general reputation as most effective for vocational work.
Purpose of in-plant training
The purpose of in-plant training is given below-
For the fulfillment of B.Pharm Degree.
To achieve idea about the documentation and this is necessary for practicing GMP.
To get ideas about the function of IPC (In Process Control) department.
To achieve overall idea how cGMP standards are followed in a pharmaceutical industry.
To correlate the theoretical knowledge with the practical knowledge.
To get idea about the important machineries and equipments those are needed for the production and product analysis.
To get ideas about the activities of QA (Quality Assurance) department.
To get ideas about development department.
Manufacturing of Solid Dosage form
 Solid dosage forms are the most popular and convenient methods for drug delivery. Due to low production cost and easy manufacturing process manufacturer produces large amount of solid product. They can be produced in a non-sterile environment and the technology is well-known after more than 100 years of development. Since most pharmaceuticals are produced in solid dosage forms, it is important that the unit operations for their production be thoroughly understood. This course focuses on the fundamentals of each separate processing step (unit operation) required for the manufacture and packaging of tablets and capsules, the most common of solid dosage forms.
There are various types of solid dosage form resent in the world as tablets, capsules, pellets, powder for suspension etc. ARISTOPHARMA LTD. Bangladesh produces three types of solid dosage preparation. These preparations include tablets, capsules, and powder for suspension.
Manufacturing area of solid dosage form
In general terms, all unit operations required to get the unit into its finished form. Examples of these unit operations include blending, granulating, compressing, branding, and coating for tablets, as well as blending and filling for capsules. All solid dosage form manufacturing area are divided by
Manufacturing Area
Tablet

Granulation Unit
Compression Unit
Coating Unit

Capsule and Powder for suspension

Processing Unit
Encapsulation Unit
Filling Unit
Packaging Area
Blistering Unit
Packing Unit
 Capsule and Powder for suspension Area
 Manufacturing of Tablet
Tablet
Tablet is a pharmaceutical dosage form that may be defined as a solid dosage form containing drug substance with or without suitable excipients and prepared by compression or molding method. The excipients can include diluents, binders or granulating agents, glidants (flow aids) and lubricants to ensure efficient tabletting; disintegrants to promote tablet break-up in the digestive tract; sweeteners or flavours to enhance taste; and pigments to make the tablets visually attractive. A polymer coating is often applied to make the tablet smoother and easier to swallow, to control the release rate of the active ingredient, to make it more resistant to the environment (extending its shelf life), or to enhance the tablet's appearance. A tablet can be formulated to deliver an accurate dosage to a specific site; it is usually taken orally, but can be administered sublingually, buccally, rectally or intravaginally. Size of tablet to be swallowed range from a few millimeters to about a centimeter. Some tablets are in the shape of capsules, and are called "caplets".
Constituents of Tablet
A typical tablet mainly contains one or more active ingredients, diluents, disintegrating agents, binder, lubricating agent, glidant, antiadherent, and small amount of coloring and flavouring agent(if needed).
Pie chart of constituents of Tablet
Types of Tablet
Tablets are broadly classified into two groups namely:
1)      Compressed tablet
2)      Molded tablet.
Compressed Tablet
Compressed tablets are formed by compression. There are various types of compressed tablets, such as
Uncoated  tablets
Coated tablets
* Sugar –coated tablets
* Film-coated tablets
* Enteric-coated tablets
 * Press-coated tablets
Multiple compressed tablets
Controlled –release tablets
Effervescent tablets
Tablets for solution
Buccal & sublingual tablets
Immediate release
Delayed release
Chewable tablets
Lozenges
Soluble tablets
Molded Tablet (Tablet Triturates,TT)
Molded tablets are made from moist materials, using a triturate mold. Two types of molded tablets –
Dispersing  tablets
Hypodermic tablets
Essential qualities of a good tablet
Accurate & uniform weight
The drug should be uniformly distributed throughout the tablet
Absence of incompatibilities
The tablet should not be too hard to disintegrate
Stability & hardness
Pleasing appearance
Ease of manufacture
Economy of production
Advantages of tablets
Tablets are easy to carry
They are easy to swallow
Unpleasant odor and taste can be masked by film and suger coating.
Provide prolong stability compared to the other dosage form
Production costs are relatively low
Self administration is possible
Absence of alcohol
Disadvantages of tablet
Not suitable for children
Takes long time for absorption
Patients with vomiting & diarrhea cannot take
First pass metabolism occur
Excipients used in Tablet manufacturing
Excipients are pharmacologically inert substances which used in addition to the active ingredients for compounding of tablets in order to confirm desirable characteristics of the final products. Excipients that are used in the tablet formulation are
 Diluents:
Diluents may be defined as inert substances which are added to tablet formulation to increase bulk of the individual tablet in order to make the tablet a practical size for compression when the drug dose itself is inadequate for the required bulk. As for example lactose, maize starch, avicel, ludipress etc.
 Binders:
Binders are inert adhesive materials which are used to imparts cohesive qualities to the powder material and bind them together for compression. As for example solution of povidon k-30, HPMC solution, maize starch paste etc.
 Disintegrants:
 Disintegrants are agents that are added to the tablet formulation to facilitate breakdown or disintegration of the tablet when it contracts with water or fluid inside the body. As for example sodium starch glycolate, cross povidone, sodium CMC, etc.
Lubricants:
Lubricants are agents used in tablet formulations to reduce friction during tablet compression for the ejection of the tablets from the die. As for example magnesium stearate, calcium stearate, stearic acid, etc.
Anti-adherents:
Agents that prevent sticking of any of the tablet granules to the face of the punch and the die wall. As for example purified talc, etc.
Glidants:
Agents that improve flow properties of the granules or powder by reducing friction. As for example Aerosil-200, etc.
Colorants:
Agents that are used to impart color to the tablet. As for example FD&C Blue-1, FD&C Green-3, etc.
Flavouring Agents:
Agents that help to make the tablet taste better. As for example menthol, vanillin, cocoa butter, etc.
Production steps of Tablets
Production area of tablets are divided into various region as
Raw materials
Warehouse
Dispensing
Processing
  Granulation
  Blending
  Compression
  Tablet coating( if needed)
In process control
Packaging
Finished products
Warehouse for Distribution.
 Dispensing Unit
From the warehouse at first all the raw materials are bought into the dispensing room where the required amount of material is weighted.  Dispensing is the first step of manufacturing. Dispensing of raw material is done in the dispensing boot under laminar airflow. At first all excipients are dispensed and then the active ingredients are dispensed. Raw materials must be approved From QC department before dispensing. After dispensing and before manufacturing all the raw materials are kept in the dispensing bulk room and all necessary data are recorded.
Process of dispensing
Requisition is given to warehouse for raw materials prior to granulation
Raw materials are collected from warehouse and transferred to a clean dispensing room.
Dispensing condition should be maintained
Weighing of raw materials should be according to MO (manufacturing order)
Checking of quantity dispensed
Excess material returned to warehouse.
Steps of Production
 Granulation
Wet Granulation
Dry Granulation
Compression
Tablet coating
Packaging
Warehouse for Distribution
Granulation Area
Granulation is the process in which the powder particles of raw materials are made to form larger particles in order to facilitate compression for the production of tablet. All the materials are received from the dispensing unit and granulation is performed. For suitable granulation, it is required to have 30-40% powder and 60-70% granules and also 1-5% moisture in compressing particles.
Most powders cannot be compressed directly into tablets because-
  The lack the proper characteristics of binding or bonding together into a compact entity.
  They do not ordinarily possess the lubricating and disintegrating properties required for    tableting.
Why Granulation is needed?
To prevent segregation of the constituents in the powder mix
To improve flow properties of the mix
To improve compression characteristic of the mix
The granulation of toxic materials will reduce dust generation
Granules are denser and thus occupy less volume per unit weight.
Types of Granulation
Wet Granulation
Dry Granulation
Wet Granulation
Wet granulation is a process of using a liquid binder to lightly agglomerate the powder mixture. The amount of liquid has to be properly controlled, as over-wetting will cause the granules to be too hard and under-wetting will cause them to be too soft and friable. Aqueous solutions have the advantage of being safer to deal with than solvent-based systems but may not be suitable for drugs which are degraded by hydrolysis.
This is the most widely used and most general method of tablet preparation. Its popularity is due to the greater probability that the granulation will meet all physical requirements for the compression of both tablets.
Wet Granulation Technology
Primary crushing by multimill                                   

Sieving of dispensing materials

Lubrication by lubricating agents

Final blending by blender machine for compression

Final crushing by multimill

 Flow Chart of Wet Granulation
Advantage of Wet granulation
      Improve flow properties
      Densification
      Improved compression characteristics
      Reduction in dust
      Prevention of segregation of powder mix
Disadvantage of Wet granulation
      Stability may be a concern for moisture sensitive drug
      Time, space and equipment required are costly
Problems associated with Wet Granulation
During wet granulation some problems are found Such as  :
1)      Doughy mass
2)      Screen clogging
3)      Moisture sensitivity
Descriptions of them are given below:
Doughy Mass:
 It is a common tableting problem during wet granulation.
Reasons /causes:
Too much water
Over mixing
Wrong binder
 Remedy:
Add granulation water slowly.
Reduce water or mixing time.
Appropriate binder is used
Use alcohol/water or alcohol as granulating fluid –select.
Screen Clogging:
When too much water is used in mass then screen clogging occur.
Reasons /causes:
Too much water in mass
Doughy or sticky wet mass
Mass sensitive to water content
Gummy binder
Component or active ingredient
Remedy:
Avoid oscillating granulator and use extrusion type granulator or fitz mill.
Reduce mixing time
Incorporate ingredient less sensitive to water.
Use appropriate binder.
Moisture sensitivity:
Reasons /causes:
Remedy:
Use ethyl or isopropyl alcohol as granulating fluids ,ethyl cellulose ,PVP as binder .
Slugging or dry granulation method.
Dry granulation
Dry granulation processes create granules by light compaction of the powder blend under low pressures. The compacts so-formed are broken up gently to produce granules (agglomerates). This process is often used when the product to be granulated is sensitive to moisture and heat. Dry granulation can be conducted on a tablet press using slugging tooling or on a roll press called a roller compactor. Dry granulation equipment offers a wide range of pressures to attain proper densification and granule formation. Dry granulation is simpler than wet granulation.
Advantage of dry granulation
      One step process
      Time saving
      Moisture sensitive drugs can be granulated
Disadvantage of dry granulation
      Decreased compression characteristics
      Excess dusting
Condition for manufacturing of Granules
Relative Humidity: Not more than 55%.
Temperature: Below 250C.
Problems associated with Dry Granulation
During dry blending some problems are arise. They are:
1)      Particle agglomeration
2)      Non Uniformity of mix
3)      Segregation
Particle Agglomeration:
During dry blending some particles are gathered together into larger aggregates.
Reasons /causes:
Occurs with fine cohesive powder which causes "balling up" and poor distribution.
Remedy:
Fine screen cohesive compound into bulk mix
Use a more effective mixer with shearing action
Blend the Cohesive powder with a portion (5_10)% of the excipients in an efficient mixer ,add the bulk and blend normally
 Non –Uniformity of Mix:
 Sometimes mixing is not properly done and problems are arise:
Reasons /causes:
 Improper blender load
Insufficient mixing
Over blending
Remedy:
Use recommended powder load in blender
 Increase mixing time
Segregation:
Sometimes dry blending particles are segregate.
Reasons /causes:
Particle size distribution too wide .
Over blending
Remedy:
Narrow particle size range of components
Reduce blending time and establish optimum mixing condition.
Steps involved in Dry Granulation
Weighing of Active and Excipients
Sieving of Active and Excipients
Dry mixing of Active and Excipients
Slugging or pre compression
Discharge for compression
Flow Chart of Steps of Dry Granulation
Mixing and Blending
A powder blend should be as uniform as possible to assure the proper amount of medication in each dosages unit. The blending of solid particles is affected by the shape, density, size and size range of the particles, and surface effects such as absorbed liquid film, electrostatic charges and Van dar Waals forces. Small particles are difficult to blend because they exhibit poor fluidity. However, more important than actual particle size is particle size range. All drugs and chemicals should be reduced to approximately the same size prior to weighing and mixing.
Machinery Used in ARISTOPHARMA LTD.:
Mixing Machine for Dry and Wet Mixing 
Planetary Mixer
Company Name: Gansons, India
Capacity           : 60-80kgRPM
RPM                 : 45 (if rotate fast), 30 (if rotate slow)
Rapid Mixer Granulator (RMG)
Company Name: Saral Engineering
Capacity            : 160kg
RPM (Propeller): 300 (fast), 120 (slow)
Pa+m Glatt auto processor or Fluid bed processor
Country             : India (Germen Technology)
Capacity            : 500L
 Spray rate          : 70 (RPM)
               Machine used for Drying
Fluid bed dryer fg 120
Company Name: JIAFA, China
Capacity            : 120kg
Myth Fluid bed dryer
Company Name: Myth, Bangladesh.
Capacity            : 70kg
Machine used for Blending
Double cone blender
Company Name: Myth, Bangladesh
Capacity            : 300kg
RPM                  : 20-22
IBC blender HTD 800
Company Name: JIAFA, China
Capacity            : 400L
RPM                  : 1-15
Y-cone blender
Drum blender
Machine used for Crushing
Multimill
Main parts of Machine
Planetary mixer:
Planetary mixer vat
Planetary baffle
Solution input device
Rapid Mixing Granulator:
Rapid mixer vat
Blade
Chopper
Solution input channel
Mixer output device
Fluid Bed Dryer:
Heating device
Retarding chamber
Lifting device
Damping zone
Ring filter bag
Shaker
Fluid bed vat
Multimill:
Hopper
Holder and pin
Blade
Screen
Screen holder
Collector funnel
Double Cone Blender:
Lid
Product output channel
Body
Y-Cone Blender:
Lid
Body
Compression
Compression is the process of applying pressure to a material. In pharmaceutical tabletting an appropriate volume of granules in a die cavity is compressed between an upper and lower punch to consolidate the material into a single solid matrix which is subsequently ejected from the die cavity as an intact tablet.
Flow chart of tablet compression
Granules (previously made)
Transfer of granules in the hopper
Ringing of upper punch and dropping of lower punch
Filling of die cavity through feed frame
Coming down of upper punch
Removal of extra granules by scrape off plate
Compression to produce tablet
Raising of upper and lower punch to certain extent
Ejection of tablet with the help of take out plate
Conventional uncoated tablet of desire shape and size
 Production of Tablet by Direct Compression Method
Weighing of active ingredient as well as excipient
Transfer of granules in the hopper of tablet press machine
Mixing of all ingredients
Milling and screening of ingredients
Sieving of active and required excipients
Compression to produce tablet
Coming down of upper punch
Rising of upper punch and dropping of lower punch
Filling of die cavity through feed frame
Removal of extra granules by scrape of plate
Raising of both upper and lower punch to certain extent
Ejection of tablet with the help of take out plate
Conventional uncoated tablets of desired shape and size
Flow chart of Direct Compression Method
Machinery Used for Tablet Compression
Three types of compression machine is used in ARISTOPHARMA LTD. These are
D-tooling compression machine
B-tooling compression machine
D-B tooling compression machine
D-tooling compression machine
Number of station: 16, 27, 30, 37.
Maximum tablet diameter: 23mm
Maximum depth of fill: 20.5mm
Diameter of die: 38.1mm
Length of die: 23.81mm
Diameter of punch: 25.4mm
Length of upper punch: 133.65mm
Length of lower punch: 133.65mm
B-tooling compression machine
Number of station: 35, 45
Maximum tablet diameter: 16mm
Maximum depth of fill: 17mm
Diameter of die: 30.16mm
Length of die: 22.22mm
Diameter of punch: 19.05mm
Length of upper punch: 133.65mm
Length of lower punch: 133.65mm
D-B tooling compression machine
Number of station: 23
Machine Name and Description used by ARISTOPHARMA LTD.
Machine name: CPD-37
Company name: Cadmach, India
Category: D-tooling, 2 channel
Number of station: 37.
Machine name: MRC-30N
Company name: Sejong, South Korea.
Category: D-tooling, single channel, PLC
Number of station: 30.
Machine name: MRC-45D
Company name: Sejong, South Korea.
Category: B-tooling, 2 channel, PLC
Number of station: 45
Machine name: CMB-35 (2pcs)
Company name: Cadmach, India
Category: B-tooling, 2 channel
Number of station: 35.
Machine name: CMD-3B-27
Company name: Cadmach, India
Category: D-tooling, 2 channel
Number of station: 27.
Machine name: CMD-CB-23
Company name: Cadmach, India
Category: D-B tooling, single channel
Number of station: 23.
Machine name: PTK-52
Company name: Sejong, South Korea
Category: B-tooling, 3 layer, single channel
Number of station: 52.
Sejong Compression Machine
Sejong is a South Korean company and t5his machine is also called programmable logic control (PLC) machine. It is fully automatic machine. Machine Unit has the capacity to deliver 54,000 to 216,000 tablets per hour.
Main parts of Sejong compression machine:
Hopper
Feed frame
Feeder stands
Channel
Force feeder
Upper and Lower turret
Upper punch safety guard
Safety cover
Cam (according to product)
Roller (upper and lower)
Problem during tablet compression
1.     Capping & Lamination
Cause:
      Use of too dry granules in compression
      If compression pressure is too high
Remedy:
      By altering the pressure adjustment
      By using proper granules and required amount of fine particles
 2.     Picking and sticking
Cause:
      For using wet granulation during compression
      Excessive moisture content of the granules.
 Remedy
      By using dry granules and by adding a lubricant to the granules
      By replacing the worn dies and punches.
 3.     Hardness variation
Cause:
      Space between upper & lower punches at the time of compression
      Inappropriate pressure applied in the upper punches
Remedy
      The defect can be overcome by solving the causative effects.
Coating of Tablets
Coating is the process in which a core material is coated in order to provide a means of protecting the drug substance (API) from the environment particularly light and moisture. The application of coating of tablets which is an additional step in the manufacturing process increases the cost of the product. Again the coat must be dissolved before disintegration and dissolution of the tablet. Temperature and humidity must be controlled during coating process. Therefore, the reason to coat a tablet is usually based on one or more of the following objectives…..
Reasons for coating:
Improving product stability
To increase the elegance of the product
To mask unpleasant test
To save the drug from the attack of gastric HCL acid.
To get delayed action from the product
To save the drug from moisture
Types of coating
1.     Sugar coating
Purpose of sugar coating
      Protection from sun, moisture and environment
      To mask bitter taste & odor to increase the aesthetic value
      Prevent dusting
 2.     Film coating
Purpose of film coating
      Masking of taste, odor and appearance
      Can act as a barrier over the surface of the tablet
      Enteric coating
      Can modify the release of the drug
 3.     Enteric coating
      Purpose of Enteric coating
      Modification of drug release
      Repeat action and give sustained release pattern
      Stop gastric irritation
Coating types depend upon
      Tablet surface
      Tablet shape
      Nature of active
Flow chart of types of coating
Preparation of coating solution and process of coating
Coating agent+Solvent                   Mixing the solution properly by propeller                    Coating solution
 Setting the inlet and outlet temperature, pan speed air pressure
And distance of gun to tablet bed
Charging tablets in the coating solution by the nozzle
Spraying the coating solution by the nozzle
Turning off the exhaust fan and blower
Spraying of the polishing agent
Turning on the exhaust fan
Rolling the tablets
Cooling the tablet
Coated tablet
Flow chart of Coating process
Ingredient used in Coating
Sugar coating: In sugar coating sucrose paste is use. Sucrose is dissolve in purified water to produce sucrose paste. Gum acacia, Gelatin paste also used in sugar coating.
Film coating: In film coating; HPMC, Eudragit L-100 and L-50 are widely used.
Enteric coating: In enteric coating cellulose acetate phthalate, Shellac, etc polymer is used.
Room condition during coating
Relative Humidity: Not more than 50%
Temperature: Below 25°C
Problems associated with Coating
Logo bridging
Cause:
Surface characteristics of the product being coated
Inadequate adhesion of film coating
Inadequate design of logo (e.g. too detail/fine
Remedy:        
Modify core formulation to include more hydrophilic ingredients
Increase core porosity
0Using formulation with increased adhesion property.
Increase area within the deposing and modified angles.
Core erosion
Cause:
Inherent softness or high friability of core.
Excessive pan speed in coating process.
Spray rate too low.
High sensitivity of core to moisture as coating is applied.
 Remedy:
Increase mechanical strength of core.
Decrease pan speed.
Increase spray rate.
Edge chipping/erosion
Cause:
Low mechanical strength of coating
Excessive pan speed
Low solid content in coating liquid
Low spray rate
Sharp edges on tablets
Worn tablet punches
Remedy:
Using formulation with increased mechanical strength
Decreased pan speed
Increase solid content in coating liquid
Decrease spray rate
Use modified punch design
Picking/sticking
Cause:
Spray rate too high
Inadequate drying condition
Pan speed too low
Inadequate atomization of coating liquid
Poor distribution of coating liquid
Remedy:
Decrease spray rate
Increase drying condition
Increase pan speed
Increase atomizing air pressure/volume
Increase number of spray gun
Cracking
Cause:
Low mechanical strength of coating, exacerbated by inadequate plasticization, excessive pigmentation.
Core has significantly different thermal expansion characteristics than coating.
Extended strain relaxation of core after compaction.
Remedy:
Selecting formulation with increased mechanical strength and elasticity properties.
Avoid use of mineral type fillers (e.g. CaCO3, CaSO4, MgCO3 etc.)
Extend holding period of tablets prior to submitting them to coating process.
Peeling
Cause:
Low mechanical strength of coating
Poor adhesion of coating to tablet surface
Remedy:
Using ingredients of improved mechanical strength.
Using ingredients with improved adhesion properties.
Orange peel/roughness
Cause:
Viscosity of coating liquid is too high
Poor atomization of coating liquid
Excessive drying condition
Over wetting (causing coating too rub)
 Remedy:
Decrease solid content of coating liquid
Increase atomizing air pressure/volume
Decrease inlet air temperature/flow rate
Decrease spray rate
Twinning
Cause:
Spray rate too high
Pan speed too low
Inappropriate tablet shape
Remedy:
Decrease spray rate
Increase atomizing efficiency
Increase pan speed
Select new tablet shape that decrease chances of flat surfaces coming into contact during application of coating liquid. (e.g. avoid capsule shape tablet with thick side wall)
Tablet-to-tablet color variation (Mottling)

Cause:
Too little coating applied
Inadequate mixing of tablet during coating
Poor opacity (or hiding power)
Solid content of coating liquid too high
Insufficient number of spray gun
Remedy:
Increase quantity of coating applied
Increase pan speed/increase improve baffle system
Reformulate coating with respect to colored ingredients or use an opacified white pre-coat.
Decrease solid contents of coating liquid.
Increase number of spray gun.
Machinery Used for Coating at ARISTOPHARMA LTD.
Machine name: PA+M Glatt
Country: India
Capacity: 500kg
Number of Nozzle: 5
Spray pressure: 2bar
Machine name: NR-COTA (FC)
Country: Thailand
Capacity: 90-110kg
Machine name: NR-COTA 2 TC
Country: Thailand
Capacity: 200kg
Machine name: Sugar coating Pan
Country: India
Capacity: 70k
Capsule is a solid dosage form; in which medicine are enclosed in hard or soft capsule shell, made from gelatin. ARISTOPHARMA LTD only uses hard gelatin capsule shell for production.
The contents of capsules may be solid, liquid or of a paste-like consistency. They consist of one or more active substances with or without excipients such as solvents, diluents, lubricants and disintegrating agents. The contents do not cause deterioration of the shell. The shell, however, is attacked by the digestive fluids and the contents are released.
Classification of Capsules
There are various types of capsule
  Hard gelatin capsules
  Soft gelatin capsules
  Gastro-resistant capsules
  Modified release capsules
The active is filled in the empty the hard gelatin capsule shell in the form of-
  Powder
  Pellets
Shell size of capsules
ARISTOPHARMA LTD uses 6 different sizes of capsule shell. These are
   Shell size 00
  Shell size 0
  Shell size 1
  Shell size 2
  Shell size 3
  Shell size 4
Encapsulation of Capsules
 Steps of Encapsulation
Sieving of raw material (active & excipients)
Mixing (Double cone blender)
Compaction (If required) if bulk material is micronized or normal grain
Encapsulation
Polishing
Blister/ foil pack
Process of Encapsulation
Empty shell are taken in empty shell hopper
Empty shells are transferred from hopper to die holder
Body and cap are separated by vacuum pump
Pellets/ ingredients are incorporated into the body
Sealer seal the body and cap
Ejection
Pellets
Pellets are the dosage form mostly defined as the circular granule like beads where the drug is coated on to the surface of the NPS (Non-peril-seeds) made using sugar, lactose and maize starch.
Filling of the capsule shell
First, the weighed amount of active ingredients and additives filling operation. Now the empty capsule shell are taken to separate them into cap and body. The body is taken filled with the prepared powder mixer or granules. Now the cap is pressed in the body to close it. Finally the filled capsule shells are ejected for cleaning and polishing.
Weight of raw materials
 Sieving of all raw materials
All Ingredients blending (Drum mixing)
Flow chart of filling of capsule shell
Polishing of Capsules
Polishing of capsule is done by
      Polishing by Hand
      Polishing by Machine
Advantages of Capsule
  Neat and elegant in appearance
  Tasteless and odorless means of drug administration
  Rapid release of drugs
Disadvantages of Capsules
  Capsule is not suitable for liquids.
  Very soluble drugs should not be dispensed in capsules.
  Rapid release of drugs may cause gastric irritation.
Machinery used in ARISTOPHARMA LTD for capsule filling
Machine name: Semi automatic capsule filling machine
Manufacturer: P+am Pharmaceuticals
Country: India
Capacity: 15000-17000 per hour
Machine name: Automatic capsule filling machine
Manufacturer: Hanli, Korea
Capacity: 30000 per hour
Machine name: Automatic capsule filling machine
Manufacturer: Sejong, Korea
Capacity: 90000 per hour
Machine name: Hand filling machine
Manufacturer: Pharmachem, India
Capacity: 8000 per hour
Machine name: Capsule polishing machine
Manufacturer: P+am pharmaceutical, India
Manufacturing of Powder for Suspension
By Direct Mixing method ARTSTOPHARMA LTD produces Powder for suspension.
Flow chart for Direct Mixing for the manufacturing of Dry Syrup
Crushing the sucrose in FITZ mill at 3000 rpm
Transfer of half portion of sucrose from step-1 into
a double cone blender by passing through a 20 mesh screen
Transfer of all other excipients in the blender to blend for 30 minute
Transfer the mix from the double cone blender by
Passing through a 20 mash screen
Machinery used in the Dry Syrup Manufacturing unit
Double cone Blender
Dust collector
FITZ mill
Bottle filling machine
Bottle sealing machine
Condition for manufacturing Dry Syrup
        Relative Humidity: Not more than 45%.
        Temperature: Below 250
Area for Cephalosporin Manufacturing
According to cGMP regulations separate facility for cephalosporin is required to prevent cross contamination with other penicillin products or non beta-lactum products. Unintended exposure with Cephalosporin products may cause health concern to patients sensitive to Cephalosporin.
Fully separated, well established and isolated manufacturing area only for Cephalosporin.
Highly sophisticated HVAC system and AHU are used to condition, monitor and supply clean air to the working zone.
Production floors and wall are covered with epoxy resin.
A complete set up of machineries required for tablets and capsule productions is established only for Cephalosporin's.
More precautions are maintained in each and every step during production, filling, Sealing and packaging to prevent cross contamination.
Officers and the workers are trained specially to work more carefully in order to minimize cross contaminations.
Well furnished change rooms are maintained each floor of the production areas.
Samples during various steps of manufacturing are collected by QC officers all the times for proper manufacturing.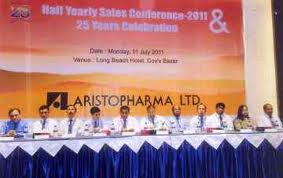 Some are parts:
Plant Training on Aristopharma Ltd (Part 1)