In the previous few days, the city of Aswan in southern Egypt has been hit by torrential rainfall and flooding. This already alarming occurrence – unique for a city with an annual rainfall of under 10 millimeters (0.4 inches) – has another catastrophic, and in some cases lethal, consequence: scorpions. The floodwaters disrupted scorpion nests in the area, and many of them sought shelter in higher ground, including people's homes. According to Egyptian media, at least 453 individuals have been bitten by these creatures, with three of them dying because of the poison.
The Arabian fat-tailed scorpion, Androctonus crassicauda, found in the area, and its venom contains a fatal cocktail of neurotoxins, cardiotoxins, and perhaps myotoxins. The fast-acting toxin causes heart failure, internal hemorrhage, vision disorientation, and respiratory issues in addition to the acute pain, redness, and swelling of the sting. An adult can die in less than an hour if they are not treated. The Egyptian Ministry of Health announced that doctors had transferred from COVID-19 immunization facilities to deal with this one-of-a-kind issue.
Antivenom is available at Aswan hospitals and medical units, and extra dosages have been delivered to medical units in communities near the mountains and desert, according to Ehab Hanafy, the undersecretary of the health ministry in Aswan.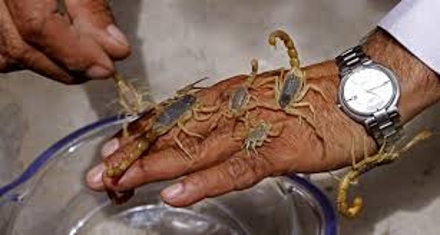 Ehab Hanafy, the undersecretary of the health ministry in Aswan, informed Al-Ahram on Saturday that the injured residents had been hospitalized. Residents in Aswan, where rain is uncommon, are concerned about the prospect of flooding due to heavy rains, thunder, dust storms, and snowfall.
Rain has reportedly flushed scorpions and snakes from their hiding places, causing power outages and the collapse of many street lighting columns and trees. In separate remarks, Hanafy noted that hospitals across the governorate have increased their readiness and that physicians have returned from vacations.
Antivenom is accessible in hospitals and medical units in Aswan, according to authorities, and extra doses of antivenom have been delivered to medical units in towns near mountains and deserts, Hanafy added. Governor of Aswan Ashraf Attia ordered the suspension of vessel movement on the Nile River from Aswan to Edfu, as well as Lake Nasser, for a limited period between Friday and Saturday.
He also ordered the temporary shutdown of highways due to poor visibility caused by the thunderstorm and rain. Attia asked individuals to stay at home and avoid areas with trees and urged automobile drivers to slow down in order to avoid traffic accidents and save lives.
Early Saturday, Attia ordered the reopening of highways and the resumption of vessel activity on the Nile. Intermittent mild to moderate rainfall, potentially accompanied by thunder, is expected to persist across areas of South Sinai and southern Egypt on Saturday, according to the Egyptian Meteorological Authority (EMA). Aswan, Minya, Assiut, Sohag, Qena, Luxor, and Abu Simbel are all located in Upper Egypt. On Sunday, Aswan, El-Salloum, Matrouh, and Abul Simbel predicted to have some light rain.