Chevrolet Malibu Overview 2017: Best Midsize Car for Families
The 2017 Chevrolet Malibu is a solid mid-sizer in the segment, punctuated by good, efficient powertrains, and a quiet ride. With handsomely styled sheetmetal and an aggressive front end, the Malibu is set to slice through the tedium that permeates the world of family sedans. The interior has more rear-seat legroom than before, while the materials and overall design lend an upscale look. Under the hood is a 160-hp turbo 1.5-liter four-cylinder; a 250-hp turbo 2.0-liter four is optional. Both have front-wheel drive and a six-speed automatic.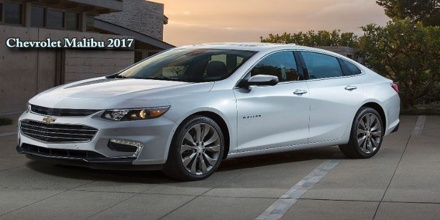 The 2017 Chevrolet Malibu ranks 1 out of 19 Midsize Cars. The 2017 Chevrolet Malibu may have a short list of standard features and lackluster performance, but it boasts a lower price than other classmates, a spacious interior, and a long list of available features. Combine those positives with impressive safety scores and a strong record of reliability, and the Malibu is a worthy contender in a competitive class.
The 2017 Chevrolet Malibu takes cues from the handsome Impala with better proportions, a long new body, and better interior layout that result in a sedan that's far from its malaise roots.
The new Malibu dives in with some subtle waves stamped into its flanks, and a gentle intersection of sculpting that conjured up some of the "flame surfacing" that BMW has used to cut visual heft from its cars.
Styling and Performance
The new Malibu is lighter, brighter, and longer thanks to more high-strength steel in more areas. The nose is lower and its shape has been stretched, but much of the attention invested into new proportions pays off in the interior. The Malibu's cabin is very well considered and laid out, most of the dash has been pushed to the corners and the two-tiered layout is gone. Base trims are clad with nylon that we could do without, but upper trims are pleasant and quiet. This year's biggest addition is a 9-speed automatic paired with the most potent turbocharged 2.0-liter inline-4, which is available only on Premier cars. That engine is the top of the heap, and is a more-than-adequate replacement for a V-6 by churning out 250 horsepower and 258 pound-feet of torque. We haven't yet driven the new transmission on the 2.0-liter, but we're fans of that engine over many of its contemporaries.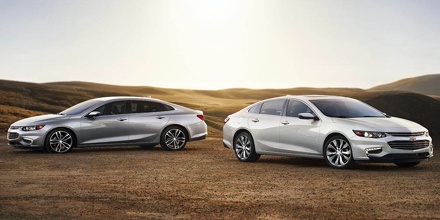 Far more Malibus on the road will be powered by a 1.5-liter turbo-4 that makes 140 hp and 158 lb-ft mated to a 6-speed automatic. It's perfectly adequate for medium duty commuting, and plenty of power for us to forget some of the old generation's coarse inline-4s. The efficiency champ is the Malibu Hybrid that mates a 1.8-liter inline-4 to a battery pack and electric motors, which is good for 182 hp and—more importantly—48 mpg combined, according to the EPA.
Most of the Malibu lineup is powered by a turbocharged 1.5-liter inline-4 that adequately subs in for the former 4-cylinder, paired to a 6-speed automatic. It's good for daily commutes and long slogs, only getting caught breathless up mountain grades or highway passes. Even wooded to the floor, the base turbo-4 is still relatively quiet.
Features, Comfort and Safety
The Malibu manages to be one of the most spacious mid-sizers, despite having a relatively smaller wheelbase. Clever interior packaging helps the car feel more spacious and rear-seat passengers get the benefit of 38.1 inches of leg room. Active noise cancellation and sound deadening help quell harsh vibrations from the road and powertrain, although we're not huge fans of the base cloth material.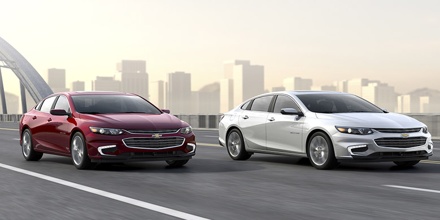 Safety officials give the Malibu very good scores. The IIHS has given the car a Top Safety Pick award, while federal testers give it a five (out of five) star score overall. Many retail Malibu cars will have standard rearview cameras, but budget shoppers looking for an L model won't be afforded that luxury this year.
A standard 7.0-inch touchscreen with Bluetooth connectivity is standard on LS models and higher, along with Apple CarPlay and Android Auto. LS models also get a Teen Driver feature that tattles on misbehaving young drivers, OnStar with built-in wi-fi capabilities (additional subscription required), rearview camera, 16-inch aluminum wheels, and an acoustic windshield for a quieter ride. The top Premier model gets a turbocharged 2.0-liter inline-4 that makes 250 hp and 258 lb-ft mated to a 9-speed automatic that's new for this year. The Malibu does without multiple adjustments for the throttle, like Eco, Normal and Sport modes found in other cars. Chevy nailed the calibration for the accelerator, transmission, and steering boost. The new Malibu weighs 300 pounds less than the last generation, and it tips the scales at just under 3,100 pounds in base configuration, making it one of the lightest sedans in the segment.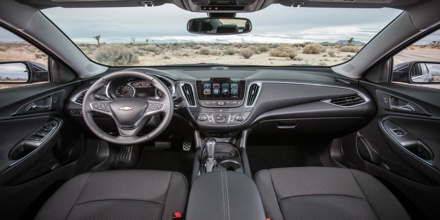 The front seat area is better with a lower driving position, and the dash has been lowered and pushed out toward the corners that helps open up the cockpit. Thoughtful touches like console padding at knee height, and a little more bolstering and length in the seats, make this an interior that now feels bigger than those of many other mid-size sedans. In front, most adults will find that the Malibu's seats are supportive for all-day drives, or for especially long commutes.
The 2017 Chevrolet Malibu is one of the safest sedans on the road today, with the official data to back up that claim. The IIHS gave the Malibu a Top Safety Pick award this year and federal testers gave the car a five-star overall rating. The Malibu comes with a standard complement of airbags—10 in all—as well as the requisite stability and traction control systems. Separately, there's an adaptive cruise control system with front automatic braking. There are also blind-spot monitors with lane change alert, and a rear cross-traffic alert system to help you when backing up. Active lane keep with lane-departure warning is also available. And to help with parking, there are front and rear park assist systems and automatic parking assist—a system that helps driver/passengers with the proper trajectory to quickly get into a spot.
History about Chevrolet
Chevrolet was founded in 1911 by Louis Chevrolet, a Swiss man who emigrated to the United States when he was young. Chevrolet had worked for several car manufacturers and was a well-known racer when he caught the eye of General Motors' founder William Durant. The two went into business in the early 1900s.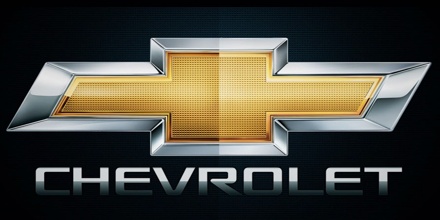 General Motors absorbed Chevrolet in 1919 but Chevy, as it's more commonly known, didn't fade away despite a slump in sales during the 1920s. Instead Chevy introduced new models. Chevy had always been known for its low prices, and it continued to keep its prices low in an attempt to attract customers. The ploy worked and Chevy production increased substantially. By 1929, Chevrolet had become the largest automobile manufacturer in the world and was outselling Ford!
Today Chevrolet is still known for making solid, all-American, affordable cars. Whether you are looking for a fuel-efficient budget car, a truck with towing capacity, or anything in between, Chevrolet continues to manufacture a wide variety of models suitable for different needs.