Review about Apple Watch Series 2
The Apple Watch Series 2 arrives a year and a half after the original Apple Watch first went on sale. Some things have changed: If you liked the idea of an Apple Watch before, this new version is seriously faster, has a brighter display and it's a lot better for outdoor sports.
In addition to a faster processor and a brighter screen than the original model, the Series 2 has a waterproof design for swimmers, and built-in GPS so runners can leave their iPhones at home. It's a lot more expensive than a Pebble, and fitness features aren't quite as advanced as you'll get with some dedicated trackers we've tested, but it's a solid choice for iOS users looking for the best of both worlds. Even so, like most smarwatches, it still isn't a must-have device.
New software, WatchOS 3, is a great upgrade to the earlier Apple Watch experience. Like iOS 10, that's a free upgrade to existing Watch owners, too — users don't need to buy anything new.
But the combination of new hardware and software make a familiar-looking circle-in-the-square watch now feels like the smooth wrist companion it was always meant to be.
Features and Design
Features
Built-in GPS
Water resistant 50 meters1
Wi-Fi (802.11b/g/n 2.4GHz)
Bluetooth 4.0
Heart rate sensor
Accelerometer
Gyroscope
Ambient light sensor
Chip
Dual‑core processor
Built‑in GPS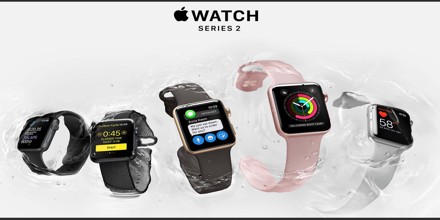 Display
Second-generation OLED Retina display with Force Touch 2× brighter (1000 nits)
Sapphire crystal (stainless steel and ceramic cases)
Ion-X glass (aluminum cases)
272 by 340 pixels (38mm)
312 by 390 pixels (42mm)
Power and Battery
Built-in rechargeable lithium-ion battery
Up to 18 hours2
Magnetic charging cable
USB power adapter
Apple Watch Series 2 has a water resistance rating of 50 meters under ISO standard 22810:2010. This means that it may be used for shallow-water activities like swimming in a pool or ocean. However, Apple Watch Series 2 should not be used for scuba diving, waterskiing, or other activities involving high-velocity water or submersion below shallow depth. Stainless steel and leather bands are not water resistant.
Apple Watch battery testing was conducted by Apple in August 2016 using preproduction Apple Watch Series 1, Apple Watch Series 2, and Apple Watch Edition, each paired with an iPhone; all devices were tested with prerelease software. Battery life varies by use, configuration, and many other factors; actual results will vary.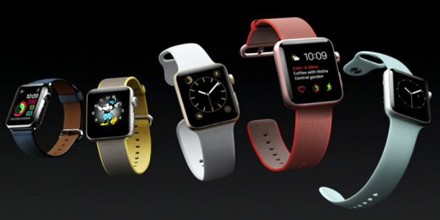 Pricing and Models
The Apple Watch Series 2 (starting at $369) is the closest users have come to a genuine smartwatch/fitness tracker hybrid yet.
The 38mm model (starting at $369) measures 1.5 by 1.3 by 0.4 inches (HWD), while the 42mm version (starting at $399) is 1.7 by 1.4 by 0.4 inches. It looks the same as the original too, though Apple has added a ceramic case option (starting at $1,249) in addition to aluminum or stainless steel. The ceramic watch is slightly different in size, at 1.5 by 1.3 by 0.5 inches and 1.6 by 1.4 by 0.4 inches for the 38mm and 42mm models, respectively.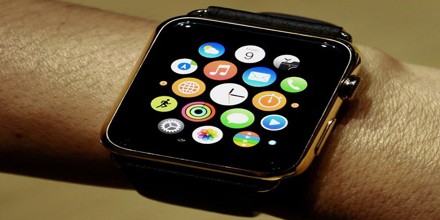 There's also the Apple Watch Nike+, which starts at $369 for the 38mm model and $399 for the 42mm version. Both are made of aluminum (no stainless steel or ceramic options here), with sporty color combinations including Black/Volt (screaming neon yellow), Black/Cool Gray, Flat Silver/White, and Flat Silver/Volt. The Nike model also includes exclusive watch faces and Siri commands, and the Nike Run Club app is built-in and accessible right from the home screen.
There's one more new model, sort the Apple Watch Series 1. It replaces the original Apple Watch, and is basically the same hardware as the Series 2, but without the brighter screen, built-in GPS, and waterproofing. It starts at $269.