Review about BlackBerry KeyOne
About BlackBerry
BlackBerry was considered one of the most prominent smartphone vendors in the world, specializing in secure communications and mobile productivity. BlackBerry aims to inspire the success of our millions of customers around the world by continuously pushing the boundaries of mobile experiences. Founded in 1984 and based in Waterloo, Ontario, BlackBerry operates offices in North America, Europe, Asia Pacific and Latin America. The company trades under the ticker symbols "BB" on the Toronto Stock Exchange and "BBRY" on the NASDAQ.
The BlackBerry line traditionally uses a proprietary operating system developed by BlackBerry Limited known as BlackBerry OS. In 2015, BlackBerry re-focused its business strategy and began to release Android-based smartphones.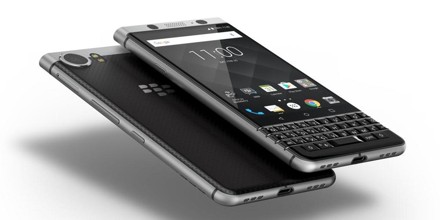 BlackBerry KEYone
BlackBerry KeyOne is a sophisticated-looking smartphone that resurrects a physical keyboard in the modern Android era. Its tactical QWERTY keyboard offers a dose of nostalgia, while its smart and secure software give businesses some peace of mind. Just know that the mid-range specs will only get you so far and its entertainment capabilities make this BlackBerry feel as if it clocks out at 5pm sharp when it comes to the fun stuff. It's touted as the most secure Android phone, pre-loaded with smart, enterprise-level mobile software and, at last, delivers an old-school physical keyboard within a modern enough design.
BlackBerry KeyOne is clearly an Android phone that has productivity users in mind. It's one of the best at helping user manage tasks, even if it doesn't have the latest chipset. It works as an entertainment device, too, but it's not the best at it.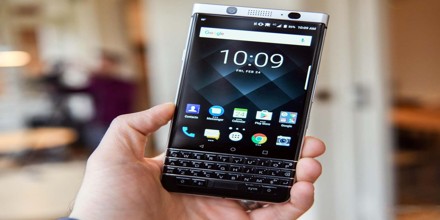 Design and Feature
The BlackBerry KeyOne has an air of sophistication to it, even as it blends the old and the new technology. It looks like a productivity tool carried by the workforce elite.
Many of the features of this new BlackBerry forego subtlety, showing proudly their capabilities. The camera packages on the front and back are large and obvious, while the thicker aluminum body all around rocks the side buttons prominently. An array of capacitive keys sits plainly in view between the screen and the keyboard, as the backing of the device helps handling via a rubberized plastic material. The rear material and the thicker body make this phone fairly comfortable to handle in one hand, but such usage is definitely not a focus of a phone rocking a physical keyboard.
The most clever thing about this new BlackBerry design is that it hides the fingerprint sensor inside the small space bar at the bottom of the phone. It's an odd shape for a biometric scanner.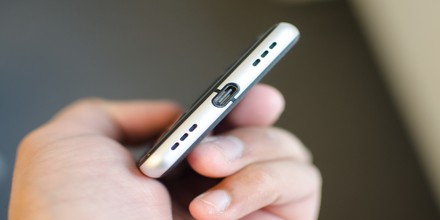 BlackBerry KeyOne likes to mix things up when it comes to the it's buttons and headphone jack. The power is on the left side, the volume rocker is on the right and the 3.5mm jack is at the top. It's like this grown-up smartphone is secretly a kid still playing opposite day. It is the second BlackBerry to use USB-C (after last year's BlackBerry DTEK60) and this new, reversible USB standard is a helpful change, as it uses Quick Charge 3.0 for faster charging.
The KEYone goes in the other direction, largely due to the physical keyboard taking up space on the front of the phone. It comes with a 4.5-inch IPS LCD display with a 3:2 aspect ratio. That might seem pretty small by today's standards, but the extra width makes it feel much less cramped than it would if it had a 16:9 display. The display packs a 1620 x 1080 resolution, with a pixel density of 433 ppi. No, it's not as pixel-dense as a Quad HD screen, but it's certainly sharp enough for enjoying YouTube videos and playing games.
The KeyOne runs Android 7.1.1 Nougat with a BlackBerry twist. Users have access to all of the Google Play Store apps, plus a few enterprise-focused programs and interface tweaks. Its Qualcomm Snapdragon 625 octa-core chipset is fast enough for almost all day-to-day work tasks, and its 64-bit capabilities ensure multitasking is remains fairly smooth. Both its 3GB of RAM and Adreno 506 graphics chip put the KeyOne a step behind other phones workplaces should be considering, so don't expect the smoothest frame rates or performance. It also starts with 32GB of internal storage, not 64GB, and while it has a microSD card slot, it doesn't turn into a second nano SIM slot for dual-SIM use.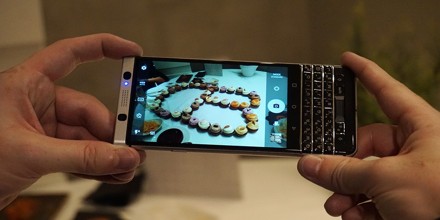 BlackBerry KeyOne actually borrows camera specs from other top-tier flagship phones with a 12MP sensor that's right out of the Google Pixel and Google Pixel XL. 12MP at 1.55µ sizes help this f/2.0 aperture lens capture pictures that are still pleasing enough to the eye despite lacking mainly in sharpness. Details in pretty much any photo are soft and are not as crisp as other shooters in this year's competition. Its main 12MP camera captures large 1.55um and we found it to do a superb job in daylight and a decent job in low light, too. The front-facing camera takes 8MP shots with similar results as the main rear camera. Great in daylight, but its f/2.2 lens and 1.125um pixel size can't stand up to low light. It's obviously more of an issue on this less powerful selfie camera. Video modes include 1080p at 60 fps or 4K video recording.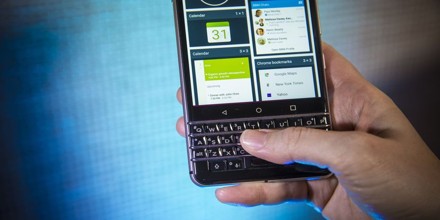 Its 3,505mAh battery capacity is rated for 26 hours, but we found lasted longer by draining only 2% whenever we set the phone down and left it idle at night. So the official 26 hours turn out to be closer to 36 hours for us.
The BlackBerry KeyOne price is somewhere in between Wall Street and Main Street, costing $549 (£499, AU$729). It's cheaper than an iPhone 7 or the Samsung Galaxy S8. The BlackBerry KeyOne US release date is a longer wait. The unlocked model is scheduled for May 31 (2017), with the same on-sale date in Canada, too.