Review about Casio G-Shock MRG-G1000B-1A
The MR-G, or "Mr. G," as Casio's Japanese contingent calls it, is another member of the exclusive "high-end quartz" club of watches. The story of the MR-G is part engineering, part marketing, and all passion from the dedicated designers at Casio who make durable G-Shock watches. The MR-G has come in a range of versions in its 20-year lifespan, but the MRGG1000 model collection, that includes the reference MRGG1000B-1A, is the first Casio MR-G watch to be officially sold in the US. Casio recently celebrated the 20th anniversary of the MR-G family of top-grade G-Shock watches.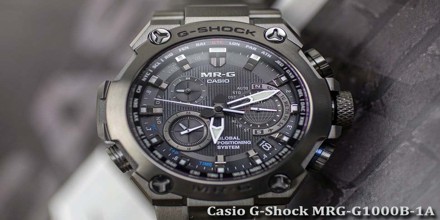 The G-Shock MRG line from Casio aims to deliver the absolute best experience for a tough watch, or at least, the best G-Shock experience on the market. And from what we can see at the moment, this is actually true. Casio did manufacture the ultimate G-Shock watch but at a price not accessible for many customers.
The MRG-G1000, known as the MR-G GPS Hybrid Wave Ceptor has officially been introduced to market, with an unbelievable metal construction, the durability G-Shock is renowned for, and the impressive technology of GPS and Multi Band 6, all powered by light.
The GPS algorithm, capable of gathering and analyzing precise positioning data, gives access to evermore accurate information, such as whether or not Daylight Savings Time is in effect. Along with the practical feature of having the times in two different cities displayed simultaneously, the MR-G, as the highest of the line, provides the perfect example of unparalleled precision.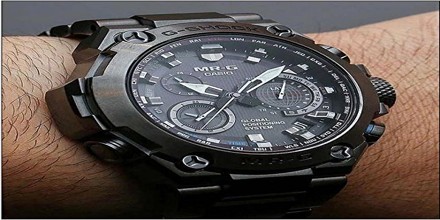 Function & Design
The titanium used in the MR-G case and band is exceptionally scratch resistant. The titanium is heated in a mixture of oxygen and nitrogen gas and used to create a 20~30μm hard layer on the material's outer surface. Unlike a film, it makes the actual material itself harder than pure titanium. A coating with a hard amorphous carbon film composed of carbon and hydrogen which then undergoes a DLC treatment; all serve to make the case, band, and buckle, as well as each of the links with in the band, wear resistant.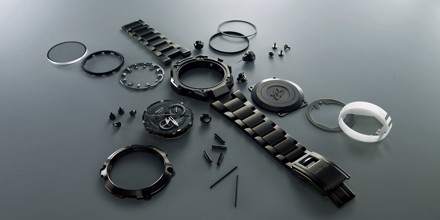 Features
The MRG-G1000 is the first watch of its kind to incorporate shock resistant construction and GPS HYBRID WAVE CEPTOR capability into a full-metal case, providing the wearer with accurate timekeeping no matter where in the world he happens to be.
GPS HYBRID WAVE CEPTOR
Global Positioning System + Radio-controlled (Multi Band 6)
This hybrid system ensures accurate timekeeping virtually anywhere your travels take you. Even summer time and standard time switching is performed automatically as required based on acquired information.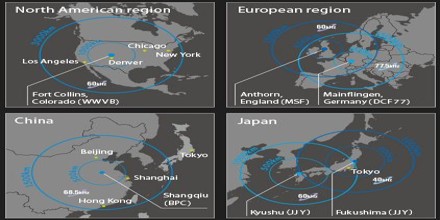 GPS satellite radio wave reception
Quick reception of the correct time worldwide
Reception of current location positioning and time data from GPS satellites
Time zone determination through automatic analysis of positioning information
Determination of the current location's Daylight Saving Time status and automatic display of the correct time
Original GPS algorithm
Map data dividing the entire globe into a grid comprising 500 m units is prepared based on the positioning information obtained and used to identify the watch's current location with higher precision. Rapid setting of locational time differences is enabled, moreover, by grouping and analyzing areas that share the same time zone and Daylight Saving Time.
Terrestrial radio wave reception(MULTIBAND6)
Reception of time-calibration signals and display of the correct time,even inside buildings in densely built-up districts
Time-calibration signal reception in Japan (2 transmission stations), North America, the UK, Germany and China
Radio wave reception inside buildings
Energy-efficient reception available
MULTIBAND 6
MULTIBAND 6 allows reception of time calibration signals from one of six transmitters around the globe: Germany, The United Kingdom, The United States, China, and Japan (two transmitters).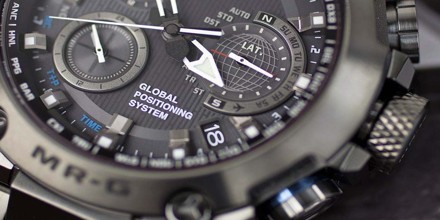 Dual Dial World Time
World Time allows quick and simple access to the current time in 40 time zones around the globe, and summer time switching is performed automatically. A dial at 8 o'clock makes it possible to show the time in one other time zone along with your Home Time.
Shock resistant
A hollow case structure with the module supported at a few points, an all-directional guard structure to protect the buttons from direct shocks, buffering material to safeguard key parts, and higher resistance to dropping shocks and vibrations are the key factors in G-SHOCK's core technology.
Smart Access
An electronic crown switch and the use of multiple motors combine to enable conflict-free simultaneous operation of multiple functions, and smooth switching between functions.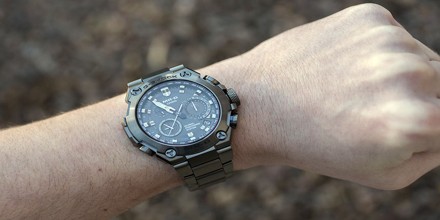 Shadow dispersing solar panel
A shadow dispersing solar panel with excellent power-generating efficiency is installed to assure ample power for multi-functions such as GPS signal reception. Despite an increase in the dial's transmission efficiency for power-generation purposes, the solar panel distribution keeps them out of sight.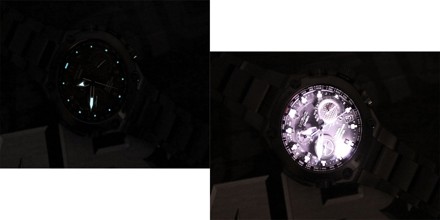 High-brightness LED light
Vivid light affording improved visibility for reading the dial in low-light conditions.
Size of case / Total weight
Size of case: 54.7×49.8×16.9mm
Total weight: 153g
Analog-dial G-Shock watches are a bit different. For many people digital watches are superior in terms of being able to quickly and precisely read information on a dial. That means for the above purposes a digital dial-based watch is superior to one with an analog dial. Casio helped prove this fact, and was a major force behind helping the digital watch to take over the world of timepieces. Any yet, the G-Shock MRG-G1000 is just the opposite of that. It is a direct effort by Casio to take everything that people love and expect in a G-Shock watch, and put it in an analog package.