Review about DELL XPS 13 2-IN-1 (2017)
The original XPS 13, which dates back to 2015, delivered a striking design that stretched the laptop display from one edge of the lid to the other, reducing the bezel (that black strip around the screen) to a bare minimum. Now, as the thinner and lighter laptop design and no-bezel look has become a bit more of a commodity, Dell has upped the ante, allowing this touch screen laptop to transform into a tablet.
Now there are a lot of great Windows 10 laptops available, many of which have cribbed the ideas first demonstrated on the XPS 13, like its compact size and almost borderless display. So while Dell is still making and selling the original, it announced a new 2-in-1 version of the XPS 13 in January (2017) to capitalize on the trend of convertible laptops.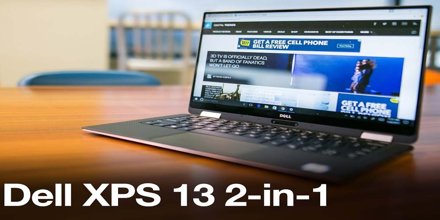 The XPS 13 2-in-1 (yes, that is the official name of the product, clumsy as it is) carries over many of the same features of the standard model, including the signature Infinity Edge display that pushes the screen to the limits of the laptop's frame. But it slims down to a slightly thinner profile and its screen rotates a full 360 degrees. It starts at $999, which is a couple hundred dollars more than the fixed-screen version, and can be equipped much higher. We have been testing a $1,299 model that includes a fan less Core i7 processor, 8GB of RAM, 256GB of SSD storage, and a 1080p touch screen display.
The overall design is close to user's platonic ideal of a modern laptop. It's slim, there's little wasted space on the compact body, and it has a few high-end features that help it stand out, such as a fingerprint reader, Thunderbolt-enabled USB-C ports, a dual-lens IR webcam, and that great edge-to-edge display. Note that the fingerprint reader works for Windows Hello login right now, but support for facial recognition login from the camera is coming via a future software update.
Design (DELL XPS 13 2-IN-1)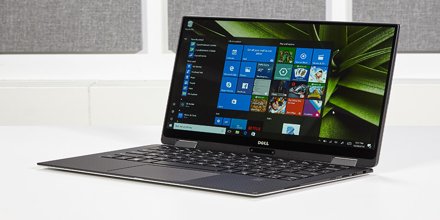 From across the room, user could be forgiven for mistaking the XPS 13 2-in-1 for the regular model. And that's a good thing. They still get a sturdy machined-aluminum cover and bottom with a soft, carbon-fiber deck on the inside, which not only stays cool to the touch but makes typing comfy. But Dell added two steel hinges wrapped in aluminum while slimming down the design. The XPS 13 2-in-1 is quite light, weighing 2.7 pounds. That's less than the touch version of the regular XPS 13 (2.9 pounds) and lighter than the HP Spectre x360 (2.8 pounds) and the Lenovo Yoga 910 (3.04 pounds). The biggest difference between this convertible XPS 13 and the HP and Lenovo models is how much smaller its footprint is from front to back.
Display – Gorgeous picture, multiple modes
If user like captivating images, the XPS 13 2-in-1 will not disappoint them. This convertible's InfinityEdge display has barely-there bezels that measure just 0.2 inches, making it seem as though the panel were floating above the keyboard. It also allows Dell to cram a 13-inch, full-HD screen into a design that's as compact as an 11-inch laptop.
In our lab tests, the XPS 13 2-in-1's panel reproduced an impressive 107.2 percent of the sRGB color gamut. The Acer Spin 7 and the HP Spectre x360 scored a bit lower, at 102 percent and 101.7 percent, respectively, while the Lenovo Yoga 910's screen mustered 98 percent. However; the XPS 13 2-in-1's panel notched a Delta-E score of 6.08, which is much higher than the ideal score of 0.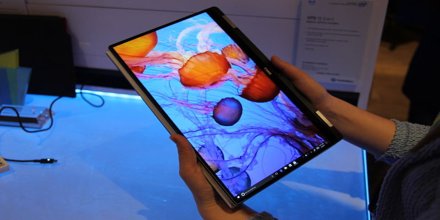 Keyboard and Touchpad
On this hybrid, Dell maintained the 1.3 millimeters of key travel from the regular XPS 13. The result is a cushy typing experience, especially compared to the feel of my MacBook's flat layout. I typed quickly and accurately as I wrote this review, and I easily reached 71 words per minute on the 10fastfingers.com typing test, which is slightly above my 65- to 70-wpm average. The XPS 13 2-in-1 also incorporates some layout changes based on user feedback. The Home and End keys now have dedicated keys in the top-right corner, and there are also dedicated PgUp and PgDown keys. All four of these keys were formerly integrated into the arrow buttons as function keys.
Optional Active Pen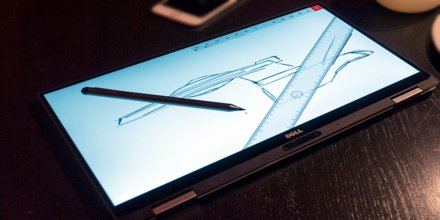 If user want to take full advantage of the inking features in Windows 10 and the ability to sketch and draw, they can buy Dell's $49 Active Pen PN556W and use it with the XPS 13 2-in-1. It provides 2,048 levels of sensitivity, and there's built-in palm rejection so their hand won't make any accidental marks on their digital canvas. The stylus, which has been on the market for a year and works with other laptops, also has a rear button that can launch the Windows Start menu, Windows Ink or any other apps user choose with a single or double click.
DELL XPS 13 2-IN-1 – Webcam and Audio
Another XPS, another nose cam. The webcam might have jumped a few inches to the right, dead centre of the bezel at the bottom, but it remains a terrible position.
This time around, it's a dual setup with an infra-red camera as well as a regular sensor. Right now, the IR sensor doesn't do anything, but the plan is to have it log you into Windows 10 using Windows Hello, much like the Surface Pro 4. This is expected to arrive in the Creators Update later this year. The built-in microphone is similarly pretty good, recording clear audio that's more than Skype-worthy. The speakers are fine, but nothing out of the ordinary for a laptop. They can go fairly loud but have very little bass presence and struggle to make music sound enjoyable.
In addition, Dell's audio software has become needlessly complicated: every time you plug in an audio device, not only do user have to choose whether it's in or out, but also what kind of headphones they are.
Performance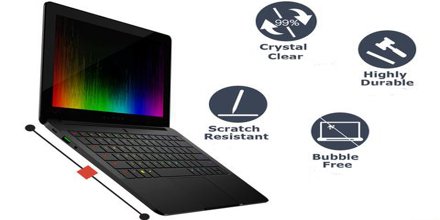 Dell found a way to scale up the performance on the fly while keeping the temperatures fairly cool. Using a new feature that Dell developed, called Dynamic Power Mode, this system can deliver short bursts of power. It's not as fast as the U Series chips found inside other convertibles, but overall, this Dell was snappier than we were expecting.
Dell still has an excellent laptop line with the XPS models, but the XPS 13 2-in-1 doesn't make it shine any brighter than it already does.