Review about Honda Clarity fuel cell
Introduction
The 2017 Honda Clarity fuel cell finally gives credence to that platitude. It actually realizes the potential that hydrogen fuel-cell engineers have long worked toward: to make the fuel-cell hardware entirely invisible from the driving experience. Built on a dedicated platform that also will spawn a battery-electric version and a plug-in hybrid later this year, the fuel-cell Clarity drives just like a battery-powered electric car. Nearly all of the deal-breakers that have branded previous efforts as science experiments—the strident vacuum-cleaner sounds, poor packaging, sluggish performance—have been purged.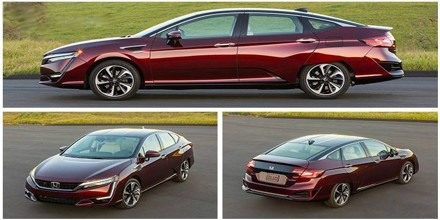 After all, the fuel-cell Clarity is an electric car; there are no dueling power sources sending torque to the wheels, just a single AC motor that delivers its peak 221 lb-ft right from the start. Step into it a little more and what you do hear, perhaps delayed by a second or two, is a turbulent whoosh of air from an electrically driven air compressor, force-feeding fresh air into this electric car's onboard generator, the fuel-cell stack.
A hydrogen fuel cell car is essentially an electric car. It's driven by electric motors, but it doesn't store energy in a big battery pack. Instead, it gets power by running hydrogen gas through a "fuel cell stack" in which the hydrogen combines with oxygen from the air. That process generates electricity. It also results in the car's only emission, water.
Hydrogen fuel cell cars have two big advantages over electric cars. First, they generally have a longer driving range before needing to refuel. (The Clarity can travel for an EPA-estimated 366 miles on a fill-up.) Second, when they do need to fill up, it only takes a few minutes, not the hours it can take to charge an electric car.
Design and Features
The 2017 Honda Clarity Fuel Cell is about the same size as the Honda Accord mid-size sedan, but it looks distinctly different. The shape looks to have been created from equal parts of three departed models: the previous Clarity FCX sedan, the Honda Insight hybrid hatchback, and the Honda Accord Crosstour fastback utility vehicle.
The exterior lines are challenged for flattering angles, and in profile, the Clarity appears portly at the rear fenders. Its bulk is slightly disguised by a black roof, which pulls the eye lower. The high-tailed 'kammback' design will be familiar to those who follow high-efficiency green cars; the rakish fastback profile has a bit of a lift, with a prominent lip spoiler at the tail.
The Clarity includes lightweight aerodynamic wheels, underbody aero panels and—due to the tougher sightlines that the upkick in back introduces—an extra rear window in the trunk lid to help with rear visibility. Honda says the cars are given "a deep, lustrous coating that changes its look with the changing light."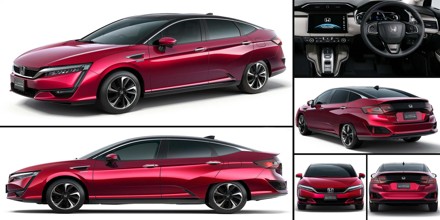 As well as the usual complement of airbags, the Clarity Fuel Cell comes standard with a rearview camera, adaptive cruise control, forward collision warning and automatic emergency braking, and lane-departure warning with lane-keeping assist. The high-pressure armored hydrogen tanks have been extensively crash-tested to ensure that while the car may crumple around them, they will stay intact.
There's only a single trim level for the Clarity Fuel Cell, reflecting its likely very low sales volume. It comes standard with all-LED lights, dual-zone climate control, power-adjustable heated front seats, a head-up display for speed and other information, and an 8-inch touchscreen audio system that includes Bluetooth pairing, along with Android Auto and Apple CarPlay, among other features.
The Clarity offers comfortable seating for four adults, and we'd liken the driving position to be very similar to that of the current accord. The driver's seat offers power adjustments in multiple axes, though the front passenger seat doesn't adjust for height. It's a little tight on rear headroom for taller adults, but rear legroom is good, as you'd expect in a large sedan. There are drink holders for each occupant, as well as various trays and storage cubbies—including doors pockets and center-console space—and there's under-trunk storage.
The energy information display in the Clarity includes a three-dimensional display with meters for hydrogen consumption (a ball-shaped gauge), battery levels, motor output, and trip and efficiency information. Those few screens and the tiny shifter aside, however, one of the Clarity's advantages over the other two hydrogen-powered cars on the market is that it's quiet enough to be mistaken for an all-electric car.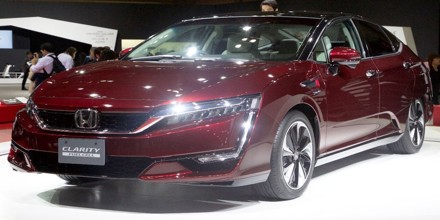 Performance and Efficiency
The Clarity Fuel Cell is powered by an electric motor, rated at 174 horsepower and 221 pound-feet of torque, that drives the front wheels. The electricity that powers it comes from a fuel cell under the hood; with a small lithium-ion battery pack under the front seats can provide added power when sudden acceleration is needed. The fuel cell runs most of the time that the vehicle is moving; the battery pack also recaptures energy from braking, or unused energy created by the fuel cell, and stores it for future use when needed for efficiency or sudden power.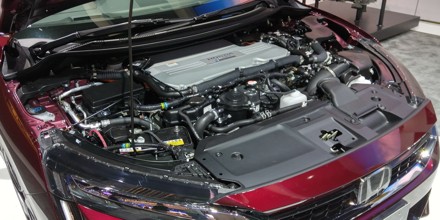 The Clarity Fuel Cell is EPA-rated at 365 miles of range from its 5.5 gallons of highly compressed hydrogen. That's higher than the Mirai's 312 miles and the Tucson Fuel Cell's 265-mile rating, as well as higher than any Tesla model now on sale.
In overall energy efficiency, Honda claims that the fuel-cell Clarity is twice as efficient as a compact hybrid gasoline-electric vehicle. A pure battery-electric vehicle, charged from the grid, is still more energy-efficient, however, in virtually all cases.