Review about Microsoft Surface Pro 5
Introduction
Microsoft is reportedly plotting a special version of the Surface Pro 5 that uses AMD's new Ryzen chipset, rather than an Intel processor.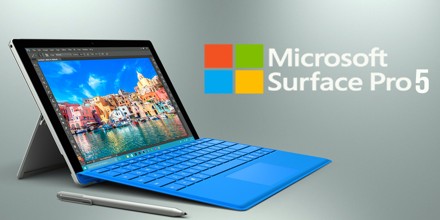 October has historically been the month of the Surface. Microsoft announced the Surface Pro 4 (and Surface Book) in October 2015. And it unveiled the newest, high-end Surface Book i7 in October 2016, along with the Surface Studio and Surface Dial. Though the majority of Surface-branded products have been released in the month of October, a handful of debuts have also come in February (the original) and June (the Surface Pro 3). The Surface Pro 5 was originally speculated to launch alongside Microsoft's "Redstone 2" update for Windows 10, which eventually turned out to be the Windows 10 Creators Update. For some, that Creators Update is already here, slated to roll out on April 11 (2017) officially.
Surface Pro 5's will start at $899; an Intel Core i7 model will cost $999; and the i7 Extreme version will cost for $1,599.
Design and Features about Surface Pro 5
Microsoft will want the Surface Pro 5 to keep user from buying a high-end laptop or tablet, so it's definitely going to pack some seriously powerful hardware. User can bet it'll be running Windows 10, too.
Despite power-efficiency concerns, a Surface Pro 5 featuring a 4K/UHD display seems to be one of the most popular rumours. Users have seen multiple sources suggesting a screen with 3,840 x 2,160 pixels (16:9) or 3,840 x 2,560 pixels (3:2).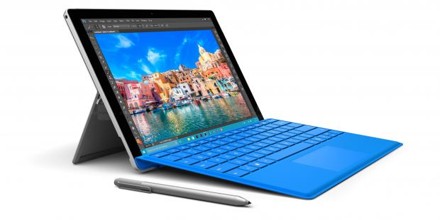 The Surface Pen has been the stylus of choice since the original surface was released. In the years since, Microsoft has updated the Surface Pen with new features; most recently with an eraser and dedicated button to activate the Cortana digital assistant.
It's highly likely the Surface Pen will get a pressure sensitivity update with the Surface Pro 5. Other pens on the market feature up to 4,096 levels of pressure sensitivity whereas the most recent Surface Pen only features 1,024 levels of pressure sensitivity.
Surface Pro 5 will indeed use a 7th-generation Kaby Lake processor. This is unsurprising given the year of release, though he also made it a point to liken the upcoming convertible tablet to a "Surface Pro 4.5" of sorts.
Another interesting tidbit from Thurrott suggests that the Surface Connect proprietary charger is here to stay, meaning the Surface Pro 5 may not use USB-C to restore the battery as most 2-in-1 devices tend to do now. As of this writing, it's not clear whether Surface Pro 5 will add USB-C ports for data transfers and peripherals much less what type of Kaby Lake processor it uses.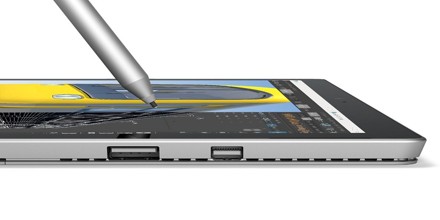 Microsoft also has the Surface Dial in its clasp. The designer-focused puck-like accessory was briefly mentioned in a slideshow presentation in December, with ZDNet having picked up the slides themselves for use in a news story. The company claims that peripherals such as the Dial, wearables, headsets and more are factors essential to what is perceived as the "modern PC."
It also touts an upgrade to 16GB of RAM, presumably for cheaper models as the Pro 4 is currently available with this capacity.
Cameras are the other likely components to see upgrades, along with the latest versions of Wi-Fi (hopefully with MU-MIMO support) and Bluetooth.
As there doesn't seem to be a significant architecture change planned for the Surface Pro 5, we'd expect battery life to remain relatively similar. The only major spanner in the works could be a 4K display, which would certainly impact battery life.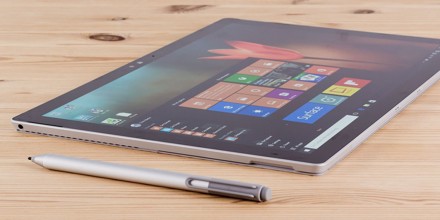 Surface as a Service Program
"The digital revolution is changing the traditional workplace environment, making us more reliant on our peers to share knowledge and work together; while more people are working remotely and need to be productive from anywhere. And, the workforce demographic is shifting towards millennials who are more collaborative, multi-task more, and use multiple devices," said Microsoft in a blog post.
The Surface as a Service Program means that authorised distributors can offer Surface devices with a subscription model. This will help customers get the latest devices without large upgrade costs.