Review about Sony Digital Paper Tablet
Introduction
Sony has actually been trying to put paper out of business for a while. While Amazon's Kindle e-readers may be the household name these days, it was Sony's Librie that pioneered the use of an E Ink display for reading. The DPT-RP1 itself is an updated version of Sony's original digital paper effort, the DPT-S1. The DPT-RP1 will be available in June (2017) with some noteworthy improvements and a slightly lower price tag of $700.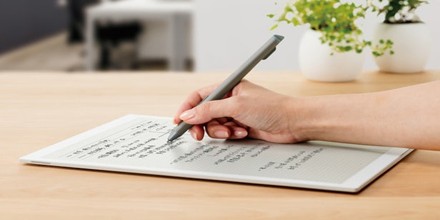 Sony developed a new Digital Paper App for desktop to make it easier to convert websites and documents to PDF form and send them wirelessly to the DPT-RP1. The DPT-RP1 still only works with PDF files, so user won't be able to use it to replace their Kindle anytime soon, but it's something that makes sense given that Sony is still positioning the DPT-RP1 for businesses, lawyers, and university researchers who are looking to cut down on their paper use. Here are its key specs, according to Sony:
3-inch flexible electronic paper display (1,650×2,200 pixels), 16-level gray scale (displays full-size views of 8.5 by 11-inch documents)
Projected capacitive touchscreen capable of pen input
Dimensions (HWD): 8.82 x 11.9 x 0.23 inches (224 x 302.6 x 5.9 mm)
3 ounces (349 grams) — about the weight of a 70-page print out
Up to 3 weeks of battery life with Wi-Fi off, or up to 1 week with Wi-Fi on (takes 3.5 hours to fully charge)
Rechargeable stylus included
Stylus tracking speeds have been optimized for minimal delay between pen and Digital Paper, so writing feels natural and responsive
Wi-Fi and Bluetooth connectivity
16GB of internal memory (11GB usable; stores around 10,000 PDF files)
Send any file direct from your PC wirelessly to view it on your Digital Paper device, for paperless printing (Digital Paper Application is required for synchronization and document transfer)
Supported unsecured file format: PDF
Ships in June for $700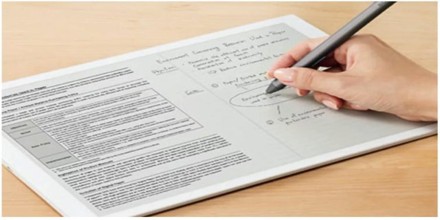 Description and Feature
Sony's new version includes a 13-inch 1650 x 2200 resolution screen that offers up 206 pixels-per-inch. There's also 16GB of internal storage to work with, and connectivity to upload files directly to the cloud. The Apple Pencil has received glowing reviews, but I've tried it, and it still feels decidedly like sliding on glass. The DPS's stylus and matte screen combine to create friction that feels remarkably like pencil-on-paper. And of course, for reading outdoors, e-ink is just infinitely better. Try this on an iPad if you're craving a good cry.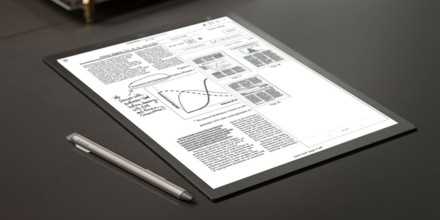 The DPS is one of those rare products that does one thing and one thing only (well, two) really well: read and annotate pdfs, and take handwritten notes. It's simply perfect for academics. Some other new feature of Sony's Digital Paper includes:
Side Note function – user can page through a document on one side of the screen while taking notes on the other.
Parallel Reading/Review – enables display of separate documents in two-page view for easy review/comparison of multiple documents.
Zoom Function – zoom into small text by touching or circling the desired area and annotated in zoomed area.
Advanced Search Function – for searching by title, text, author and handwritten symbols (star/asterisk).
Advanced Security – prevent unauthorized access to Digital Paper using a screen lock password and secure all content using 128-bit, AES, encryption technology
Marvell 64 bits Quad-Core Processor – for improved page turning and document management speed.
Marvell MIMO Wireless Technology – transfer documents easily between PC and Digital Paper using Wi-Fi or Bluetooth wireless technology.
One thing the DPT-RP1 shares in common with the original DPT-S1 is a huge price — the new model is expected to go on sale in Japan for around 80,000 yen (roughly $719) on June 5th, 2017. While Sony is focusing on direct commercial sales for the DPT-RP1, individual customers looking to buy one will be able to do so at a Sony retail store.