Reviews about Acer Predator 21 X
Introduction
Acer has made the most of the enormous size of the 21 X, cramming what feels like every inch of it with some serious firepower. Like the external design, the 21 X's spec sheet feels built for sheer overkill. The curved screen is the single-biggest talking point about the 21 X, as this is the first laptop to offer one. It's even a deeper curve than on big-screen curved TVs. The curve is measured in "R," which reflects the radius if it were to be extended into a full circle. The lower the R, the deeper the curve.
A Core i7 Skylake Intel processor that's overclocked up to 4.1 GHz. Two SLI linked GTX 1080 GPUs, with a total of 16GB of dedicated onboard VRAM. USB-C, USB 3.0, an HDMI port, two DisplayPorts, and an SD card slot. 64GB of DDR4 system RAM. Five fans. Five storage slots: three SATA, two PCIe. Acer ships a single configuration, with one 1TB hard drive and two 500GB SSDs in a RAID configuration.
Weighing in at an impressive 18.76 pounds, the Predator 21 X physically dwarfs pretty much any other laptop ever made. And with an $8,999.99 price tag, weight isn't the only place the 21 X beats out any competitor. Put simply: this is the biggest, most powerful, and most expensive gaming laptop ever made. The Predator 21 X tips the scales at a shocking 19.4 pounds. That's far too heavy to carry around, hence the rolling luggage, and most users are likely to only cart the Predator around when totally necessary. Despite all that, it's arguably easier to move than a desktop, monitor, and peripherals, at least in terms of simplicity and number of items.
Feature
Design and Display
The 21-inch curved screen, with 2,560 by 1,080 resolution and 21:9 aspect ratio, is part of the reason for its large body. The screen specs allow more visuals, like a full screen for CinemaScope-wide movies or two or three game windows side by side, to be displayed. The display also has a 120Hz refresh rate and is Nvidia G-Sync certified, which translates into smoother animation with fewer glitches like tearing and blurring during game play.
Acer hasn't taken any dramatic departures when it comes to the aesthetic design, between the slew of glowing LED lights, the sharp edges on the plastic case, the giant plastic exhaust vents, and the enormous metallic blue dragon that graces the vast expanse of space above the keyboard, this is a gaming laptop through and through.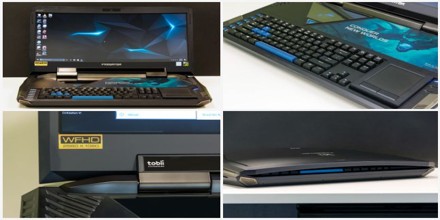 Sweet Mechanical Keyboard
Some professional and enthusiast gamers prefer the solid feel and rapid response of mechanical key switches over the shallow scissor switches on most gaming laptops. The depth of the key switches is another reason that the system is so big: they need a couple of inches of vertical clearance, so the keyboard is farther from the screen. The keys have 4mm of travel, and actuate after about 2mm. The keyboard features RGB lighting (16.7 million colors), which is fully customizable in Acer's Predator Sense utility. Each key can be lit with an individual color or by zones, and can be matched to, or contrast with, the light strips on the lid and laptop body. The lighting is attractive, and broadcasts that this is a high-end gaming laptop.
To the right of the keyboard is a removable panel with a touchpad on one side, and a numeric keypad on the other. Some gamers prefer to use the keypad, particularly if they also use a USB gaming mouse for control.
Battery Life
Battery life is a disappointment with the 21 X, even compared to the lowered expectations for gaming laptops. The Predator lasted just an hour and 51 minutes on the Verge Battery Test, which cycles a series of web pages through Google Chrome. Unplugging it for gaming resulted in even poorer results that brought the time to under an hour along with a hit to performance to boot.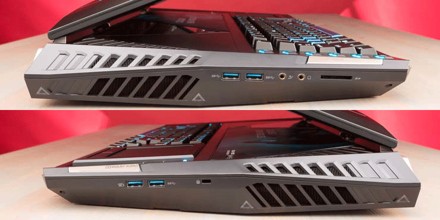 Sound
The Predator 21 X has six speakers in its voluminous chassis. There are two tweeters and two midrange speakers on either side of the keyboard and two bass drivers/subwoofers on the bottom panel. Together, they produce enough sound to entertain a dorm room party, or impress visitors during a gaming session. Playing back our usual mix of trailers and sound files filled a medium to large room.
Performance
There's also Intel's new 7th-generation Kaby Lake  Intel Core i7-7820HK processor on the inside, in addition to 64GB of DDR4-2400 system memory, and up to four 512GB SSDs in RAID 0 (two of which can be NVMe PCIe solid-state drives). There are five fans to cool the system: two for each of the GPUs, one for the CPU, and two to force cooling air over the rest of the system.
Another interesting point about the Predator 21 X – and there are many – is its removable side panel that instantly converts from a number pad to a trackpad. It's an ingenious idea and one that we can see being done on smaller non-gaming laptops, too.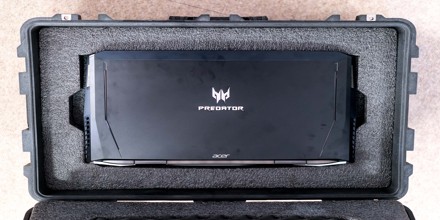 Conclusion
It's huge, loud and about as brash as can be, but it's hard to deny that the Predator 21 X is a little bit genius, too. However, with an eye-watering price of $8,999 (around £7,350, AU$12,500), most will have to remortgage users house to buy one.