Sally the Salad Making Robot
A California-based firm Chowbotics has come with a new machine named 'Sally' that makes 1,000 different salads and counts its calories for you. Sally can reportedly make a meal in just about 60 seconds. User simply put a bowl underneath, punch in what they want, and she gets to work. Of course she'll count calories, and give them any other nutritional information they need as well.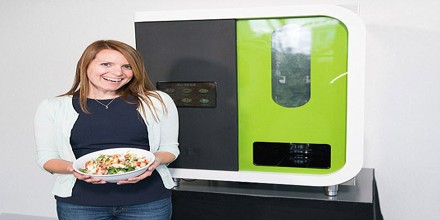 The machine is one of the latest players in the robotic food-service industry, which is predicted to be a multi-billion industry.
The robot is set to make its way into cafeterias, restaurants and hotels, where it will offer fully-customized, fresh and healthy salads.
Not only has Chowbotics said that their robot is more efficient than human salad-makers, but it is also capable of 'knowing' exactly how many calories are in your order using proprietary technology.
Features and Design
Sally is a green-and-brown robot, a brand-new creation from Chowbotics Inc. and a major new player in a potential multi-billion market for food-service robots.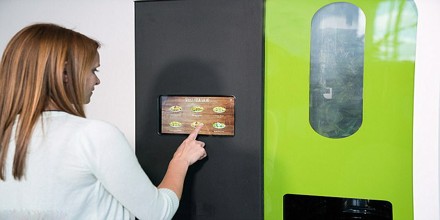 Sally occupies about the same amount of space as a dorm room refrigerator, and uses 21 different ingredients—including romaine, kale, seared chicken breast, Parmesan, California walnuts, cherry tomatoes, and Kalamata olives—to craft more than a thousand types of salad in about 60 seconds, while the customer watches the process. The machine weighs in at 350 pounds, making it more appropriate for industrial settings than for home kitchens at the moment.
"Sally will be going on a diet," said its creator, Deepak Sekar, 35, founder of Chowbotics Inc., looking into his and Sally's future.
The benefits of Sally are manifold, according to Sekar. "Sally is the next generation of salad restaurant," he claims, comparing it to chains such as Chopt and Fresh & Co. For one thing, a robot can make salad faster than a human can. Also, you will know precisely how many calories your salad is delivering; there won't be the problem of consuming one piled high with garnishes that turn out to be more fattening than a burger. And it's more hygienic to have a machine prepare your salad than to have multiple people working on a line—or worse still, a serve-yourself salad bar.
Consumers simply place their bowl in the salad dispensing area and select different options on a large touch screen positioned on the front of the machine.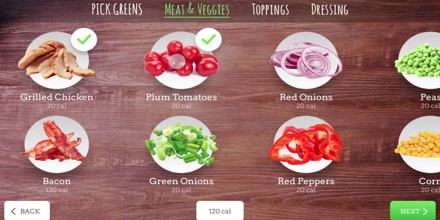 The caloric count will be highlighted towards the bottom of the screen, showing users how many calories are being added as they select different toppings in the system – allowing them to remove or add more as they go along.
Once users have finished selecting the desired ingredients, Sally will begin to build their salad by dispensing one ingredient at a time.
Price and Uses
Sally's current list price is $30,000; there will be an option to lease one for about $500 per month. Chowbotics will start delivering pre-orders of Sally in the third quarter.
Sally isn't meant to perch upon your countertop at home. Chowbotics wants to put the machine in cafeterias, restaurants, hotels and other commercial outlets that see customers who want a personalized meal or places that don't have food service at all, said Deepak Sekar, CEO and founder of Chowbotics. Sekar said he wants to install 25 more Sallys later this year.
According to Sekar's plans, Sally's next incarnation will be as an instantaneous deliverer of ethnic foods—Chinese, Mexican, or Indian—possibly even breakfast, depending on the demand. Much farther down the line, Sekar envisions home versions of Sally.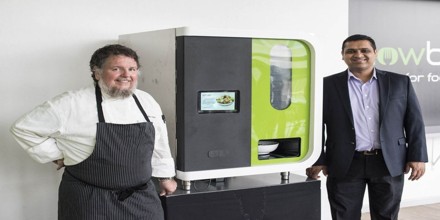 (Sally has two Dads: chef Charlie Ayers (left) and creator Deepak Sekar)
This spring, Sally will debut in Silicon Valley, at Mama Mia's, a fast-casual restaurant in Santa Clara, Calif., and at the corporate cafeteria at H-E-B Grocery Co. in Texas. The public launch will come on April 13 (2017) at co-working space Galvanize in San Francisco, where the public will be able to order Sally's salads.
The few items you won't find in a Sally-made salad include, curiously, avocado—one of California's signature ingredients. "It doesn't interact well with the machine," explained Ayers (Chowbotics's executive chef), presumably because the soft flesh makes it hard to apportion via automation. Sliced cucumbers are missing, too, though Sally can dice them. Chopped salad is off the list. And though Sally is currently stocked with romaine, Parmesan, and croutons, there's no Caesar salad dressing—yet. Sally's ingredients will change periodically, so the team reported that Sally might soon be dispensing Caesar salads.