Sony's Touchscreen Projector: That turns any Surface into a Touchscreen
Sony has announced that a projector that can turn any surface into a touchscreen will go on sale in the Spring (2017). The prototype was buggy and difficult to use. But a year later, the Xperia Touch as it's now called has been vastly improved and Sony is commercializing the product.
The Xperia Touch, which will cost €1,599 (around £1,350), uses infrared sensors to detect finger movements and presses on a surface, allowing owners to use a table or wall as they would a smartphone or tablet touchscreen.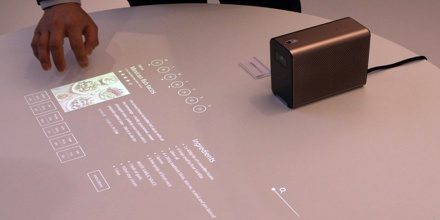 The projector turns any flat surface into a 23-inch high-definition touchscreen. It is able to detect movement corresponding to clicks and swipes, using a combination of infrared light and its built-in camera.
Sony Mobile says the camera operates at 60 frames per second, meaning the interface is "fast, fluid and responsive to physical touch".
It runs Google's mobile operating system Android allowing users full access to apps from the Google Play store.
The projector will also have finger detection technology that lets users control the screen by waving their finger in the air and pinching their finger to select items. Like Sony's smartphones, it runs Android and can create a display up to 80 inches from corner to corner.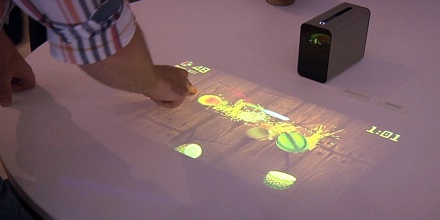 One theme Sony hit upon at last year's show and brought back in full force this go around is projector-based touchscreen technology. The company has essentially taken its expertise in display projection and married it with some truly unique user interface design. The result is a pair of prototype products that can turn any flat surface into a screen that you can not only interact with using your hands, but that can also take real-world objects and turn them into a kind of augmented reality version of themselves.
Features about Sony's Touchscreen Projector
The Xperia Touch has built-in speakers and is small enough to be portable. It can project against both a horizontal and vertical surface with a screen of up to 80 inches. However, at 80 inches, the image loses its touch capabilities, something Sony said it is working on to improve.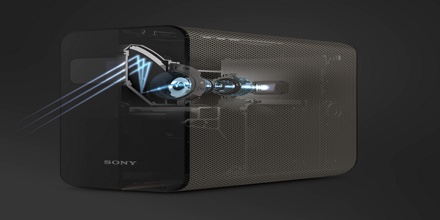 Sony has been trying to push into new product categories amid stiff competition in smartphones where it has failed to gain significant market share. The company sees its future in the so-called Internet of Things (IOT) market, which refers to devices connected to the internet.
Analysts said that the Xperia Touch will not sell in large quantities because of its price, but it has been used to show Sony's ability to innovate.
The Xperia Touch home screen also provides real-time weather information, a memo board, calendar access, and a Skype portal for video chat, in a similar way to a phone or tablet home screen.
Capable of beaming a horizontal or vertical image, the compact, lunchbox-sized Xperia Touch uses Sony's proprietary SXRD projection tech, as found across Sony's home cinema projector range, including in the Award-winning Sony VPL-HW65ES.
Uses of Sony's Touchscreen Projector
The device is aware of when both an object is placed in view, when your physical hand is touching that object, or when a pointed finger is resting on the table's surface.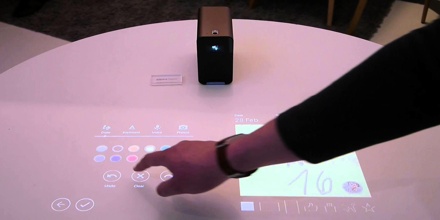 Sony created some clever software demos to show it off, including a live music app that used cylindrical plastic blocks to create an increasingly elaborate version of a classic Beethoven tune. The second prototype projector is new this year at SXSW. It's an entirely different piece of hardware that relies on the same responsive projector technology. Instead of sitting overhead, this version is a small modem-sized box that sits at the peak of an angled surface. The projector turns the table into a number of different musical instruments by blasting light at the surface, while sensors track what your hands doing on the table to let you produce sounds.
User could draw circles to create a series of drum pads and strike them with hand taps. User could also string together multiple projector units into a single unified piano and play it just like a real one. Both of the projectors run on a modified version of Android, letting Sony's software accept traditional touchscreen input methods even though there's no screen in play whatsoever. This type of tech might be necessarily cost effective right now, and neither of these devices feels close to becoming full-fledged consumer products.