The Commuter Trucker Jacket: The smart jacket from Google and Levi's
It's been nearly two years since Google and Levi's announced their plans to work on connected garments, an idea born out of the tech giant's Advanced Technology and Products group. The first piece of this project is a connected jacket called The Commuter Trucker Jacket, which uses Google's Jacquard technology to turn its denim fabric into a gesture-controlled canvas.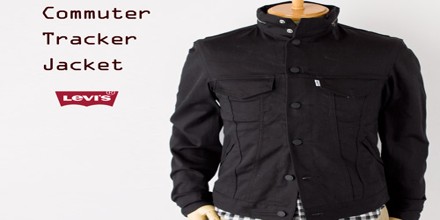 The jacket, which will cost around $350 when it goes on sale, is the first commercial product containing ATAP's Project Jacquard technology, which uses conductive fabric to turn a standard article of clothing into a connected device of sorts that can send instructions to user's smartphone, like pausing or skipping a song that's playing by double tapping their wrist. Think of its functions as similar to those of a smartwatch, but less obtrusive and certainly a lot more stylish.
Originally unveiled at the Google I/O conference in May of last year (2016), the Commuter comes with a Bluetooth cuff that allows the jacket to communicate with a smartphone to give user's directions, adjust music volume or answer calls, all using swipes on the jacket's fabric. User will be able to configure which gestures work with which apps and the jacket will be easily washable after removing the Bluetooth tag. The underlying technology, created by Google's ATAP division, utilizes conductive yarns to weave touch interactivity into any garment using standard industrial looms.
The jacket is designed to allow those on the go, especially bicyclists, to interact with their devices without missing a beat. Levi's Commuter line is water-resistant and constructed with extra-stretch fabric for added mobility.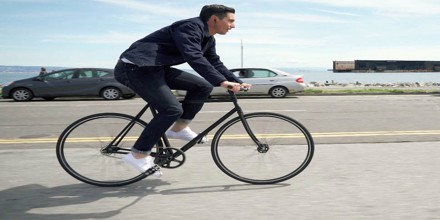 Project Jacquard
Project Jacquard makes it possible to weave touch and gesture interactivity into any textile using standard, industrial looms. Everyday objects such as clothes and furniture can be transformed into interactive surfaces.
The goal of Google's Project Jacquard is to confront the historical limitations of wearable technologies by decoupling the touch interface from the digital device. Jacquard makes garments interactive — simple gestures like tapping or swiping send a wireless signal to the wearer's mobile device and activate functionality, such as silencing phone calls or sending a text message.
Now, the two companies are working together to tackle a new challenge. Today, at Google I/O 2015, Google's Advanced Technology and Projects (ATAP) group unveiled Project Jacquard and named the Levi's® brand its first official partner.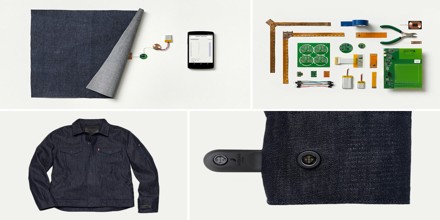 Jacquard yarn structures combine thin, metallic alloys with natural and synthetic yarns like cotton, polyester, or silk, making the yarn strong enough to be woven on any industrial loom.
Jacquard yarns are indistinguishable from the traditional yarns that are used to produce fabrics today. The complementary components are engineered to be as discreet as possible. Captured touch and gesture data is wirelessly transmitted to mobile phones or other devices to control a wide range of functions, connecting the user to online services, apps, or phone features.
LEDs, haptics, and other embedded outputs provide feedback to the user, seamlessly connecting them to the digital world.
Jacquard components are cost-efficient to produce, and the yarns and fabrics can be manufactured with standard equipment used in mills around the world.
Jacquard is a blank canvas for the fashion industry. Designers can use it as they would any fabric, adding new layers of functionality to their designs, without having to learn about electronics.
Developers will be able to connect existing apps and services to Jacquard-enabled clothes and create new features specifically for the platform.
Jacquard allows the Levi's® innovation team to design and produce connected, interactive denim garments that are indistinguishable from the brand's traditional clothing.
Jacquard allows wearers to control their mobile experience and connect to a variety of services, such as music or maps, directly from the jacket. This is especially useful when it might be difficult to use the smart phone, like when you are riding on user's bike.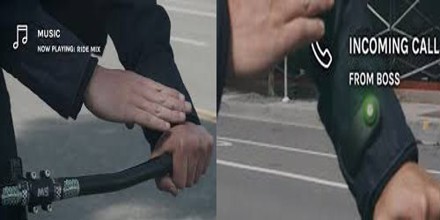 Manufacturing at Scale
Beyond form and function, the real innovation around this launch is the fact the jacket is produced in existing Levi's factories. At the core of Jacquard is the ability to integrate it into established supply chains. The interactive textile is woven on Levi's looms in the same way as any other regular Levi's jacket at a major industrial mill – making scale, rather than a few one-off products, a real possibility.
Long term the aim for Levi's is to expand Jacquard across a wider product assortment. To do so, the technology itself will be opened up to developers from early 2017 to create functionalities beyond the commuter market.
In the meantime, the Levi's Commuter x Jacquard by Google Trucker Jacket will go into beta testing this fall, where the team will invite people from both the commuter and tech communities to apply to test the garment and provide feedback on the functionalities. It will then go to market for both men and women in spring 2017 in various US cities, before broader release in Europe and Asia later in the year.