An urban planner is someone who develops plans and programs for the use of land. These professionals are also known urban planning engineer is a professional who practices in the field of urban planning. They develop and implement plans and policies for the controlled use of urban and rural land, and advise on economic, environmental, and social factors affecting land use. They use planning to create communities, accommodate growth, or revitalize physical facilities in towns, cities, counties, and metropolitan areas. They identify community needs and develop short- and long-term plans to create, grow, or revitalize a community or area. For example, they may examine plans for proposed facilities, such as schools, to ensure that these facilities will meet the needs of a changing population.
"Urban planners identify the best way to meet community needs in terms of infrastructure and handling growth."
When beginning a project, planners work with public officials, community members, and other groups to identify community issues or goals. Using research, data analysis, and collaboration with interest groups, planners formulate strategies to address issues or meet goals. Planners use a variety of tools and technology in their work, including geographic information systems (GIS) tools that analyze and manipulate data. GIS is used to integrate the data with electronic maps. They also use statistical software, visualization and presentation programs, financial spreadsheets, and other database and software programs.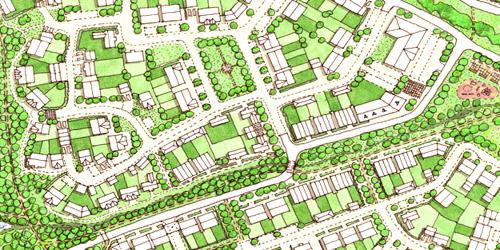 An urban planner may focus on a specific area of practice and have a title such as a city planner, town planner, regional planner, long-range planner, transportation planner, infrastructure planner, environmental planner, parks planner, physical planner, health planner, planning analyst, urban designer, community development director, economic development specialist or other similar combinations. As an area grows or changes, planners help communities manage the related economic, social, and environmental issues, such as planning a new park, sheltering the homeless, or making the region more attractive to businesses. Ultimately, all planners promote the best use of a community's land and resources for residential, commercial, or recreational purposes.
Urban planners identify the best way to meet community needs in terms of infrastructure and handling growth. An international association of planning professionals – ISOCARP – was established in 1965 in the Netherlands and currently has about 700 members in more than 80 countries. The modern origins of urban planning lie in a social movement for urban reform that arose in the latter part of the 19th century as a reaction against the disorder of the industrial city. Urban planning emerged as a scholarly discipline in the 1900s. In Great Britain, the first academic planning program began at the University of Liverpool in 1909, and the first North American program was established at Harvard University in 1924.