Introduction of the Study
The perfect coordination between theory and practice is of paramount importance in the context of the modern business world in order to resolve the dichotomy between the theoretical and practical areas. Any academic course of the study has a great value when it has particular application in the real life. Only theoretical knowledge bears little importance unless it is applicable to the practical life. So we need the proper application of our knowledge to get some benefits from our theoretical knowledge and to make it more fruitful. Such application is made possible through thesis. For the completion of this report, we chose a reputed Textile Company in Bangladesh namely, "Dacca Dyeing & Manufacturing CO. Ltd (DDMCL)". It brought us closer to the real life situation and thereby helps to launch a career with some prior experience. Our report is on an overall performance evaluation of DDMCL mainly focused on management practices. 
Statement of the problem
The report mainly focused on the overall performance of DDMCL. As a management student, we have mainly focused on management practices prevailing in the DDMCL. We have also focused on the risk factors of this suggested company which may face by them.
Objectives of the study
The objectives of the study are mentioned below:
To study the present scenario of management practices in the textile industries of Bangladesh.
To examine the overall performance of DDMCL.
To assess management policies and practices of DDMCL.
To identify several risk factors prevailing in the DDMCL.
To analyze the SWOT Analysis of this company.
To evaluate the problems related to different departments of DDMCL.
To evaluate necessary suggestions to overcome the problems of DDMCL. 
Methodology
At the time of preparing report, we tried to collect both primary and secondary data that we have gathered from different sources. For preparing this report, primarily we got some data from face to face interviewing of different employees of DDMCL and some from various reports and features of this suggested company.
Sources of information Primary data
The primary data have been collected by oral interviewing with the responsible officers and staffs of the DDMCL by using a questionnaire.
Secondary Information/data
The secondary information comes from annual report of the DDMCL, relevant papers/books and periodicals publication and manual of different departments.
Annual report of DDMCL
Published Documents
Official files
Relevant papers, newspaper and journals.
Methods of data collection & instruments used
 Correct and smooth completion of research work requires adherence to some rules and methodologies. In order to conduct the report, the decision had been taken to collect various types of primary data and secondary data. After collecting data from the interview and material provided by them, data were first carefully scrutinized. Then the data were organized as required. In order to make the study effective and efficient, both these two above-mentioned sources of data and information have been widely used. I used a formal questionnaire for collecting relevant data.
Literature Review
Evaluation is the assessing and judging the value of a piece of work, an organization or a service. Its main purpose is to help an organization reflect on what it is trying to achieve, assessing how far it is succeeding, and identify required changes (Wikipedia). Self evaluation is a type of evaluation which is owned, controlled, and often carried out by the project's participants, primarily for their own use, as an integral part of the organization's life. It is a learning process which actively involves participants in reflecting critically on their organization, and the issues to which it is responding (Prasana Chandra). Performance is the accomplishment of a given task measured against preset known standards of accuracy, completeness, cost, and speed. In a contract, performance is deemed to be the fulfillment of an obligation, in a manner that releases the performer from all liabilities under the contract (Wikipedia). Management is the process of getting activities completed efficiently and effectively with and through other people (Wikipedia).  A manager is a person who works through other people (subordinates), and "brings together" their efforts to accomplish goals (Dr.M. Thenmozhi). Industry is a basic category of business activity. The term industry is sometimes used to describe a very precise business activity (e.g. semiconductors) or a more generic business activity (e.g. consumer durables). If a company participates in multiple business activities, it is usually considered to be in the industry in which most of its revenues are derived (Dr.M. Thenmozhi). The textile industry is primarily concerned with the production of yarn, and cloth and the subsequent design or manufacture of clothing and their distribution. The raw material may be natural or synthetic using products of the chemical industry (Wikipedia). Research is the systematic process of collecting and analyzing information to increase our understanding of the phenomenon under study. It is the function of the researcher to contribute to the understanding of the phenomenon and to communicate that understanding to others (Kothari). Research comprises defining and redefining problems; formulating hypothesis or suggested solutions; collecting, evaluating and formulating data; making deductions and reaching conclusion and at last carefully testing the conclusions (Clifford woody). Report is a self-explanatory statement of facts relating to a specific subject and serves the purpose of providing information for decision making and follow up actions (Wikipedia). It is a systematic presentation of ascertained facts about a specific event / subject. Report is a summary of findings and recommendations about a particular matter / problem. Report is for the guidance of higher authorities including company executives and directors. Report facilitates timely decisions and follows up measures.
Limitations of the study
We tried our best to make the report complete. But while conducting the report, we have   faced the following limitations:
It is very difficult to collect all the required information in such a short period.
The employees are very busy with their jobs, which lead a little time to consult with.
Lack of knowledge of the response was the major problem.
Lack of available up-to-date information
As Dacca Dyeing & Manufacturing Co. Ltd. is one of the largest textile companies; it is very difficult to understand each and every aspect of its operation within a very short period of time.
Scenario regarding the main topic of the report in Bangladesh
Today the textile and clothing industry is a sector which is determined by the huge brand-name companies operating on a worldwide scale. It plays a leading role in the economy of Bangladesh, and now accounts for some 40% of the total manufacturing, and about 50% of the industrial workforce. The sector is sub-divided between readymade garment (RMG) and textile segments. Most of the 3,000 RMG factories are located in and around Dhaka and Chittagong, and 95% of them are entirely owned by Bangladeshi companies or families Bangladesh has now become a significant supplier to both North America and Europe. More than 50% of Bangladesh's garment exports go to the countries of the European Union, and 44% to the United States.
Ali Hossain Textile Mills Private Limited
Ali Hossain Textile Mills Private Limited a prominent and modern project of woolen carding spinning and yarn dyeing is an exceptional name of quality both for local supply & export scenario, started with a moderate production capacity & will be going to toll manufacturing. It was establishes in 1989. Its product range includes Dyed & Undyed Fancy Yarn, Normal Wool Acrylic Yarn, Cotton Yarn, Polyester Yarn etc. Its product used for Sweaters, Carpets, Ropes, Clothes, Fashion Textiles, Shirting, Suiting, Hosiery & Home textile. It can offer products with good quality, competitive prices & timely delivery. Its main business is yarn manufacturer and other area of business is importer of fibre, manufacturer of garment, manufacturer of yarn.
Abed Textiles Processing Mills (P) Limited 
The Abed Textiles Processing Mills Limited is one of the pioneers of textile products in Bangladesh, which processes fabrics for print, finish and package products to garments. Started its production since 1980 under the direct leadership of Mr. Hazi Abed Ali Mia, Chairman & CEO of the company having the objective of 'To obtain global recognition as a supplier of world class product and be a market leader'. It has already obtained National recognition in its performance. It is a rapidly growing manufacturer of Textiles in the country. Within a very short time, it installed the 'State- of -Art' technology to its vertically integrated manufacturing units, which have already drawn the attention of world renowned retailers of textile products.
Bangladesh Dyeing and Finishing Industry Limited
Bangladesh Dyeing and Finishing Industry Limited is one of the pioneers of textile products in Bangladesh. It was established in 1978 with a little objective of becoming most important dyeing and finishing industry in both Bangladesh and abroad. Mission of this company is striving to provide quality services in time, based on best practices for the satisfaction of our Partners & Stakeholders. It foster friendly working environment through open communication and mutual respect. It encourages initiative, innovation and teamwork. Workers welfare and right is its premier focus. It is committed for cleaner and greener environment. It is driven by its responsibility to the society as a Corporate Body. Main products of this company are Jackets, Searafino, and Trousers etc.
Organizational Profile Background of DDMCL
The Dacca Dying & Manufacturing Company Limited was incorporated on 31st December 1963 as a public limited Company with an authorized capital of TK.1.25 crore divided into 12.50 lac shares of TK. 100 each. The company was nationalized in 1972 and again returned back to previous shareholders in 1977. The company is taken over by the present sponsors on 8th August1995 by share transfer. Subsequently the authorized capital was increased on July 26, 1996 to TK. 100 crore, comprising 10.00 crore ordinary shares of TK. 10.00 each. As on 30th June 2008 the paid-up capital of the company had stood at TK. 23.00 crore comprising 2.30 crore ordinary shares of TK. 10.00 each that includes 30.00 lac bonus shares of TK. 10.00 each. Then the company issued 50.00 lac right shares of TK. 10.00 each amounting to TK. 5.00 core on 10th July 2008 among its existing shareholders. Finally the company raised paid-up capital through IPO; issued 1.70 crore ordinary shares of TK. 10.00 each amounting to TK. 17.00 crore on 30th September 2009. Considering the above events, the present paid-up capital of the company stood at TK. 45.00 crore. The shares of the company were listed in October 2009 with Dhaka Stock Exchange Limited and Chittagong Stock Exchange Limited under "N" category.
The company is now operating under the companies' act 1994. The registered office f the company is situated at sharif Mansion, 56-57 Motijheel C\A (3rd & 4th Floor), Dhaka-1000 and the factory was located at QC Nagar, Pager, Tongi, Gazipur on 11 acres of land and the total covered area is approximately 5,00,000 sft.
The Dacca dying is the pioneer and one of the successful venture in home textile sector of the country and the recipient of the president Award for quality export in 1969-70, 1977-78 and the prestigious international Award in 1980. The Dacca dying is an ISO 9001-2000 certified company issued by Moody international. The scope of certificate is manufacturer and exporter of home textile products i.e. bed linen, table linen and tarry items. The Dacca dying also is an Oeko-Tex Standard 100 certified company.
Ownership
As on 30.06.2010, Sponsors & Directors occupy about 52.65% of shares. Local individuals capture 39.90% of the total shares. Non-resident Bangladeshis and corporate bodies have 1.01% and 6.44 % of the total shares respectively. It is to be noted that no percentage of the share has been occupied by the govt. and foreign individuals.
Vision
To maintain market leadership of home textile for providing products and integrated services with special focus on creating value for buyers, shareholders, employees and communities.
Mission
To achieve corporate vision with special focus on creating values by:
Partnering with buyers/client to understand and fulfill their needs through a diverse range of products and services.
Maximizing shareholder's value through strong performance.
Rewarding employees to effectively developing buyers/clients relationship.
Serving diligently our communities with integrity and pride.
Objectives
Consistently improve product line and provide service to buyers and clients.
Create sustainable economic value shareholders, buyers/clients.
Provide motivating work, extensive opportunities for learning and carrier development.
Conduct business in a socially responsible manner
Improve ethical and business standard of corporate governance.
Childcare, social responsibility, environmental control
Complete International standard of compliance as per ISO 9001:2000
Develop appropriate leading risk assessment system.
Develop a plan for recruitment, compensation, training and approaches.
Develop appropriate met, structure, systems, procedures and approaches.
Develop scientific MIS to monitor company's activities.
Nature of the Business
The company owns and operates one composite textile plant at Tongi, Gazipur having preparatory weaving, dyeing, finishing, and printing facilities producing high quality of bed sheet, napkin, table cloth, shirting fabrics, towel bath linen, kitchen linen, and all shorts of home textile products for marketing in Europe and North America. To some extent the company's products penetrate into the local market.
Principle Products
The company owns and operates one composite textile plant having preparatory, weaving, dyeing, finishing and printing facilities producing high quality of following products under two categories:
Fabrics
Bed Sheet, Bed Cover, Pillow Case, Table Cloth, Shirting Fabrics, Napkin, Bath Linen, Kitchen Linen
Towels
Bath Towel, Kitchen Towel, Fancy Towel About 80% of DDMCL's total productions are exported and rest is for local corporate and retail sales. So, the world famous overseas buyers are the main group of customers of DDMCL. Furthermore, the brand Dacca Dyeing is known in the country. The Company has major corporate clients namely Pan Pacific Sonargaon Hotel, Sheraton Hotel, Radisson Water Garden Hotel, Apollo Hospital, United Hospital, Square Hospital, and ICDDRB.
Associates, Subsidiary/ Related Holding Company
The Company does not have any subsidiary/related holding company except the following associate company. 
The Dacca Yearn Dyeing Limited:
The Company is incorporated as private limited company on 07.07.2006. The Company has not yet started its operation. However, The View of the company is to set up a project of yarn dyeing of 5-ton capacity per day.
Distribution of products
The Company has 2 (two) outlets for retail sale of which one is situated on a rented place at HBFC Building (Ground Floor), 22 Puranpalton, in Dhaka and another one is situated on a own possession at Sanman Ocean City (Ground Floor), Shop no. 23/D, 997 CDA Avenue, East Nasirabad in Chittagong. As on 30.06.2008 there exists 160 nos. of dealers through out Bangladesh who are selling the company's products. Sales to corporate customers are delivered from factory premises. On the other hand exporting products are distributed through Letter of credit or sale contract.
Competitive conditions in the Business
The following companies can be considered as competitors of the company:
Altex Fabrics Limited
Apex Weaving and Finishing Mills Ltd.
Zaber and Zubair Fabrics Ltd.
Saad Musa Fabrics Ltd.
Sources and availability of raw materials and the names of the principal suppliers
The main raw materials of the products are yarn/fabric and chemical, which are procured from both locally & globally. The names of principal suppliers are as follows:
SI. NO.
Name & Address
SI. NO.
Name & Address
SI. NO.
Name & Address
1

Mahmud traders

43/1, Naya Palton

(1st Floor)

Dhaka-1000.

4
Benevolent Textile services  Concord plaza

(1st Floor) Bara Mogbazar,

Dhaka-1217.

7
A R Traders

15/A Mymensingh Road, Bangla Motor,

Dhaka.

2

UP Thread Industries

49, Motijheel (3rd Floor)

Room No. 408, Dhaka-1000

5
BASF, HR Bhaban

(4th Floor)

26/1, Kakrail Road,

Dhaka-1000

8
IMMCO

143/1, Arambag

(1st Floor), Dhaka.

3

Sheba chemical company

22, Syed Aulad Hossain Lane, Dhaka-1000

6
Chemitek Services

331, Tongi Diverson Road

Moghbazar, Dhaka-1217

9
Allied Chemicals

7, K. M. Das Lane

(1st Floor)Tikatoly, Dhaka-1203
Sources of, requirement for, power gas and water
The company meets up its required power for production from own source of three gas-based generators. The capacity of generators is as follows:
1100 KVA
1100 KVA
600 KVA
Titas Gas Transmission and Distribution Co. Limited supplies required gas for the operation of the company. Required water for operation of the company is supplied from its own source of deep tube well.
INTRODUCTION
Dhaka Dying and Manufacturing Company Limited, (DDMCL), is one of the oldest and most reputed Home textile companies of Bangladesh. This company started its journey in 1963 and since then it did not look back. During the last 45 years by dint of its commitment to quality and wide range of innovative products, it has gained the confidence of unlimited buyers both at home and abroad.
The company owns and operates one composite Textile plant at Tongi, Gazipur. It has preparatory, weaving, dyeing, finishing and printing facilities producing high quality of bed sheet, bed cover, napkin, table cloth, shirting fabrics, towels, bath linens, kitchen linen and all sorts of home textile products for marketing in Europe and North America. To some extent the company's products penetrate into the local market as well. The company is by far the largest supplier f linens to the major institution of Bangladesh like Pan Pacific Sonar gong Hotel, Dhaka Sheraton Hotel Radisson Water Garden Hotel, Apollo Hospital, Square Hospital, United Hospital, ICDDRB etc.
There are six departments in this company. They include Admin department, Weaving department, Dyeing department, Stitching Department, Maintenance Department, and Marketing Department. The production units of the company are CAD & LAB, Weaving Section, Dyeing and Finishing Section, Printing Section, and Stitching Section.
We prepared our report on the performance of Dacca Dyeing and manufacturing Company Limited. We have acquired some pragmatic information about it. Here we derive necessary information about the management practices carried out by it notably on inventory handling, human resources handling, assembly line arrangement, accounting system working, customization with standardization and cost control mechanism. We have decided to focus on some major overall management practices of the production units because the whole is better than small part in one hand and management practices generally change as a whole to ensure fairness in other hand. With ask-and-answer knowledge and personal observations we have found out the following management practices going on our focus topic:
Inventory Handling
 An inventory is a stock of materials used to satisfy customers' demand or to support the reduction of goods and services. It consists of raw materials, work in progress, and finished goods. The Dacca Dyeing and manufacturing has been handling its inventories in an effective and efficient way. Its management practices in regard to inventory handling include:
 Row materials are purchased from both inside and out side the country based on orders kept in a central store after matching with the invoices on the basis of production units and making entry in the store ledgers. It is noted that materials were only purchased from abroad in the past.
 Each production unit keeps the records of their work in progress inventories and report in a proper time period to the store.
 Finished goods are kept in a well-neat and well-protected warehouse in their order-delivery sequence along with proper recording of in and out. And Marketing Department is strong enough not to leave finished goods in the warehouse.
 The company has been maintaining perpetual inventory system. Although at first it was manual, today the system is computerized. The store is to report to the accounts section of Admin department for all types of inventories.
Human Resource Handling
Basically, human resources are the sum total of skills, abilities and aptitudes of the labor force employed by the company or an organization. It is said that The Dacca Dyeing and Manufacturing has more machines than employees. Notwithstanding, it employs as many as 1625 employees. DDMCL is a fully compliant in regard to labor dealings since its operations. The management practices of Dacca Dying and Manufacturing in the field of human resources handling involve:
Workers are paid monthly to create the feeling of job security
Working hours are strictly enforced, 8 hours for each shift with half an hour break.
Entrance room into the plant is closely guarded to ensure safety.
Work environment is employee-friendly involving adequate ventilation, lighting, well space between machines, clean sanitation, first aid facility, clear do and don't do sign, and the like.
Bonus, incentives and paid vacations are provided to motivate the employees.
Indoor training facilities are provided to increase the skills of the present work force and in turn their productivity.
Child labor is totally banned.
Production Unit Arrangement
Production unit is that segment of a manufacturing concern where the production related activities are carried out. The Dacca Dyeing & Manufacturing has five production units. Those production units are CAD & LAB, Weaving Section, Dyeing and Finishing Section, Printing Section, and Stitching Section. All these units are operated with highly sophisticated and state-of-the-art machinery and equipments and by adequately skilled workers as well. All machinery and equipments as well as the production units are arranged on the basis of line flow. But the uniqueness of this kind of arrangement is that both customized and standardized products are being produced at comparatively least cost of resources.
Accounting System Working
The Dacca Dying Manufacturing Company Limited was incorporated on 31.12.1963 as a public limited company. The company was nationalized in 1972 and again returned back to previous shareholders in 1977. The company is taken over by the present sponsors on 8th August 1995 by share transfer. Since it is a public limited company, it has to keep the
records of its all transactions in journals and ledgers according to GAAP and prepare and publish financial statements to fulfill company act requirement. Previously the accounting system was manual but today it is a computerized one. Besides, all journals ledgers and financial statements were prepared following British accounting system but today all these are done following American accounting system. Above all, earlier duplicates were prepared along with original documents for safety purpose and future use where a separate computer has been maintained for the same purpose.
Customization with Standardization
Customization refers to satisfying the unique needs of each customer by changing service or product design. On the other hand, standardization means to produce identical products or services to satisfy the needs of market as a whole. The Dacca Dying and Manufacturing Company Limited is highly customized in case of its foreign markets. On the contrary, the company is both customized and standardized in case of local market. This dual manufacturing with a single process obviously helps the company to be a pioneer in its business.
Cost Control Mechanism
Cost control is the ways and means of minimizing cost of products or services. It can be done by increasing productivity, increasing negotiation power, and reducing wastages and shrinkages. There is no denying the fact that the Dacca Dying and manufacturing Company Limited strives to minimize its cost to be competitive. But this is the only point of discussion where I did receive serious reservation. But with my determination and willingness to learn, I was able to identify some cost control mechanisms. They are More capital intensive than labor intensive The arrangement of indoor training to increase productivity Outsourcing some of its products from other manufacturers within the country.
Risk factors
 Any investment always associates with risks. Among those risks some can be averted, others are beyond control, which may causes of loss. Before making any investment decision, Investors should take the risk factors into consideration. Major such factors are described in brief as under:
Interest rate risk
Interest/financial charges are paid against any kind of borrowed fund. Volatility in money market and increased demand for loan presses on interest rate structure to be fixed in high. Raising of interest rate increases the cost of fund for a company, which have borrowed fund, and consequently profit is squeezed.
Management view:
 The management of the company is always aware of interest rate, which is concerned to the cost of fund of the company. The management prefers in procuring of the long-term fund with minimum fixed interest rate and the short-term fund with reasonable competitive rate. On the other hand management of the company is emphasizing on equity based financing.
Exchange Rate Risk
The company is 80% export oriented. The products of the company are sold against foreign currency and payments for raw material are also made in foreign currency. If exchange rate is increased against local currency opportunity is created for getting more revenue against sale in local currency. On the other hand if exchange rate goes down margin is squeezed in local currency.
Management View:
The exchange rate of the country is traditionally witnessed of upward trends, which makes ample opportunity of export. On the other hand, management perceives revaluation of local currency i.e. down trend of exchange rate will have little impact on profitability of the company.
Industry Risk
Textile is the largest industrial sub-sector in Bangladesh. It contributes highest in the country's total export earnings, gives employment to over four million people meets the second basic need for clothing of the country and contributes around 50% of the industrial value addition. But, after phasing out of the MFA, the global textile trade is now free from quota restriction. The phasing out of MFA has created a tough competitive environment, where Bangladesh is now competing the countries like China, India Pakistan, Indonesia, Thailand, Vietnam etc. countries that are very strong in production of textile goods.
Management View:
The textile industry has successfully coped with the post MFA competitive situation. The force, which is helping the sector for its strong existence, is emergence of backward linkage industry. Backward linkage industries are supporting for minimizing lead-time and cost of production.
Market and Technology related Risk Market Risk:
 Among the functional areas in a textile company, marketing exerts the sheer part of the importance. Proper implementation of the marketing tools as well as identifying new clients will ensure the success of the project. The continuous changes on preference in the yarn market will force the company to catch the trend. For which the company has to produce goods for international demand.
Management View:
The company sets its focus only export market through inland back-to-back letter of credits. The management is trying to sell through direct contact with the customers in the selected regions understanding their needs. The company also has established relationship with potential buyers across the world and expects to find market for its capacity despite competition prevailing in the sector. Further, the commercial banks and financial institutions provide a thrust in the textile sectors as they provide credit facilities to textile industries to acquire the yarn for their final products.
Technology related Risk
The production facilities of textile sectors are based on high-tech machineries. So any invention of new and more cost effective technology may cause functional obsolescence resulting in further substantial capital investment.
Management View:
The Dacca Dying and Manufacturing Company Limited are equipped with the most modern technologies. As per previous experience no frequent technological change has taken place in this industry so far. Furthermore according to feasibility study report as well as in practice this projects earning capacity is satisfactory and payback period is short. So investment in the machineries will be recovered before any major technological change becomes commercially effective. In addition the project is capable to absorb any small technological changes.
Potential or existing government regulation:
 The company operates under companies act, taxation policy adopted by NBR, Security and Exchange Commission (SEC)'s rules and rules adopted by other regulatory organizations. Any abrupt changes of the policies formed by those bodies will impact the business of the company adversely.
Management View:
Unless any adverse policies are taken, which may materially affect the industry as a whole; the business of the company will not be affected. Government emphasizes on the growth of textile industry to boost up the export of home textile goods. Yet the promoters and the sponsors have endeavor to convince the policy makers for adopting favorable terms& condition, which will eventually help the home textile manufacturers of Bangladesh to compete with low cost locations in the global arena.
Potential changes in global or international polices
The performance of the company may be affected by the political and economical instability both in Bangladesh and worldwide. Any instance of political turmoil and disturbance in the country may adversely affect the economy in general.
Management View:
The company can prosper in a situation of political instability and a congenial business environment. Political turmoil and disturbance are bad for the economy and so also for us.
Operational Risk
Shortage of power supply, labor unrest, unavailability or price increase of raw material, natural calamities like flood, cyclone, earth quack etc. may disrupt the production of the company and can adversely impact the profitability of the company.
Management View:
The compensation as well as benefit package will restrain the employees to leave their assignment and go for any employee movement for higher benefit package. The project of the company is situated at a high land where less record of flood. The factory building has strong RCC foundation, RCC floor, pre-fabricated steel structure to withstand wind, storm, rain etc. along with good drainage facility. The risks from these factors are also covered through Insurance. The company is also facilitated to keep a rational reserve for any future price escalation of the raw materials.
SWOT ANALYSIS OF DDMCL
The acronym for SWOT stands for Strength, Weakness, Opportunity, and Threat. The SWOT analysis comprises of the Organization's internal strength and weakness and external opportunities and threats. SWOT analysis gives an organization an insight of what they can do in future and how they can compete with their existing competitors. This tool is very important to identify the current position of the organization relative to others, who are playing in the same field and also used in the strategic analysis of the organization.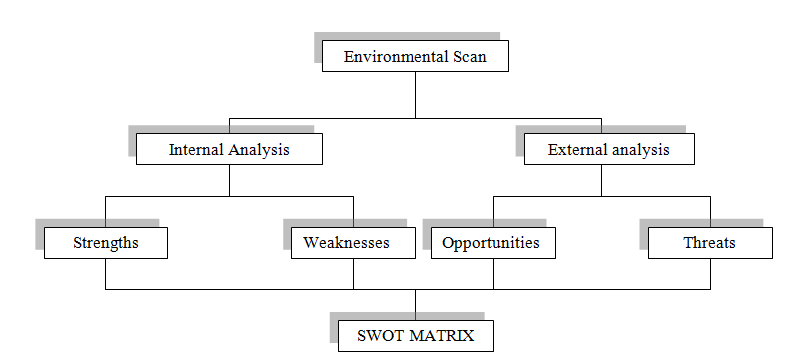 SWOT ANALYSIS of DDMCL: A POINT OF VIEW
Strength of DDMCL:
High quality products with reasonable cost.
Highly sophisticated machines with skilled operators.
As a prime textile company, it has a large number of qualified and experienced professionals.
Structural set-up and business location is strategic.
DDMCL asset position is quite satisfactory and its strength and opportunity to sustain is challenging to the market.
The strong relationship between the all departments to top level management.
Weakness of DDMCL:
Normally in DDMCL mid and low-level personnel are less qualified and experienced.
Bureaucracy official hampered the daily internal workflow.
Absence of teamwork because of interpersonal clash
Management-employee relation is bad in some cases.
Over dependence on imported raw materials.
Opportunity of DDMCL:
To make the company an outstanding one, a pragmatic business program is now under implementation. The main features of the plan are as under:
Creation of innovative products to fulfill ever growing demands.
Expansion of new area of investment.
Decreased product cost through economy of scale.
Full computerization of company's activities.
Company has planed diversification in the produce high quality products that have a good demand in international market.
 Threats of DDMCL:
Future / potential competition from an already established market participant.
A slump in the economy that could have a negative impact on the company.
Credit Recovery systems are very weak.
Introduction of certain related harder companies.
Many new companies are coming with new product and new technology.
Findings, Recommendations, and Conclusion Findings
There are some problems involved in the business dealings of DDMCL. Some of them relate to DDMCL's own institutional weaknesses and some of them relate to the clients. From the above discussion we obtain the following findings:
The DDMCL follows antique management system.
Market and Financial Know-How is not sophisticated.
Technological Know-How is also poor.
There is uneven relationship between management and employees.
On the whole, employees are not satisfied as they are poorly paid.
Employee turn over rate is extremely high.
Because of a slump in the economy over the past few years, the company fails to gain desired target.
There is improper adjustment between man and machine.
The present financial condition is not strong enough to compete in the market.
The overall organizational process is not environment friendly.
The working condition in the factory is not conducive to the employees.
Lack of on-time delivery is another shortcoming of DDMCL.
Inconsistent profit margin hinders the overall organizational progress.
Recommendations
It is very difficult to give any recommendation about the operation of DDMCL, because we are not an efficient appraiser. However, so far we understand, going through various textile related books and journal we can give some suggestions that how to recover existing problems of DDMCL.
A plan at all levels of the organization, not just at the aggregate level should be established.
The process that would foster consistent and open communication should be formed.
Clear and measurable team and individuals goals should be settled down.
Persons involved in the day to day operations should have more expertise and practical knowledge.
All departments should be well informed regarding their goal and objectives. It is essential to execute company objective into individual target.
Employees should be properly trained-up in order to cope up with changing technologies.
Harmonious and cordial relationship should be formed between employers and employees.
Poor working condition should be substituted by agreeable working condition.
Technological Know-How should be learnt in a continuous basis.
JIT (Just in time ) method should be incorporated in the delivery process
The company should introduce more promotional activities.
Existing management practices should be modernized.
Conclusion
Textile is the largest industrial sub-sector in Bangladesh. It contributes highest in the country's total export earnings, gives employment to over four million people, meets the second basic need for clothing of the country and contributes around 50% of the industrial value addition. There are approximately 36 textile mills operating in our country. Amongst the largest textile mills, the Dacca Dyeing & Manufacturing Co. Ltd. is one of them. It is one of the oldest and most reputed Home Textile Company of Bangladesh. It is a public limited company. This company started its journey in 1963 and since than it did not look back. During the last 45 years by dint of its commitment to quality and wide range of innovative products, it has gained the confidence of unlimited buyers both at home and abroad. We tried to our best to find out the actual scenario of management systems of this reputed textile company.