Since the beginning of civilization, out of three basic needs of mankind, clothing is one of the three.  So long mankind will survive, need for clothing will remain unchanged. Though necessity oriented clothing and time oriented clothing may vary in their demands.  Various items of clothing are known as apparel, garments or dress,  are worn not only to protect the body against extreme weather conditions but also for functional as well as cultural, social reasons.
Bangladesh lies in third world country category, and is a poor country no doubt, but not poor in human resources, particularly in garments sectors. Ours has a huge cheap labor force – those who provide their labor to prepare or make both necessity oriented clothing and fashion clothing for the developed world in a very cheap rate.
Thus, Bangladesh has become one of a Centre of gravity that pulls foreign entrepreneurs to establish garments industries and garment based link industries. Not only foreign entrepreneurs, but also Bangladeshi entrepreneurs are there to establish garments industries.
Bangladesh earns approximately 71 % of her foreign exchanges by exporting garments to the developed world.  Though the country has a huge amount of labor force; expertise level personnel are still far low to reach the demands of the industrial units. Expertise level personnel are coming from outside the country – particularly from Sri Lanka, Pakistan, India, Vietnam, and a very few from China. Though from the recent past, Bangladeshi Textile engineers are graduating from within the country, but their number is still far below the level of demand fulfillment.
Apparel, Clothing & Garments can be categorized based on innumerable criteria- Clothing by Fashion, Clothing by Fabrics, Men's Clothing, Women's Clothing, Kids Clothing, Industrial Clothing, Infant Wear, Animal Clothing etc. Garment processing has grown to a great extent during the past few years. This growth can be attributed mainly to the denim garments, which is the largest garment segment today to get complete cloths or garment we must have done some process as like spreading, cutting, sewing, finishing etc. For this process, various types of machines are used according to the process (such as spreading machine for spreading the fabric, cutting machine to cut the fabric, sewing machine for sewing clothes).After completion all the process correctly by using different types of machines, we can get our desired garment.
Internship means a hand on training in the real job station after completing the theoretical academic and laboratory studies.
The aim of internship is related to training before a professional enters the job, as because a professional receives a huge theoretical knowledge and some university based laboratory / practical oriented knowledge. Thus real world / job world remain unknown to a student so long a student does not get a real world picture.
Hence, textile engineers graduating from the university have to undergo a one semester of internship at the end of their academic life to have real factory oriented experiences.
And for the objectives of the present study,
The main issue selected was to identify causes of wastages in garments section of a factory. Thus, first of all it was necessary to know whether there is wastages or not in any one of the working stages in the garment section.
After identifying the stage – it was necessary to find the cause(s) for such wastages.
Lastly, at the end
To suggest some recommendations to overcome the drawbacks of the main and peripheral issues.
As the purpose of thesis is to study and analyze a specialized section, here, a brief description of the cutting section which is the main concern of the thesis is described below.
Fabric cutting:
The definition of fabric cutting is very complex. In garments industries, fabric is cut from lay and spread accurately and properly which is termed as fabric cutting.
Pattern Making:
The individual part of an apparel which is shaped by a hard paper like drawing sheet is called pattern. It is classified into 2 types as follows-
Working pattern: The pattern which is used to make sample garment that is called working or master pattern.
Production pattern: The pattern which is used for bulk production that is called production pattern.
Pattern grading:
After developing pattern, pattern master decreases or increases master pattern stepwise, it is called pattern grading. Like this-
               S ↔M↔L↔XL
Before making a sample pattern making according to sketch and measurement or directly from sample is very important. The construction of pattern is done by two methods like-
Manual Construction of pattern
Computer Aided Construction of pattern
During manual or computer aided construction of pattern, the pattern draft is developed by calculation based on the following instructions-
Actual body size
Size charts or sample
Grading increment
Easy allowances
On pattern, the following instructions must be marked-
Name of the pattern
Style
Size
Grain direction
The following tools and equipment are used for pattern construction-
Working surface
Paper
Pencils
Marker pen
French curves
Compass
 Set square
 Scissors
 Measuring tape
 Rubber, scale, scotch tape 
Pattern is also constructed by computer which classified as follows-
Directly by CAD
By Digitizer
Marker Making
Marker is defined as a large thin paper which contents all required pattern pieces of different sizes for a particular style of apparels.
 Marker is made by following steps-
Pattern are placed onto a large thin sheet
Then marked by pen around the pattern
First place big part & small part are placed at the end position
Finally found a marker
 Marker is made to fulfill the following objects:
To get similarities among the apparel
To save times
To minimize fabric wastage
To reduce cost
Marker is essential for cutting & bulk production. During making marker the following point should be considered-
1)    Fabric width
2)    Select no. of garment pieces to be in marker
3)    Select no. of sizes
4)    Grain direction ( Length → Parallel )
5)    Fabric characteristics  –  Symmetric (Solid color)
                                             Asymmetric (print, stripe, check)
During making a marker we should consider the marker efficiency 
        Marker Efficiency = (Area covered by pattern pcs/Total area of marker) x 100
There is a relation –
        Marker efficiency ↑ Fabric utilization ↑ Fabric wastage ↓
Marker is made by two methods as follows-
Manual method
Computerized method
Depending on making of marker it has the following types as follows-
One way marker
Two way marker
Interactive marker
Auto marker
Paper marker
Fabric marker
Whole garment marker
Single size marker
Multi size marker
During marker making the following points should be checked-
Pattern direction
Pattern alignment
Parts missing
Mismatched checks or stripes
Overlapping
Marker too width than fabric
Poor line marking
Double line marking
Pattern to pattern distance
Notches and drills marks are omitted
Fabric spreading
Fabric spreading means the smooth laying out of fabric with respect marker length and width which is specified.
When spreading is done the following basic requirements maintained
Alignment of plies
Correct or uniform ply tension
Smooth surface of fabric
Static electricity free during spreading
Fusion free for synthetic fabric
Matching of stripe or check
Distortion free of plies
There are two methods are used for spreading
Manual method
Mechanical method
Problems found during spreading:
There are various problems found during spreading as follows-
Slub
Fly yarn
Thick and Thin place
Double yarn
Shading
Spots

Stain
Crease mark
Holes
Cut
During spreading the following points should be checked
Misalignment of plies
Mismatching checks or stripes
Wrong direction of plies
Incorrect tension of plies
Fabric relaxation
Narrow width fabric
Shaded fabrics
100% straight marker
Requirements of fabric cutting:
Precession of cut
Clean edge
Infused edge
Consistency
Support of the lay
Method of fabric cutting:
There are three method of cutting are follows:
Manual
Manually operated power knife
Straight knife
Band knife
Round knife
Die knife
Notcher
Drill
Computerized
Knife
Laser
Water knife
Plasma torch
Manually Operated powered Knife:
Straight knife cutter: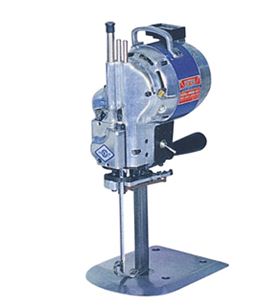 Straight Knife Blade Fabric and Cloth Cutter with Built-in Sharpener
This machine is suitable for cutting mass trimming cotton, woolen, linen leather and chemical fiber goods etc.
Feature:
Neat cutting, small-curvature radius curvilinear cutting.
Low noise, stable running, easy to operate and high efficiency.
Incorporated with an auto knife-grinding device, easier to operate.
Cutting knife is straight in shape.
Knife is driven by electric motor.
Base plate usually on roller wheel.
Band knife cutter: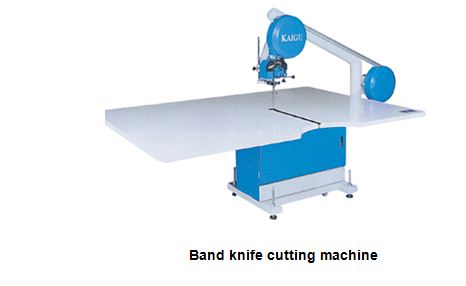 Feature:
A band knife consists of a series of 3 or more pulleys, powered by an electric motor with a continuously rotating steel blade mounted on them.
 Cutting knife is endless in shape & flexible.
The blade is usually narrower than a straight knife.
Air flowing table is facilitating easy movement of fabric.
Equipped with knife sharping device.
Cutting height is adjustable (up & down) easily.
The Knife can be easily removed and installed by the operator easily.
This machine can be used to cut cloth suitable for small scale garment works, the effect is very good when it was used to cut carpet and leather etc.
Feature:
Round knife is consists of a base plate, an electric motor, a handle for the cutter to direct the blade.
Blade diameter varies from 6 to 20cm
Blade is driven by electric power.
The circular knife is driven by1000 to 35600 rpm (changeable)
Easy to operate.
To cut the larger parts of garments.
Suitable for gentle curve clothing.
Benefits And Features:
High speed cutting
High precision and repeatability
Increased productivity
Built in safety systems
Compact ergonomic design
Quiet operation conveyance automatic feed
Multi-tasking operation system
Low operating and maintenance costs
Real time cut progress reporting
Vacuum Economizer
Self-Diagnostics
Graphical Marker Display
Plasma Cutting Machine: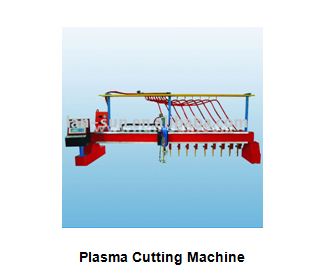 It can cut mild steel (flame cutting) and high carbon steel, stainless steel, aluminum, copper and other non-ferrous metal (plasma cutting), etc., be widely applied in industries  but it can also be used to cut in textile material.
Features:
This cutter adopts gantry structure, its cross beam have many specifications, both of them adopt dual drive and lineal guide. Torch quantity is optional according to users demands, also can be configured as abnormity cutting and strip cutting
Features:
Laser cutting focuses a powerful beam of light projected on to a minute area to cut fabric by vaporization.
The fine, V-shaped beam is only 0.004 of an inch wide.
The beam cuts without pressure on the fabric, which is a major advantages for some types of fabric.
Laser cut garments parts are easier to assemble because they are consistent in size with smooth, sharp edges that align.
100% production increase, 10% material consumption decrease and no abrasion on the baseboard
Continuous circle cutting and the maximum circle cutting speed: 36/min
Specifications:
Working mode: cutting and engraving
Processing area:900 x 600 mm
Moving platform: 1,960 (length from left to right)
Maximum cutting speed: 36,000 mm/min
Maximum engraving speed: 64,000 mm/min
Laser power: 60/80W
Resolution power: 0.0064 mm
Minimum shaping character: Chinese character: 2 x 2 mm, letter: 1 x 1 mm
Location precision: <0.01/mm
Power supply: 220V AC±10%, 50 Hz
Gross power: 1,100 W
Graphic format supported: CDR, BMP, PLT, PCX, DXF, DST, GIF and so on
Applicable industries: garments, shoes, bags and luggage, computerized embroidery and clipping, template cutting, toys, furniture, advertisement decoration.
Straight knife cutting machines are used in Bangladesh. Because it has some advantages from others which are follows.
Comparatively cheap
Can be transferred easily
Easily operated
Round corner can cut easily
Fabric can be cut from any angle
Directly garments components separated from fabric lays
Could be used to cut for higher depth of fabric
Cutting speed high
Sharp and heavy corners can be cut
Blade is very sharp
Cutting Problems:
Shrinkage :S/J=5%,  PK/Terry = 7% Acceptable
Bowing (deviation of weave from actual position)
Twisting /Spirality: Low GSM high twisting (5% allowance)
                              High GSM low twisting (2% allowance)
Fly Contamination
During cutting following points should be checked-
1. Inaccurate cutting
2. Notches – misplaced, too deep
3. Drill marks omitted, wrong drill
4. Cut parts damaged by wrong cut
5. Frayed edges, fused edges
6. Prefer test cut then bulk cutting
7. Cut panel or bundle cutting
8. Numbering
9. Checking and parts replacing
10. Wrong size in the bundle
11. Proper bundling and input for sewing
Findings of the Study
At this stage , observations has  been  done to find  – what are the problems those may occur primarily in a garment factory ,more precisely in a cutting section . Thus in this study, all the stages in cutting section has been observed meticulously to find hindrances / negative indicators .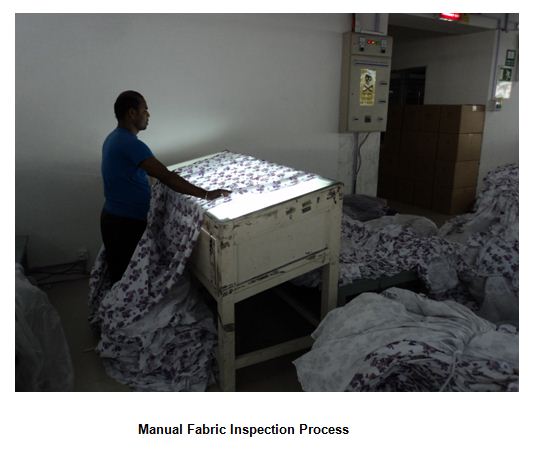 From the above picture, inspection section of the cutting floor can be seen. Here, when the fabric is received from the dyeing section, the inspection process is done. As it can be seen, a fabric to be cut is being inspected by a worker to find out if there is any fault or problem. From the picture it also can be seen that a worker is being stood on a side of the inspection table & a fabric is pulled by the worker which is on the other side of the table. The process is not correct. Loss is caused by this process; either it is loss of time or loss of production.
As it can be seen, the fabric is being spread on to the spreading table to continue the cutting process. The table is as usual plain & long. The fabric is spread properly. There is sufficient space left unused after spreading fabrics. So, the workers got enough space to work comfortably.
But still there is a problem considering the table structure. Usually a cutting table should be a long one. But the table is being used here is not long enough. It is as long as 15 yards. It is not enough. It should be at least 30-60 yards long. The longer the table the better it is.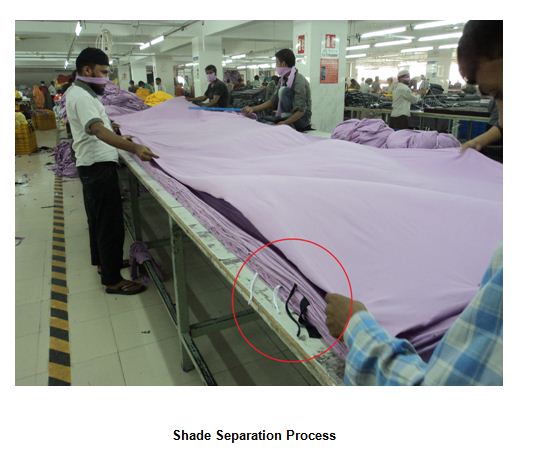 Shade variation is a major problem in every garments industry. So, various industries apply different kinds of methods which are most suitable to get over with the problem.
When the fabric is received from the dyeing section, it is first relaxed. Then, it is spread and cut. During spreading, sometimes problem occurs which is called shade variation. When different depth of color occurs in same or different fabric roll, then it is called shade variation. It is due to the construction of different shades in color of fabric during dyeing process. If this problem is overlooked in cutting section, then it sure will be caught in production section. And if things go bad, it will get attention when the finished product is inspected by the buyer. And if the problem is caught by buyer, then it is not going to represent a good reputation for the company as well as money is at stake if product is not shipped.
For Fabric Inspection Problem:
Here, the process is very much conventional. It is observed, that the checking table is a wooden one where there are some lighting systems inside & the fabric is being pulled by the worker by hand. In this process, it takes much time even for a skilled operator. While doing the work manually, much time is consumed and the rate of production slows down. There is also a big chance of mistakes while finding faults and problems, because he had to perform two works simultaneously.
 To overcome these problems, it can be suggested that, instead of using cheap labor and cheap machineries, the factory should use some more modern method like automatic fabric inspection machine where the fabric receiving and gathering is done automatically as well as systematically & which can be stopped any time it is needed.  But as the  labor is always cheap and available in Bangladesh , the entrepreneurs prefer cheap labor instead of doing all the works using  automatic  machine by import spending foreign exchange, which may be somewhat expensive . But if 2we think of long term investment considering higher production, it is worth using automatic machines.
For Fabric Spreading Problem:
In Fariha, larger table is not used. As a result, fabric cannot be provided continuously. The quantity of the fabric considering length is being spread by them is not sufficient enough. Here, there is a point; the more short the fabric pieces the more wastages are produced. Thus in Fariha it is observed in the same way, because of short table, more wastages are being done.  As a result, a lot of fabrics are being wasted by them. Every time a ply is spread completely, then it is needed to be cut. So, there is more wastage every time. To reduce the wastage level, in any factory, and in this section long tables are required.
During academic tenure, field visits were made to some textile industrial units as part of the laboratory works.  There, almost in every garments industries it was observed that in the cutting sections, long tables were being used.  In those time it was really non understandable to the students – why long tables were used.   Making internship in Fariha, observing keenly the short tables, and the fabric wastages, it has become clear on two things; one necessity of using long table for cutting, and reduction of wastages on an instant.
Thus to overcome this problems i.e. for more easy cutting and to reduce the wastages factories must use long tables.  Not only this, using long tables should be made mandatory by the BGMEA.
For Shade Separation Problem:
Problems related to the shade has been identified in the factory.  It is observed – during spreading of the fabric roll on the table, when the current roll finishes the subsequent roll spread over the previous one sometimes differ in shades. This shade variation frequently makes wastages – while quality pass is monitored.
Thus, the problem is, before the new roll is being spread, some pieces of fabric of different colors are put by the workers over the previously spread roll to keep the track that a new roll has been spread over the previous one. It sure is a procedure of keeping different shades mixing with one another. But the procedure is not the most user friendly one. Because there remains a high chance of mistake that could be made by the workers during the process and a lot has been witnessed during the internship period. There is a more suitable process available.
The new process which is about to be suggested is a good one. Here, in this process, different fabric rolls with different shades are checked after the dying and separated before it is sent to cutting section and is marked carefully so there will not be any problem separating it with the similar shades. Now, when it is sent to cutting section, same group of shades is now easy to recognize and there is no chance of mixing with the other group of shade during spreading. And when it is discussed with the other interns, this procedure is recommended for better production to follow.
So, it is suggested  that Fariha Knit Tex. should use this new method  instead of using their conventional  one because the procedure currently is being used sometimes cause them huge wastage of time as well as loss of product due to unawareness. And it is also suggested that, it is not a major change of their policy following their production and the change should be done for better production as well as quality and performance in near future.
Conclusion & Recommendation
Need for clothing will remain unchanged till human existence but necessity oriented clothing and time oriented clothing may vary in their demands.
Bangladesh has a huge cheap labor force – those who render their labor to produce fancy as well as need oriented garments for the developed world. Various local and foreign entrepreneurs invested their capital to establish different types of garments industries and garments related linkage industries.  Currently The country has become a leading garments exporting country of the world.
Bangladesh earns approximately 71 % of her foreign exchanges by exporting garments to the developed world.  Though the country has a huge amount of labor force; expertise level personnel are still far low to reach the demands of the industrial units.
In the garments arena – too many achievements can be mentioned sector wise. But at the same time some negative factors has been observed, those can be made rectified or can be reduced in magnitude.
One of the negative factors is wastages of the cloth in a cutting section inside a factory.  Here it is found that in the inspection, spreading, and in the shade checking processes faulty procedures are responsible for a huge wastage.  A little improvement or pursuit can reduce the amount of wastages at present made.
In this context, one must think that approximately 35 % of the raw materials used in the RMG sector are from non- renewable resource sources of the world.  As a conscious citizen of a country, and as a conscious member of the whole mankind one must think about wastages and overuses of non- renewable resources.
There is a one positive picture of these wastages. Much of the garment products are being sold in different level markets – and are being and can be purchased by low and medium earned people of Bangladesh. At least within their purchasing capabilities. But above all, wastages must be reduced. Thus to reduce the wastages in the cutting section the following recommendations are mentioned below:
Much longer cutting table is necessary ,
Automatic fabric inspection machine should be installed.
Shade variations must be checked meticulously in the dyeing section.