Introduction
Background of the Study
The phase-out of the quota is likely to have particular significance for the export of Bangladesh apparels to the US market. MFA's impacts are not much related to a question of our $2 billion exports to the USA; or the $5 billion worth of exports made by Bangladesh globally. Rather, it is a question of how Bangladesh's entire economy will be affected by the issue of quota phase out. RMG exports constitute about 75% of Bangladesh's annual export and provide direct employment to 1.5 million females and indirectly an additional 8 to 10 million people.
The global clothing trade is evolving on a continuous basis and that the phase out of quota restrictions and forming of trade blocs has become a reality. Moreover Bangladesh is convulsed by fierce class struggles, centered on the country's garment industry. Many tens of thousands of workers have gone on strike, blocked roads, attacked factories and other buildings, demonstrated, fought the police and rioted in the streets. Every day comes news of fresh strikes in a variety of industries —mainly the ready-made garment (RMG) sector, but also mill workers, river transport workers, rail workers, journalists, lecturers and teachers. The revolt began on 20 May 2006 with garment workers' strikes in the Bangladeshi capital Dhaka — beginning in a small number of factories over issues including the arrest of worker activists and non-payment of wages.
By 23 May 2006 this struggle had been generalized, with action at a much larger number of factories and demonstrations across the city. A massive army and police presence around garment factories, in some cases completely blockading and creating check points for entry to Export Processing Zones, temporarily calmed things; but strikes continued to take place at numerous factories, leading to solidarity strikes from nearby workplaces and semi-spontaneous demonstrations.
Bangladesh is a developing country. The development of Bangladesh mainly depends on the positive approach of the donor countries. The development of economic structure of a country is connected to its export- import commodities.
Economic growth is the quantitative measurement of economic development of a country. And economic growth depends on the export-import policy of a country. If the degree of export is more than import then comparatively the rate of economic growth will be high. On the other hand, the rate of economic growth will be less when the degree of import is more then export. So, the lacks of trade between the countries are seen considering the export-import policies of the countries.
The Bangladesh Export Processing Zones Authority (BEPZA) develops and services special areas where potential investors would find a congenial investment climate free from procedural complications. The policy making body is its board of governors, chaired by a head of government.
Bangladesh proved itself as a good place to be for our labor intensive manufacturing that's the ready made garments (RMG) industry. This business in Bangladesh indicates the satisfaction with which the management of Must Garment shows in the potential of that country.
Objectives of the Study
For which purposes a research is completed, it can know from the aim and objectives of that research. So in the theoretical & practical discussion, a research has to follow some particular aim & objectives.
The following distinctive aim and objectives is the principal base of this report.
Know the export-import trends of Bangladesh.
Identify the export ratio
Know the types of export commodities of Bangladesh.
The contribution of agricultural and industrial goods in the foreign trade.
To know the problems of RMG sector
To know the production process
Overview of the company
The report covers mission, vision, objectives
Quality assurance
Design & Development
Production related area- machines, materials, human resources, training & development, production planning & control, industrial engineering department, health & safety etc.
HRD & Compliance- here compliance department is a vast area of function because; customer satisfaction also depends on the fulfillment of conditions imposed by them (customer).
The audience may get an initial idea about the organization at glance as the report is prepared in such a way that he may have to give a little effort to understand all the things within short possible time.
Limitation of the Report
Due to time constrained study the report has been prepared on sample basis whereby it had not been possible to touch pinpoint of the respective Company.
The management always highlights their company and most of their information is ornamental. So, there might have absence of proper information.
Due to environmental factors I could not trace out some information as it is a company secret and in respect for the company I could not discuss properly.
Most of the time Intended persons were not available or were very busy during my visit.
Philadelphia Apparel Ltd.. is a Private Limited Company and a unit of Philadelphia Apparel . Hence, most of the reports have been presented based on Philadelphia Apparel Division's report.
The time was very short to collect more information.
The data that I have given in my report are very small in amount. So it is hard to get a complete idea about our Garments industry.
Another limitation of this study is that the people were not disclosing some of their private information for obvious reasons, which could be very much useful for the report.
Lack of experience in this field.
It was very hard for me to know every part of Philadelphia Apparel because three months is a very short time to learn.
 Methodology
The report prepared by using Primary and Secondary data.
Primary data
In the primary source data are collected directly from Philadelphia Apparel Ltd.. secondary data
Secondary data are collected through
Internet
Journal.
Chapter: 2
Perspective of Bangladesh Garments Industry
Introduction
The tremendous success of readymade garment exports from Bangladesh over the last two decades has surpassed the most optimistic expectations. Today the apparel export sector is a multi-billion-dollar manufacturing and export industry in the country. The overall impact of the readymade garment exports is certainly one of the most significant social and economic developments in contemporary Bangladesh. With over one and a half million women workers employed in semi-skilled and skilled jobs producing clothing for exports, the development of the apparel export industry has had far-reaching implications for the society and economy of Bangladesh.
Garment Industry of Bangladesh
For Bangladesh, the readymade garment export industry has been the proverbial goose that lays the golden eggs for over fifteen years now. The sector now dominates the modern economy in export earnings, secondary impact and employment generated. The events in 1998 serve to highlight the vulnerability of this industry to both internal and external shocks on the demand and supply side. Given the dominance of the sector in the overall modern economy of Bangladesh, this vulnerability should be a matter of some concern to the policymakers in Bangladesh. Although in gross terms the sector's contributions to the country's export earnings is around 74 percent, in net terms the share would be much less partially because the backward linkages in textile have been slow to develop. The dependence on a single sector, no matter how resilient or sturdy that sector is, is a matter of policy concern. We believe the policymakers in Bangladesh should work to reduce this dependence by moving quickly to develop the other export industries using the lessons learned from the success of apparel exports. Support for the apparel sector should not be reduced. In fact, another way to reduce the vulnerability is to diversify the product and the market mix. It is heartening to observe that the knit products are rapidly gaining share in overall garment exports as these products are sold in quota-free markets and reflect the strength of Bangladeshi producers in the fully competitive global apparel markets.
Preliminary data and informal evidence indicate that this sector seems to have weathered the devastating floods relatively well. The industry is one hundred percent export-oriented and therefore insulated from domestic demand shocks; however, it remains vulnerable to domestic supply shocks and the smooth functioning of the banking, transportation and other forward and backward linkage sectors of the economy. The Dhaka-Chittagong road remains the main transportation link connecting the production units, mostly situated in and around Dhaka and the port in Chittagong, where the raw material and the finished products are shipped in and out. Despite increased dependence on air transportation, trucks remain the main vehicles for transporting raw materials and finished products for Bangladesh garment exports. The floods disrupted the normal flow of traffic on this road.
Eventually, this road link was completely severed for several days when large sections of the road went under water for a few weeks during the latter phase of the floods. This delinking of the road connection between Dhaka and the port in Chittagong was as serious a threat as one can imagine for the garment exporters. The industry responded by calling upon the Bangladesh navy to help with trawlers and renting a plane from Thai Air that was used to directly fly garment consignments from the Dhaka airport to the Chittagong airport several times a day.
Contribution of the RMG Industry
RMG business started in the late 70s as a negligible non-traditional sector with a narrow export base and by the year 1983 it emerged as a promising export earning sector; presently it contributes around 75 percent of the total export earnings. Over the past one and half decade, RMG export earnings have increased by more than 8 times with an exceptional growth rate of 16.5 percent per annum. In FY06, earnings reached about 8 billion USD, which was only less than a billion USD in FY91. Excepting FY02, the industry registered significant positive growth throughout this period
In terms of GDP, RMG's contribution is highly remarkable; it reaches 13 percent of GDP which was only about 3 percent in FY91. This is a clear indication of the industry's contribution to the overall economy. It also plays a pivotal role to promote the development of other key sectors of the economy like banking, insurance, shipping, hotel, tourism, road transportation, railway container services, etc.
A 1999 study found the industry supporting approximately USD 2.0 billion worth of economic activities (Bhattacharya and Rahman), when the value of exports stood at a little over USD 4.0 billion.
One of the key advantages of the RMG industry is its cheap labor force, which provides a competitive edge over its competitors. The sector has created jobs for about two million people of which 70 percent are women who mostly come from rural areas. The sector opened up employment opportunities for many more individuals through direct and indirect economic activities, which eventually helps the country's social development, woman empowerment and poverty alleviation
 Exporting Condition of Garments Industry
The Ready-Made Garments (RMG) industry occupies a unique position in the Bangladesh economy. It is the largest exporting industry in Bangladesh, which experienced phenomenal growth during the last 20 years. By taking advantage of an insulated market under the provision of Multi Fibre Agreement (MFA) of GATT, it attained a high profile in terms of foreign exchange earnings, exports, industrialization and contribution to GDP within a short span of time. The industry plays a key role in employment generation and in the provision of income to the poor. Nearly two million workers are directly and more than ten million inhabitants are indirectly associated with the industry. Over the past twenty years, the number of manufacturing units has grown from 180 to over 3600. The sector has also played a significant role in the socio-economic development of the country.
The Agreement on Textile and Clothing (ATC) introduced in 1994, aimed at bringing textiles and clothing within the domain of WTO rules by abolishing all quotas by the end of 2004. It provides an adjustment period of 10 years, so that countries affected by the MFA could take the necessary steps to adjust to the new trading environment. Liberalization of trade following the Uruguay Round agreement presents opportunities as well as challenges for a developing country like Bangladesh in RMG sector. In the Post-Uruguay Round period, traditional instruments of trade policy such as tariffs, quotas, and subsidies will become less feasible and less relevant. In a liberalized trade regime, competition among textiles and clothing exporting countries is likely to become intense. The objective of this paper is to identify the prospects of RMG industry after the MFA phase out by analyzing the current scenario along with different policy measures and the available options in order to be more competitive in the new regime.
The export made by Garments Industries of Bangladesh is improving year after year except some of the year. Strike, layout, shutdown of company, political problem, economic problem, inflation etc. are the prime cause of decreasing export in this important sector. But above it, Readymade Garments Industries is the leading sector in export sector.
Year Export (in US $ million) Percentage change
1991 – 92 624.16 32.49
1992 – 93 866.82 38.88
1993 – 94 1182.57 36.43
1994 – 95 1445.02 22.19
1995 – 96 1555.79 7.67
1996 – 97 2228.35 43.47
1997 – 98 2547.13 14.11
1998 – 99 3001.25 17.83
1999 – 00 3781.94 26.01
2000 – 01 4019.98 6.29
2001 – 02 4349.41 8.19
2002 – 03 4859.83 11.74
2003 – 04 4583.75 5.68
2004 – 05 4912.12 7.21
2005 – 06 5686.09 15.83
Position of Bangladesh is exporting product in USA is not very satisfactory but this situation is better than any other condition of the previous time. But if our Government take some essential law and break out the wall of biasness then the position of Bangladesh in Garments sector would be hope to better.
Prospects of the RMG Industry
Despite many difficulties faced by the RMG industry over the past years, it continued to show its robust performance and competitive strength. The resilience and bold trend in this MFA phase-out period partly reflects the imposition of 'safeguard quotas' by US and similar restrictions by EU administration on China up to 2008, which has been the largest supplier of textiles and apparel to USA. Other factors like price competitiveness, enhanced GSP facility, market and product diversification, cheap labor, increased backward integration, high level of investment, and government support are among the key factors that helped the country to continue the momentum in export earnings in the apparel sector. Some of these elements are reviewed below.
Market Diversification
Bangladeshi RMG products are mainly destined to the US and EU. Back in 1996-97, Bangladesh was the 7th and 5th largest apparel exporter to the USA and European Union respectively. The industry was successful in exploring the opportunities in markets away from EU and US. In FY07, a successful turnaround was observed in exports to third countries, which having a negative growth in FY06 rose three-fold in FY07, which helped to record 23.1 percent overall export growth in the RMG sector. It is anticipated that the trend of market diversification will continue and this will help to maintain the growth momentum of export earnings. At the same time a recent WTO review points out that Bangladesh has not been able to exploit fully the duty free access to EU that it enjoys. While this is pointed out to be due to stringent rules of origin (ROO) criteria, the relative stagnation in exports to EU requires further analysis.
Product Diversification
The growth pattern of RMG exports can be categorized into two distinct phases. During the initial phase it was the woven category, which contributed the most. Second phase is the emergence of knitwear products that powered the recent double digit (year-on-year) growth starting in FY04. In the globalized economy and ever-changing fashion world, product diversification is the key to continuous business success. Starting with a few items, the entrepreneurs of the RMG sector have also been able to diversify the product base ranging from ordinary shirts, T-shirts, trousers, shorts, pajamas, ladies and children's wear to sophisticated high value items like quality suits, branded jeans, jackets, sweaters, embroidered wear etc. It is clear that value addition accrues mostly in the designer items, and the sooner local entrepreneurs can catch on to this trend the brighter be the RMG future.
Backward Integration
RMG industry in Bangladesh has already proved itself to be a resilient industry and can be a catalyst for further industrialization in the country. However, this vital industry still depends heavily on imported fabrics. After the liberalization of the quota regime some of the major textile suppliers Thailand, India, China, Hong Kong, Indonesia and Taiwan increased their own RMG exports.
If Bangladesh wants to enjoy increased market access created by the global open market economy it has no alternative but to produce textile items competitively at home through the establishment of backward linkage with the RMG industry. To some extent the industry has foreseen the need and has embarked on its own capacity building.
Flow of Investment
It is plausible that domestic entrepreneurs alone may not be able to develop the textile industry by establishing modern mills with adequate capacity to meet the growing RMG demand. It is important to have significant flow of investment both in terms of finance and technology. Figure 3 indicates that the investment outlook in this sector is encouraging, although the uncertainties before the MFA phase-out period caused a sluggish investment scenario. In part the momentum in the post-MFA phase-out period is indicative of the efforts underway towards capacity building through backward integration. This is evident in the pace of lending to the RMG sector and in the rising import share of RMG related machinery. However further progress would be necessary to improve and sustain competitiveness on a global scale.
Policy Regime of Government
Government of Bangladesh has played an active role in designing policy support to the RMG sector that includes back-to-back L/C, bonded warehouse, cash incentives, export credit guarantee scheme, tax holiday and related facilities. At present government operates a cash compensation scheme through which domestic suppliers to export-oriented RMG units receive a cash payment equivalent to 5 percent of the net FOB value of exported garments. At the same time, income tax rate for textile manufacturers were reduced to 15 percent from its earlier level for the period up to June 30, 2008. The reduced tax rates and other facilities are likely to have a positive impact on the RMG sector.
Infrastructural Impediments
The existence of sound infrastructural facilities is a prerequisite for economic development. In Bangladesh, continuing growth of the RMG sector is dependent on the development of a strong backward linkage in order to reduce the lead time. However, other factors constraining competitiveness of Bangladesh's RMG exports included the absence of adequate physical infrastructure and utilities.
Labor Productivity
The productive efficiency of labor is more important determinant for gaining comparative advantage than the physical abundance of labor. In Bangladesh, the garment workers are mostly women with little education and training. The employment of an uneven number of unskilled labors by the garment factories results in low productivity and comparatively more expensive apparels. Bangladesh labor productivity is known to be lower when it compared with of Sri Lanka, South Korea and Hong Kong. Bangladesh must look for ways to improve the productivity of its labor force if it wants to compete regionally if not globally. Because of cheap labor if our country makes the labor productivity in the apex position, then we think the future of this sector is highly optimistic.
Research and Training
The country has no dedicated research institute related to the apparel sector. RMG is highly fashion oriented and constant market research is necessary to become successful in the business. BGMEA has already established an institute which offers bachelor's degree in fashion designing and BKMEA is planning on setting up a research and training institute. These and related initiatives need encouragement possibly intermediated by donor-assisted technology and knowledge transfer. A facilitating public sector role can be very relevant here.
Supportive Government Policy
In contrast to the public sector-led import-substituting industrialization strategy pursued during the first few years after independence, the industrialization philosophy of the government changed rather dramatically from the late 1970s when the emphasis was on export-oriented growth to be spearheaded by the private sector. Towards this end, various policy reforms were implemented in the 1980s and 1990s. Some of these reformed policies contributed considerably to the growth of the RMG industry in Bangladesh.
During the 1980s, a number of incentives were introduced to encourage export activities. Some of them were new like the Bonded Warehouse Facility (BWF), while others like the Export Performance License (XPL) Scheme 37 were already in operation and were improved upon. Also, rebates were given on import duties and indirect taxes, there were tax reductions on export income, and export financing was arranged. Under the XPL scheme, exporters of non-traditional products received import licenses for specific products over and above their normal percentage allotment based on the f.o.b. value of their exports. Under the Duty Drawback System, exporters of manufactured goods were entitled to get refund of duties and taxes paid on imported inputs used in export production, and also all excise duties paid on exported finished goods. For certain fast-moving items such as RMG, a notional system of duty payments was adopted in 1982-83. Under this system, exporters were exempted from paying duties and taxes on imports used in export production at the time of importation, but were required to keep records of raw and 21packaging materials imported. The duties and taxes payable on the imports were kept in a suspense account. Liabilities to pay the amounts in suspense were removed on proof of exports.
The discussion in this section clearly points to the positive contribution made by policy reforms to the growth of the RMG industry in Bangladesh. In particular, two policies– the SBW facility and the back-to-back L/C system- led to significant reduction in cost of producing garments and enhanced competitiveness of Bangladesh's garments exports. It also allowed garment manufacturers to earn more profit which, when necessary, could be used to overcome difficulties arising from weak governance. Furthermore, poor governance, reflected in the leakage of duty-free imported fabrics in the domestic market, paradoxically enough also helped the garment manufacturers to earn extra 'profit' and thereby enabled them to absorb the 'high cost of doing businesses – a fall out of bad governance.
Bangladesh Garment Manufacturers and Exporters Association (BGMEA)
The Bangladesh Garment Manufacturers and Exporters Association (BGMEA) is the apex trade body that represents the export oriented woven knit and sweater garment manufacturers and exporters of the country. Readymade Garment (RMG) is the leading sector of Bangladesh in terms of employment, production and foreign exchange earning. Readymade garment (RMG) alone earned about 78% of the yearly foreign exchange earning of the country. About 3.5 million people are employed in the garment – manufacturing sector. The growth rate of RMG export was over 20% per over the last two decades.
A Success Story of RMG Sector:
The importance of RMG sector can hardly be over emphasized. There has been a steady growth in the field of RMG during last two decades. The RMG industry enjoyed a meteoric rise from 30 enterprises in 1980 increased to about 4825 in 2007-08 fiscal year. The growth of the industry in terms of number of units and employment generation is shown in table – 1 below: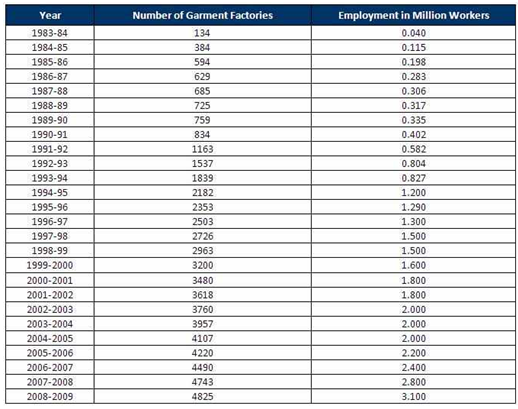 Table 1: Growth of the industry and Employment
Out of 3.1 million manpower employed in BGMEA member factories, 2.38 million are women (85%), majorities of them are disadvantaged and economically poverty stricken women folk. The country's RMG sector, to a creditable level has relieved Bangladesh from over populous unemployment burden through providing the largest employment next to agriculture, transport, trade and industry sector. This sector has uplifted the neglected section of the population, thus radically transforming the socio-economic condition of the country. Such empowerment and employment raised awareness regarding children education, health safety, population control disaster management only so for. It is an epoch making event in the history of Bangladesh.
Main Functions of BGMEA
BGMEA is being run by a 27-member elected Board of Directors. Four Vice Presidents having important portfolios, along with a secretariat of experienced officials, assists the Board in formulating and executing vital policies and programs of the organization. The President is the highest executive authority of the BGMEA.
The fundamental objective of BGMEA is to establish a healthy business environment for a close and mutually beneficial relationship between the manufacturers, exporters and importers in the process ensuring a steady growth in the foreign exchange earnings of the country. BGMEA issues UD to its exporters thereby monitors export as well. BGMEA plays a very strong role to lead the industry in concurrence with the government. The following are the regular activities of BGMEA for its members, apparel buyers and other partners.
To Protect and uphold the interest of the industry by aiding the formulation of government policies consistent with a congenial growth of the sector.
Committed to protect the interests of its members and their employees by implementing legitimate rights and privileges for garments workers.
To negotiate and consult with foreign and local agencies to promote the garments sector in every possible fields.
To maintain liaisons with foreign buyers, business associations and chambers.
To provide foreign buyers with all necessary information regarding all issues concerned with the RMG sector.
BGMEA brings the opportunities for local manufacturers to interact with foreign buyers and form new rapport by arranging different apparel fairs at home and abroad.
To keep the BGMEA factories child labor free through continued monitoring.
Continue and expand collaboration with relevant Ministries of the Governments.
Continue educational support to workers' children and make a provision for skill training for children removed from the BGMEA's member factories.
Provides information services to its members by publishing monthly newsletters, issuance of circulars and through Dhaka's first B2B web portal which directly links exporters and buyers around the world.
BGMEA also established its own Institute called "BGMEA Institute of Fashion & Technology (BIFT)" in 1999. Till the day BIFT is continuously developing professionals for this sector through the courses of Fashion Designing and Garment Merchandising; and other certificate, diploma and short courses. Transforming it into University is under process.
Promotes computer oriented solutions for better management to its member units.
Participates actively in all trade negotiations for the sector in order to get easier market access and GSP benefits.
BGMEA's appointed lobbyist firm has been working to get duty free access in the US market. The New Partnership for Development Act (NPDA)of 2007 was introduced in the US House of Representatives by Congressman McDermott and our lobbyist is working to get the bill passed.
BGMEA has introduced Service Books for each and every workers employed in the factories.
BGMEA is going to launch a workers welfare committee in the factories.
BGMEA has ensured the minimum wage implementation to the tune of 99.49% of all factories.
BMGEA has set up a Crisis Management Committee for emergencies.
BGMEA regularly helps out the victims of natural calamity by providing relief, rehabilitation and other support. BGMEA stood beside the SIDR affected people with huge relief and support. BGMEA also rehabilitated 100 families by establishing a weaver's village (Taath Palli) in Manikgonj.
BGMEA provides scholarship to meritorious children of the garments workers. Each year 2000 students are getting the scholarships at Dhaka and Chittagong.
BGMEA runs training programs through 27 TechnicalTrainingCenters and 3 other centers with the objective of producing skilled workers for the RMG sector. More than 15000 trainees will be shaped up through this program and BGMEA will appoint them in the factories. BGMEA has trained and employed 10,000 people till the date.
BGMEA is in the process of taking over 34 vocational training centers to provide various skill sets to the unemployed.
BGMEA regularly conducts fire drills and fire safety program at the member factories. Although 18 fire incidents took place in 2007 and 2008, there were no casualties.
BGMEA runs 10 medical centers for its workers and provides HIV/AIDS awareness. Around 4.5 million workers have already received medical treatment and 55,000 workers have been made aware of HIV/AIDS and reproductive health.
BGMEA is going to develop a central database system for the garment workers, which will cover all workers' information of the readymade garment sector.
BGMEA is going to start a UD automation system to speed up custom procedures. Such online system will bring dynamism in a way that reduces lengthiness in custom procedures.
BGMEA has distributed essential food items among workers at subsidized price during the last Ramadan through 12 centers at Dhaka and Chittagong.
A Memorandum of Understanding (MoU) has been signed between BGMEA and IFC-SEDF on 17th June 2008 to monitor occupational safety and health status of the workers employed in the member factories of BGMEA operating at Dhaka. Under this program all the running factories at Dhaka have already been audited by the social compliance monitors of BGMEA and a database in being prepared.
The Registered Office
The Registered Office of BGMEA, is situated at BGMEA Complex 23/1, Panthapath Link Road (3rd Floor), Kawran Bazar, Dhaka-1215 .BGMEA has also a regional office at 56, Agrabad Commercial Area, Chittagong. Apart from well functioning Office Administration, Accounts and Utilisation Permission/Utilisation Declaration sections, BGMEA accommodates two modern Conference Room and a Research, Development and Trade Information Cell equipped with Computers and other sophisticated office equipment. A Computerised Information and Data Collection System and web portal have also been developed to meet the information needs of the members on world apparel trade and market conditions.
 Economic Contribution of RMG
Despite continuous domestic and international efforts to improve economic and demographic prospects, Bangladesh remains a developing nation. Its per capita income in 2006 was US$1400 (adjusted by purchasing power parity) compared to the world average of $10,200.
Jute was once the economic engine of the country. Its share of the world export market peaked in the Second World War and the late 1940s at 80% and even in the early 1970s accounted for 70% of its export earnings. However, polypropylene products began to substitute for jute products worldwide and the jute industry started to decline. Bangladesh grows very significant quantities of rice (chal), tea (Cha) and mustard. Although two-thirds of Bangladeshis are farmers, more than three quarters of Bangladesh's export earnings come from the garment industry, which began attracting foreign investors in the 1980s due to cheap labour and low conversion cost. In 2002, the industry exported US$5 billion worth of products. The industry now employs more than 3 million workers, 90% of whom are women. A large part of foreign currency earnings also comes from the remittances sent by expatriates living in other countries. Obstacles to growth include frequent cyclones and floods, inefficient state-owned enterprises, mismanaged port facilities, a growth in the labour force that has outpaced jobs, inefficient use of energy resources (such as natural gas), insufficient power supplies, slow implementation of economic reforms, political infighting and corruption. According to the World Bank, "among Bangladesh's most significant obstacles to growth are poor governance and weak public institutions."
Despite these hurdles, the country has achieved an average annual growth rate of 5% since 1990, according to the World Bank. Bangladesh has seen expansion of its middle class, and its consumer industry has also grown. In December 2005, four years after its report on the emerging "BRIC" economies (Brazil, Russia, India, and China), Goldman Sachs named Bangladesh one of the "Next Eleven," along with Egypt, Indonesia, Vietnam and seven other countries. Bangladesh has seen a dramatic increase in foreign direct investment. A number of multinational corporations and local big business houses such as Beximco, Square, Akij Group, Ispahani, Navana Group, Transcom Group, Habib Group, KDS Group and multinationals such as Unocal Corporation and Chevron, have made major investments, with the natural gas sector being a priority. In December 2005, the Central Bank of Bangladesh projected GDP growth around 6.5%.
One significant contributor to the development of the economy has been the widespread propagation of microcredit by Muhammad Yunus (awarded the Nobel peace prize in 2006) through the Grameen Bank. By the late 1990s, Grameen Bank had 2.3 million members, along with 2.5 million members of other similar organisations.
In order to enhance economic growth, the government set up several export processing zones to attract foreign investment. These are managed by the Bangladesh Export Processing Zone Authority.
 Bangladesh Faces the Challenge of Globalization
Bangladesh faces the challenge of achieving accelerated economic growth and alleviating the massive poverty that afflicts nearly two-fifths of its 135 million people. To meet this challenge, market-oriented liberalizing policy reforms were initiated in the mid-1980s and were pursued much more vigorously in the 1990s. These reforms were particularly aimed at moving towards an open economic regime and integrating with the global economy.
During the 1990s, notable progress was made in economic performance. Along with maintaining economic stabilization with a significantly reduced and declining dependence on foreign aid, the economy appeared to begin a transition from stabilization to growth. The average annual growth in per capita income had steadily accelerated from about 1.6 per cent per annum in the first half of the 1980s to 3.6 percent by the latter half of the 1990s. This improved performance owed itself both to a slowdown in population growth and a sustained increase in the rate of GDP growth, which averaged 5.2 percent annually during the second half of the 1990s. During this time, progress in the human development indicators was even more impressive. Bangladesh was in fact among the top performing countries in the 1990s, when measured by its improvement in the Human Development Index (HDI) as estimated by the United Nations Development Project (UNDP). In terms of the increase in the value of HDI between 1990 and 2001, Bangladesh is surpassed only by China and Cape Verde.
While most low-income countries depend largely on the export of primary commodities, Bangladesh has made the transition from being primarily a jute-exporting country to a garment-exporting one. This transition has been dictated by the country's resource endowment, characterized by extreme land scarcity and a very high population density, making economic growth dependent on the export of labor-intensive manufactures.
In the wake of the 2001 global recession, Bangladesh's reliance on foreign countries as a market for exports and as a source of remittances has become obvious. If Bangladesh is to become less vulnerable to the economic fortunes of others, it will need to strengthen its domestic economy, creating jobs and markets at home. A strong domestic sector and an improved overall investment environment will provide a more stable source of income – like what the garment industry has provided so far – and will rekindle and sustain Bangladesh's economic growth.
The Future of Garment Exports and the Economy of Bangladesh
Growth in overall exports from Bangladesh peaked in 1994-1995 at 40 percent a year, but growth has remained strong. In the July 1997-February 1998 period, total export earnings equaled $3.3 billion or 16.4% above the exports over the same period in the previous year. The garment and knitwear exports accounted for the bulk of these exports. The knitwear sector especially has been highly dynamic in recent years. Given the fact that this market is outside the purview of MFA and not protected by quotas, this bodes well for the post MFA future of the industry. Bangladesh apparel exports can now point to a proven track record of successfully competing in a non-protected global competitive environment. Unfortunately, other potentially promising exports from Bangladesh such as leather, jute goods, and frozen foods have not fared as well over this period. This has accentuated the already narrow export base of the country and is certainly a matter of concern. The excess dependence on foreign exchange earnings and export growth on garments and knitwear calls for policy attempts to diversify the export base of Bangladesh.
What can be said about the future performance of the apparel export industry in Bangladesh? What are the downside risks for apparel exports from Bangladesh? Focusing on the most recent disaster, the debilitating floods of 1998 that shaved off several percentage points from the expected GDP growth this year, we have ignored another major crisis the industry seems to have weathered very well. We refer to the East Asian economic debacle of 1997-1998. The financial panic and the following economic meltdown that afflicted scores of dynamic economies neighboring Bangladesh – Malaysia, Indonesia, Thailand, Philippine and South Korea- certainly have been a restraining element in the economic performance of this sector.
What are the links between the East Asian economies and garment exports from Bangladesh? There are several avenues by which negative economic shocks from these emerging economies have impacted Bangladesh. First, several of these nations are also big apparel exporters to the same markets where Bangladesh sells its apparels. The steep depreciation in their currency has made them more competitive, especially in the quota-free apparel markets. Even in the markets protected by quotas, this would be a deflationary force pulling down the unit prices and the profit margins for Bangladesh exporters. Second, using the time-tested formula, most of these economies are trying to export themselves out of their severe recessions. This has greatly increased competition for Bangladesh exports. Third, to assist them in their time of need, the U.S. and other developed nations have already relaxed quota restrictions on exports from the worst affected economies, making the playing field less level for Bangladeshi exporters. Fourth, prior to this crisis some of these nations were potentially big investors in Bangladesh in the textile and infrastructure projects. Their economic troubles have meant a dramatic scaling back in their direct investments in Bangladesh.
On the plus side, the return of expatriate workers from this region has swelled the urban labor force from which garment factories recruit their workers. Next, if some of these economies weaken, causing an economic or political collapse, their ability to compete in the global markets would be impaired. This could mean new opportunities for their competitors in the short run. Finally, Bangladesh has tried to leverage the crises by demanding from the U.S. equal quota concessions, pointing out that it has been very successful in reducing the child worker problem in the apparel manufacturing sector. The lobbying for a thirty percent (same as given to others for relief) increase in quotas has yet to bear fruit, but the prospects look good.
In our view, the biggest threat to apparel exports in Bangladesh comes from the financial sector. Although we do not anticipate a financial panic similar to the Asian crises as the foreign investment (hot money) and short-term borrowing has been rather limited in Bangladesh, the common element is that of a weak banking sector with very little transparency and accountability. Elements of crony capitalism and moral hazard are certainly present in Bangladesh, especially in the nationalized banking sector and in credit markets. According to the World Bank-Asian Development Bank report, the financial sector in Bangladesh remains fragile with 33 percent of the portfolios of the Nationalized Commercial Banks (NCBs) and domestic private banks in the non-performing category. Notwithstanding the fifty billion taka of taxpayers money, that was used to re-capitalize the NCBs in the early 1990s, the system-wide capital inadequacy today is estimated to be taka 133 billion. This situation could cause the entire banking system to collapse as a result of an external shock or even a domestic event such as a run on a major bank. One important lesson from the East Asian crisis is that moral hazard and the resulting financial panic can be deadly for any economy, even one whose fundamentals are otherwise sound. Without fundamental reforms in the banking sector and the financial sector, the economy of Bangladesh remains susceptible to a financial panic where a speculative price bubble crashing in the real estate sector or elsewhere could start a systemic self-fulfilling type of panic. Such a collapse would seriously impact apparel exports, which are critically dependent on the workings of a healthy banking system for the institutional set up for exports and for short-term financing.
Other potential hazards include an overvaluation of the taka compared to the currency of its competitors. Despite the repeated devaluation in the recent past, according to the World Bank the taka remains overvalued in real terms. This could undermine the long term competitiveness of the industry. Finally, in 2004, under the Uruguay Round Agreement on Textiles and Clothing, the MFA quotas would be phased out. Bangladesh would lose its preferential access to its most important markets and would have to compete with India, China and other apparel exporters in a truly global competitive environment. Many apparel entrepreneurs in Bangladesh are not ready for this change although the industry as a whole probably would hold its own in the post MFA world.
Finally, we would like to emphasize that the biggest source of potential problems for apparel exports are likely to be home grown, not external. First, the politicians could seriously damage this sector by creating instability and attempting to achieve their goals by violent means in the streets instead of the parliament. Second, the bankers and the bureaucrats and the politicians in power remain a source of threat. In their attempt to further extract rent from this sector, they could undermine the dynamic entrepreneurship that has characterized this industry. Third, the law enforcement agencies, by allowing the mastans and toll collectors to create a climate of terror, may debilitate commerce and production in the economy. Labor disturbances and frequent disruptions in the Chittagong port remain a source of concern to the apparel exporters. The practice of monthly meetings with union leaders and factory owners initiated by BGMEA is a step in the right direction. Garment workers remain one of the hardest working segments of the labor force in Bangladesh, and their working conditions and benefits must improve as the industry matures. In the long-run, this would be the best defense against union aggitation. Investing in worker training and in improved working conditions would certainly enhance productivity. The apparel factory owners must be proactive instead of being reactive on this important issue.
According to a recent World Bank publication, "exports and job-oriented manufacturing must hold the key to national development over the next quarter century. To make this possible, the limited but important industrial success achieved so far, mainly in an export enclave environment, needs to be replicated throughout the economy." The document goes on to suggest that the maximum gains in industrial production are not expected from the traditional sectors like jute, but from the labor-intensive export-oriented production that brings the benefits of global integration to the nation. Another virtue of this sector is that it is largely driven by private entrepreneurs who have in many ways become the models for entrepreneurs in other industries of the economy.
Chapter: 3
Philadelphia Apparel Ltd.
Company Profile
Philadelphia Apparel is a largest company in Dhaka, Bangladesh. Philadelphia Apparel established in 1985. They have Textile, Garments and shipping business. I did internship in Philadelphia Garments. It is situated in 28 North kafrul, Dhaka. This is the head office of Philadelphia Apparel .
Philadelphia Apparel has textile mills named Fakhruddin Textile Mills Ltd. Philadelphia has knitting, dyeing, washing, printing, embroidery and sewing section. It is a composite factory. Knitting, dyeing, washing and printing sections of Philadelphia Apparel s are Fakhruddin Textile Mills Ltd which is at Gazipur.
In my whole internship I spent in Philadelphia Apparel s head office at North kafrul. It is a cut and sew factory. It has merchandising department, HR department, commercial department, work-study and IE department, embroidery department, store department, cutting department, sewing department, quality department, finishing department, accounts department etc which is needed for a standard company.
During my internship I observed all the departments and understood about all the working procedure of the department.
Head Office & Factory
28, North kafrul Industrial Area, Dhaka, Bangladesh.
Tel: 880-2-9871981/8177613.
Fax #: 880-2-8826354
Email: ramiz@philadelphia apparel.net ,nafis@philadelphia apparel.net, navid@philadelphia apparel.net
Year of Establishment: 1985
PHILADELPHIA APPAREL member units are
1) Philadelphia Apparel Ltd. – Knit Garments Manufacturer
2) Attires Manufacturing Company Ltd. – Knit Garments Manufacturer
3) Fakhruddin Textile Mills Ltd.- Knit fabric Manufacturer
Contact Persons
Mr. Navid Salam – Director, Cell no.-01674-405542
Mr. Ramiz Uddin – General Manager, Cell no.-01713-066981
Mr. Nafis Salam – Marketing Director, Cell no.-01553-561189
Bank Name & Address
Islami Bank Bangladesh Ltd.
75, Motijheel C/A, Dhaka-1000, Bangladesh.
Telex: 642525 IBANK BJ
S.W.I.F.T. –IBBLBDDH102
Organogram of Organization
Source: HR Manager, Philadelphia Apparel Ltd. (Date: 30/11/2010)
 Nature of activities
Philadelphia Apparel Ltd, is a cut and sew factory. It has merchandising department, HR department, commercial department, work-study and IE department, embroidery department, store department, cutting department, sewing department, quality department, finishing department, accounts department. Philadelphia Apparel mainly collect order by their own merchandising department and produce garment in own factory. They are also attached with buying houses. Most of the common fabrics they produce in their own textile mills. Some costly and unavailable fabrics are exported from foreign countries.
Buyers
France : La-Redoute, Vertbaudet, Etam, Umbro, Movitex
Germany : Tchibo, Aldee, Jebsen & Jessen, Base Wear Fashion
Belgium : Hanes, Wilford.
Spain : Losan
Sweden : Ellos, Juritex.
U.K. : Regatta, Empire Store, the out Door group
 Styles
Men's, Ladies, Boy's, Girls & Infant -Polo Shirt, T-Shirt, Tank Tops, Shorts, Trouser, Fleece Jacket, Vest, Motorbike shirt, Ski shirt, Wellness pant, Walking shirt, Running shirt etc.
 Fabric
Different type of fabric used in Philadelphia Apparel . Such as-
Pickue
Single jersey.
Interlock.
1×1 Rib.
2×2 Rib.
Fleece.
Viscose.
Mash.
Reference: Company profile, 1985, 1st June, 2010.
 Products
Men's, Ladies, Boy's, Girls & Infant -Polo Shirt, T-Shirt, Tank Tops, Shorts, Trouser, Fleece Jacket, Vest etc.
Main Customers
They have been serving E.U. market for many years. The origin wise Client of Philadelphia Apparel is as such:
U.K. : Regatta, Empire Store, the out Door group
France : La-Redoute, Vertbaudet, Etam, Umbro, Movitex
Germany : Tchibo, Aldee, Jebsen & Jessen, Base Wear Fashion
Belgium : Hanes, Watford.
Spain : Losan
Sweden : Ellos
3.12 Moreover Philadelphia Apparel has the following facilities for smooth operation-
Stand by Generator to run the full factory
Fire protection system
Sufficient volume of water reservoir at underground & overhead.
Quality electrical cable with circuit breakers
Separate toilets for male & female workers
Sufficient ventilation is provided by installing ceiling fans, exhaust fans, large windows
Factory premises is always kept neat & clean
We do not have any child labor
Doctor & Nurse are provided to take care of workers health
Canteen for workers
Day care center
Work study center
Chapter: 4
Departments of Philadelphia Apparel Ltd.
Merchandising Department
Store (Fabric & Accessories) Department
Pattern, CAD & Sample Department
Cutting Department
Sewing Department
Work study & planning Department
Finishing Department
Quality Department
Embroidery Department
Commercial Department
H.R Department
Annexure
Merchandising department
Merchandising department is the heart of a garment factory. With out this department a factory cannot do anything. During my whole internship I was supervised by a merchandising team member, who is dealing with a well known buyer named Juritex. Mr. Sumon is the senior of this team and Mr. Kamrul is the manager of this department.
Organogram of Merchandising department
Main Responsibilities
Preparation of "Requirement sheet" for individual styles either buyers original samples or their technical information.
Developments of fabrics and accessories.
Obtaining approval of Lab-dips/Strike off/ hand loom as well development of accessories from buyer before bulk production.
Preparation of "Purchase order" for item wise required materials and its order placement to the suppliers/manufacturers.
Time to time follow-up the materials position and up-date latest position through format for in time procurement.
Procurement of sample yardage & sample accessories to make and obtain approval of pre-production sample.
Responsible to develop the samples and finally taking approval of P.P.
Preparation of production files before starting of samples.
Handover the "Production File", Pattern, Marker with all comments to production department to start the production.
To develop sample as per Buyer requirements and relay information's among all relevant concerns.
To attend buyer meeting & submit meeting report to all relevant concerns.
To arrange pre-production meeting in presence of all relevant concerns.
To follow up production situation.
Corresponding with C&F, Forwarder & Export-Import Documents.
Fabric consumption in INCH
[(Body length + sleeve length +Allow.) x (1/2Chest+Allow.) x 2 x GSM x 12/1550/1000+westage % ]
Fabric consumption in CM
[(Body length + sleeve length +Allow.) x (1/2Chest+Allow.) x 2 x GSM x 12/10000/1000+westage % ]
KG to YDS
KG x 1550 x 1000 /36/DIA/GSM=YDS
BUTTON UNIT
GG = (12 x 12 x 12) PCS
= 1728 PCS
Source: Junior Merchandiser, Philadelphia Apparel (Date: 25-11-2010).
 Store (Fabric & Accessories) department
Store is a very important part of a garment factory. Mainly store department stores fabric and accessories. For storing fabric and accessories, store department use various methods. Philadelphia Apparel s store department also used different process for doing their works easily. Store department mainly works with cutting, sewing and merchandising department. Generally merchandiser give booking for fabric and accessories and store collect that from supplier. They store the material and depending on invoice or requisition store let the production people use the stored material. Store department use buyer wise rack, color no, style no, item no, log book etc for easy to their works.
Machinery used in Philadelphia Apparel s store
Computer
Weight scale.
GSM cutter.
GSM weight m/c.
Scissors.
Punch m/c.
Stapler.
Seal m/c.
Trolley.
Organogram of Store department
Total manpower – 48.
Works of store:-
For accessories and fabric booking first merchandiser give requirement according to P.O sheet.
Store gives fabric and accessories booking on the basis of total quantity of garments.
When fabric and accessories are in-housed that time booking requirement check with swatch card and invoice.
Fabric and accessories is stored buyer and style wise with p.o no, rack no and date.
Everything is recording in register book and computer data base.
Store is using FIFO & LIFO methods for in-house and out of store.
Source: Store officer, Philadelphia Apparel (Date: 28/11/2010).
Pattern, CAD & sample department
Pattern and CAD department helps to ready a garments shapes, measurement, design and size making. At first pattern master make a master pattern by following buyer's art work. And based on master pattern sample section make sample and merchandising department send to buyer for approval. If buyer approved the sample, then CAD department make marker on the basis of master pattern. And if the sample is not approved then pattern master again make pattern following the buyer requirement.
Organogram of the department
Total man power – 77.
For making a pattern needed some materials. These are –
Pattern paper.
Scissor.
Pencil.
Eraser.
Set square.
Graph scale.
Knotcher.
Stapler.
Measuring tape.
Punching m/c.
Both side tapes.
Pattern developed by the basic of work sheet.
Pattern can be added the tolerance of + 1 / – 1 cm based on buyer and space sheet.
Size, style, and stitch everything must be followed-up by the basic of master pattern.
One item products sample developed in many time.
CAD marker done by digitizing from master pattern.
Source: Pattern Master, Philadelphia Apparel (Date: 18/11/2010).
Cutting department
In cutting department, they cut the body parts of garments. For cutting they used different steps. At first IE department send a schedule that when line starts for sewing. On the basis of schedule cutting department take fabric from store on particular color and style wise. They check fabric dia, color and weight. Then the layer man spread fabric on cutting table. After that they spread pre-made marker and cutter man cut the fabric. Marker can be manual or CAD. Completing the body cut particular body parts it goes for bundling, ticketing and cut panel check for quality check. Completing all processing it will ready for sewing.
Organogram of Cutting department
Total manpower – 80.
Total cutting table – 4.
Total cutting matching – 10.
Work flow of cutting department
Cut order plan done by Work Study & I.E. Department. Cutting plan depends on style and order quantity.
Generally marker planned by CAD. But some times manually also.
Cutting equipments:-
Scissor
Electronic fabric cutter.
Straight knife.
Clump.
Pin.
Gum tape.
Ticketing m/c.
Fabric spreading by manually.
Cutting procedure:-
Fabric color shading check.
Fabric width and marker width check.
Fabric spreading.
Marker spreading.
Before cutting ensures that all the body parts in marker.
Fabric cutting.
Ticketing.
Bundling.
Cut panel check and defective body parts re-cutting.
Ready for sewing.
Source: Cutting Manager, Philadelphia Apparel (Date: 22/11/2010).
Sewing department
Sewing section make a complete garment by attaching different body parts of fabric. Operator, helper and machinery are the major part of sewing department. In sewing line, fabric body parts input from end of the line and out put complete garment from nearer end of the door.
Organogram of Sewing department
Helper
Key elements of sewing
Ø Industrial engineering department make planning, line balancing and operation breakdown according to style for sewing section.
Ø The productivity depends on as per style.
Ø Different type of fabric required different machine speed.
Ø Proper ventilation is required.
Ø The operators should aware about the broken needles.
Ø Fore better performance of machine proper maintenance is required.
Ø Minimum light required is 700-800 Lux.
Machinery use in production
Lock stitch m/c.
Chain stitch m/c.
Over lock m/c.
Flat lock m/c.
Feed of the arm m/c.
Bar tak m/c.
Button hole m/c.
Button attaching m/c.
Zig zag m/c.
Snap button punching m/c.
Blind stitch m/c.
Source: Asst. production Manager, Philadelphia Apparel (Date: 21/11/2010).
 Work study & planning
Work study and planning department works for company production effectiveness of best resource utilization. They help for operation break-down, line layout, target setting, manpower setting and quality-ful production.
Work flow of work-study and planning:-
 Operation breakdown.
 SMV calculation.
 Line layout.
 Target setting (based on efficiency level).
 Method study.
 Capacity study.
 Production study.
 Allowance setup (allowance 15%).
SMV = Observe time + Allowance x rating.
Source: Work-study officer, Philadelphia Apparel (Date: 19/11/2010).
Finishing department
Finishing is the last process of garment. After completing finishing process garment is totally ready for shipment. Finishing department gives a complete outlook of garments. Finishing department use some processes and machineries for their works. Generally after sewing, at first they use thread sucking m/c for remove extra threads and after Ironing, quality check, measurement check, hangtag attach, folding, poly and packing is the working process of finishing. All the process is follow-up as per the buyer requirement.
Organogram of Finishing department
Ø Layout of finishing:-
 Thread sucking.
 Ironing.
 Quality check(spot, wash, defect, extra thread, puckering, uneven stitch, label attach, hole, point up-down, drop stitch, radege, o/l uneven, gathering etc. Fold check).
 Measurement check.
 Hangtag.
 Folding.
 Poly.
 Packing.
Ø Machinery used for finishing:-
Thread sucking m/c.
 Steam iron.
 Spot removal chemical.
 Spray gun.
 Needle detecting m/c.
 Tag gun.
 Dry heater.
Total manpower – 224.
Target setup depends on mainly production but some times it depends on manpower, when production is not so much.
Source: Finishing Manager, Philadelphia Apparel (Date: 15/11/2010).
Quality department
Quality is a very important part of a garment Industry. Without quality in having garments no body can buy. Normally we know quality means satisfaction of customer. Philadelphia Apparel has all international buyers. They supplies garments most of the countries of the world. So they order very quality-ful product in Philadelphia Apparel has a good reputation to international buyer because Philadelphia produce very quality-ful product. In my internship purpose I observed it very closely. For ensure proper quality, quality department works in every step to produce garments. Quality department check quality from fabric knitting to up to packing.
Organogram of Quality department
Quality inspector
Quality ensure in every department and every process. Following are given bellow-
# Sewing department
In sewing department quality check in different way.
Process quality.
Final line quality.
Allover re-check quality.
Ø Quality follow up-
Uneven stitch.
 Shading.
 Drops stitch.
 Label attaches.
 Hole.
 Measurement.
 Spots.
 Extra thread.
 Puckering.
 Excess sharing.
 Puckering.
 Execs thread.
 T/S Excess or incomplete.
 O/l uneven.
 Point up-down.
 Skip stitch.
Manpower depends on style.
# Finishing department
In the finishing department check allover quality of a garment. like-
Measurement.
 Stitches.
 Hole.
 Spots.
 Puckering.
 Drop stitch.
Uneven stitch.
 Extra thread.
 Ironing.
 T/s placement.
 Label placement.
 Hang tag attach.
 Folding & poly.
 Needle detecting (if needed).
 Cartooning.
# Cutting department
On cutting department quality check from the very beginning of fabric layout.
At first before the lay fabric, they checks fabric for color shading. If the color match then check whether the fabric has the required dia or not.
After fabric lay, marker is checking under for ensuring all the body parts and size are in marker. If the marker is ok then fabric ready for cutting.
Completing cutting, cut panel is checked for quality and measurement. If every cut panel is not quality-ful then defective panels are again cut by quality.
If printing and embroidery have the requirement then they check placement.
Source: Cutting Manager and Quality in charge, Philadelphia Apparel (Date: 12/11/2010).
 Embroidery department
Embroidery department helps to design on garments. At first merchandiser send spec sheet and art work to embroidery manager. Manager recommends designing section and designer design by follow in the artwork on computer by using special software. After completing design by using floppy disk designed transfer to machine memory and automatically create design on garment parts or complete body.
Organogram of Embroidery department
Total m/c – 3.
Manpower – 32.
Software used for design – welcome-64.
WORKING PROCEDURE :-
 At first create design.
 By using floppy disk/pen drive design transfer to m/c memory.
 Design place marked on body by frame.
 Lining or paper put under embroidery place.
 Commands on out put device and automatic embroidery finished.
Completing embroidery in finishing process extra thread cut and lining cut.
All kinds of embroidery can be done by this m/c.
Source: Embroidery Manager, Philadelphia Apparel (Date: 10/11/2010).
 Commercial department
Commercial department mainly works for collecting payment terms from buyer and purchase fabric and accessories on the basic of payment methods. Most of the buyer generally purchased garments by L/C (letter of credit). Commercial department also works for shipping booking and sending goods.
Work flow of commercial department
Open master L/C or Export L/C.
Open back to back L/C for purchased
Fabric and accessories against master L/C.
Shipping booking.
Sending goods.
Export documents
Ø Commercial invoice.
Ø Packing list.
Ø Bill of lading.
Ø Certificate of origin (C.O / GSP).
Ø Beneficiary certificate.
Ø Beneficiary Fax.
Ø Inspection Certificate.
Source: Commercial Manager, Philadelphia Apparel (Date: 08/11/2010).
H.R department
H.R department mainly works with company employee. Generally employment selection, training, resource, transfer, promotion etc worked in H.R department. H.R department is a very important department for a company.
Organogram of HR department
Work flow of H.R department
Recruitment and selection / Employment.
Training and development
Manpower planning.
Performance management.
Employee relationship.
R.&.D (resource and development).
Compensation and benefits.
Transfer, promotion and succassation.
Personal documentation.
Source: HR officer, Philadelphia Apparel (Date: 05/11/2010).
Chapter: 5
 Findings
I have found some positive and negative findings of Philadelphia Apparel Ltd..
Positive aspect
Friendly working environment: Workers feel comfortable to work that environment.
GDP: Company is generating good rate at GDP
Skill Management: They have good skilled management to run the company.
Skilled employees: Worker is also very much skilled.
Good Security: They are using G4S security service for their security.
Strong HR Department: They have strong HR department.
Negative Aspects
There is no "Child Care" for female worker
There is no way to direct communicate with Managing Director so that employees can go with their problems.
There is no Entertainment facilities
Recommendation
Philadelphia Garments Industries can improve their position in the RMG sector by reducing the overall problems. Such as management labor conflict, proper management policy, efficiency of the manager, maintainable time schedule for the product, proper strategic plan etc.
Philadelphia Garments need to setup child care for the female worker, so that they can work freely. And Philadelphia Garments need to make easy communication system with worker to Managing Director. Philadelphia garments need to improve entertainment facilities for the workers.
Government also have some responsibility to improve the situation by providing- proper policy to protect the garments industries, solve the license problem, quickly loading facility in the port, providing proper environment for the work, keep the industry free from all kind of political problem and the biasness. Credit must be provided when the industry fall in need.
 Conclusion
The Ready-Made Garments (RMG) industry occupies a unique position in the Bangladesh economy Philadelphia Garments one of them. It is the largest exporting industry in Bangladesh, which experienced phenomenal growth during the last 25 years. By taking advantage of an insulated market under the provision of Multi Fibre Agreement (MFA) of GATT, it attained a high profile in terms of foreign exchange earnings, exports, industrialization and contribution to GDP within a short span of time. The industry plays a key role in employment generation and in the provision of income to the poor. To remain competitive in the post-MFA phase, Bangladesh needs to remove all the structural impediments in the transportation facilities, telecommunication network, and power supply, management of seaport, utility services and in the law and order situation. The government and the RMG sector would have to jointly work together to maintain competitiveness in the global RMG market. Given the remarkable entrepreneurial initiatives and the dedication of its workforce, Philadelphia garments can look forward to advancing its share of the global RMG market.
Reference
Abdullah, Md. Abu Yousuf, 1997, "International Trade Implications and Future of Ready-Made Garments Sector of Bangladesh" Journal of Business Administration, Vol. 23, No. 3 & 4, Page 41-69.
Azim, M. Tahlil, and Nasir Uddin, 2003, "Challenges for Garments Sector in Bangladesh After 2004: Avenues for Survival and Growth" Bangladesh Institute of International and Strategic Studies Journal, Vol. 24, No. 1, Page 49-82.
Bhattacharya, D and M. Rahman, 1999, "Female Employment Under Export-Propelled Industrialization: Prospects for Internalizing Global Opportunities in Bangladesh's Apparel Sector", UNRISD Occasional Paper.
Bhattacharya, D and M. Rahman, 2000, "Experience with Implementation of WTO-ATC and Implications for Bangladesh", CPD Occasional Paper Series, Paper 7.
Bhattacharya, D, M. Rahman and A. Raihan, 2002, "Contribution of the RMG Sector to the Bangladesh Economy", CPD Occasional Paper Series, Paper 50.
Bow, J. J, 2000, "Bangladesh's Export Apparel Industry into the 21stCentury – the Next Challenge", The Asia Foundation.
Centre for Policy Dialogue, 1999, "The Textile and Clothing Industry of Bangladesh: In a Changing World Economy", CPD Dialog Report No. 18, Dhaka, Bangladesh, 2003, "Coping with Post-MFA Challenges: Strategic Responses for Bangladesh RMG Sector", CPD Dialog Report No. 55, Dhaka, Bangladesh.
Islam, Sadequl, 2001, The Textile and Clothing Industry of Bangladesh in a Changing World Economy, CPD and The University Press Ltd.
Jahan, Sarwat, 2005, "The End of Multi-Fiber Arrangement: Challenges and Opportunities for Bangladesh", WBI Policy Note.
Katti, Vijaya and Subir Sen, 2000, "MFA Phasing Out and Indian Textiles Industry: Selected Issues for Negotiation", Foreign Trade Review, Vol. XXXIV No. 3 & 4, Page 102-120.
Mannur, H.G., 2000 (second revised edition), International Economics, Vikas Publishing House Pvt Ltd., India.
Mlachula, Montfort and Yongzheng Yang, 2004, "The End of Textiles Quotas: A Case Study of the Impact on Bangladesh", IMF Working Paper WP/04/08. .
World Trade Organization, 2006, "Trade Policy Review", Geneva.
BGMEA Newsletter, September 1998, Special Issue, November 1998, and other issues.
BGMEA Newsletter, September 1998 issue.
This loss would be less than 5 percent of the total production that is in the $3.7 billion range.
According to Tofail Ahmed, the Commerce Minister, the readymade garment sector's gross earnings in 1997-1998 financial years were $3.78 billion or 73 percent of total export earnings of Bangladesh. BGMEA Newsletter, Special Issue, 1998, page 8.
The World Bank and The Asian Development Bank, Bangladesh, Economic Trends and the Policy Agenda, May 1998, page 16.
World Bank 2020 Report