Introduction.
Modern management has transferred itself from a production to a sales orientation and finally to marketing oriented view of business The Marketing Concept is a philosophy and like any philosophy it cannot be defined with precision. It is in fact an attitude governing the whole management approach. To the firm's Operations from step to step one of the recent slogans of today's economist is ' either export or be ruined'. They are not willing to show any other path 'between this.
The present export pattern of Bangladesh has changed. According to the above slogan, now eight commodities have taken the position of 93% of the export earnings and ready made garments is one of those. Major products of Bangladesh Ready-made Garments industry for export Marketing are woven shirts, trousers, Jackets t-shirt, short Briefs and major Buyers of Bangladesh Garments are the USA, EEC, Canada and other European Countries.
The export earning from garment sector increased steadily from a meager amount of US$ 3.24 million in 1980-81 to U: S$ 1064.00 million in 1991-92 and to US$ 1240.48 million during the fiscal year ended June in. 1991-92 and US$ 1310 million in 1992-93 fiscal year. The contribution of this sector to the total national export earnings increased from 0.40% in 1980-81 to 69.41% in the year 1992-2007.
Cannon textile Garments Limited is one of the buying houses in Bangladesh. It is 100% export oriented buying house. It is determined to build long term customer relationship with its foreign clients. It tries to maintain better qualify.  Buying house industry is a substantial proportion of the industrial sector of Bangladesh. By comparing with other industrial sectors of Bangladesh, this specific industry plays a vital role in the economy of our country. To meet up the growing needs of skilled and eligible managerial manpower of different organizations in the country, Atisadiponkar university, has established the BBA(Bachelor of Business Administration program . the objective of the BBA program is to equip individuals to develop the specific skills and judgments required for effective executives. The Assignment course is an indispensable part of the BBA program. Under the course the students were sent to gathering this knowledge, I was assigned to cannon textile garments limited and department was merchandising. .
History
Cannon textile garments Limited is an export oriented high-tech buying house Garments manufacturer and exporters in Bangladesh. It was established in 2005.This industry is one of the leading garment buying house in Bangladesh.
The company is not use to promote any product in domestic market. The object of the company is to produce various types of readymade Garments like men's shirts, jeans, pants, jacket etc.
The factory has been running by highly trained and skilled manpower, which have been in this sector for quite a long time, and are able to keep continuing the production process with utmost accuracy and flawless finishing. The company has guaranteed uninterrupted production and timely supply of sweaters as per the schedule and time frame of buyers. The production unit has its own high powered generator that is being used as back-up sources of electricity, which gives the manufacturing chain a lot more dynamism and continuity. Wide array of indoor and outdoor facilities along with safety measures is one of the prominent features.
Objective of the cannon textile garments  
  The main objective of the company is to earn profit. Besides this there are some other objectives, which are as follows:
  To generate employment opportunity
  To perform social responsibilities
  To provide quality product to the customers
  To provide service for the parties involved and invention of the necessary new service dimension.
Vision of the Organization
To obtain a leading position in the Buying House sectors of Bangladesh as well as international through maintaining standard quality.
1.in time action
2. Clear understanding of customer's instructions.
3. Clear communication with vendors
4. Clear instructions for production
5. Strict compliance with quality control system.
6. Total devotion maintains first class quality standard.
7. Absolute efforts for in time shipments
Mission of the Organization
Cannon textile garments Limited is committed to maintain discipline, punctuality and quality products at reasonable price and ensure quality service. Their focus is on the customer needs and satisfaction. They always maintain delivery schedule according to buyer's requirement.
Corporate Values
 Team work
Integrity
Excellence
Commitment to buyer.
 Maintenance of consistent standard
Corporate Profile
Industrial status                    :           cannon textile garments Limited is a 100% export oriented buying house Industry.
Products                     :           We Endeavour to specialize in shirts, pants, jacket, shorts.
Year Established      :           2005
Address                      :           Cannon textile garments Limited
136 by modern plaza saver DhakaBangladesh
Tel: 88-02-7712942
E-mail: info@cannongarments.com
Bank                           :           Standard Chartered Bank
Uttar Branch
House No. 13, Road No. 10B
Sector – 4, UttarModelTown
Dhaka-1230, Bangladesh
Chairman                   :           Mr. Fuad Ahmad
Managing Director   :           Mr. M.k Khan
Merchandiser Manager:      Mr. Johny Khan
Factory area KHI 12000sq.yards covered area 175000sq .FT
Factory area LHR 5375sq. yards covered area 150000sq FT
No. Of employees-KHI 2500
No. Of employees LHR 1500
Gov't departments involve with organization:
 Management:
Technically sound and professionally skilled board of directors is for production and human Resource management of the company. Policy formulation and operational strategy are being taken care of by the board. The Chairman is the chief executive to look after the business affairs and other logistic support of the company. In addition to dealings with the international delegates and buyers, they spearhead the every affair of company from supervising and keeping on working the technical staff to having a through looking of the qualities of products. The management structure of the company is formed with board of directors as the head, and Chairman as the chief executive. They are to communicate and exchange views as well as suggestions with the directors who get General Manager (GM) as their supporting hand. GM is to manage the Factory Manager, Accounts Officer and Commercial Manager. Factory Manager supervises the production and maintenance staffs, while Accounts Officer and Commercial Manager manage the accounts respectively.
Hierarchy of the company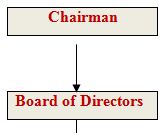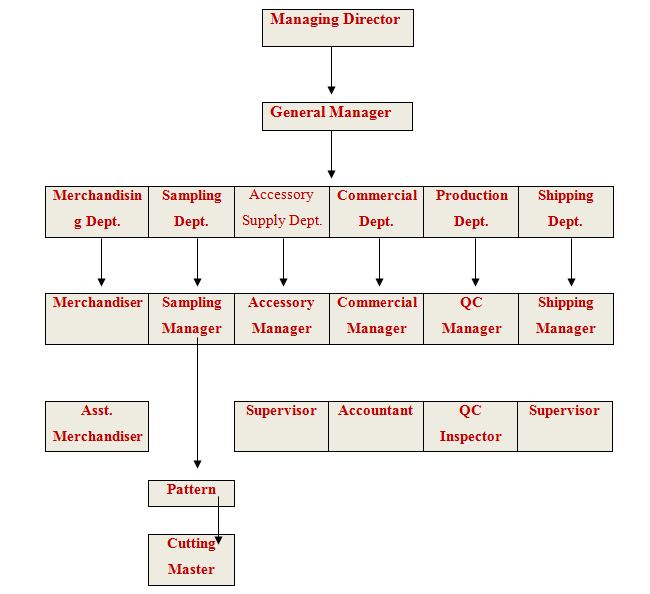 Product of cannon textilegarments
Cannon garments Limited produces categories of product for men and women such as:
Denim Jacket
Denim Pant
Bib Pant
Ski Jacket
Padded Jacket
Worker Jacket
Shorts etc
Canon garments provide services to:
IMPORTERS / BUYERS
As an exporter
As a buying agent
As a sourcing company
To set-up QA systems
FACTORIES / VENDORS in Bangladesh.
As an order supplier
As a liaison agent between factory and buyer
For Technical assistance
 Cannon garment has factories with the best machinery, manpower with commitment towards delivery & quality standards. These factories can produce any quantities under our guidance and control. Some factories are approved for quality from buyers like GAP, WAL-MART, TARGET, PVH and JC PENNEY etc.
Finding and analysis
Merchandising is a global process through which products are produced, sourced, and sold all over the world. Merchandisers must have leadership for the value chain (developing, distributing, and selling products) in a global market.
Merchandisers need to see "the whole process" from product innovation through consumer satisfaction. This requires logical thought processes such as problem solving, decision-making, and resource management. It is a critical need for merchandisers at cannon garment, which has strong business background, yet it also stays focused on fashion or other products that undergo continuous change in the consumer-driven market. Merchandise displays are special presentations of a store's products used to attract and entice the buying public. The nature of these displays may vary somewhat from industry to industry, but all merchandise displays are predicated on basic principles designed to increase product purchases. Indeed, merchandise displays are an integral element of the overall merchandising concept, which seeks to promote product sales by coordinating marketing, advertising, and sales strategies.
Here, the merchandising department is mainly divided into accounts buyers. This shows that there is individual or a team of merchandising, who takes care of a specific buyer or account.
Merchandising serves the following purposes at Cannon Garment Ltd:
It acts as a bridge between buyer and the company for communication.
Merchandiser has to market his company in order to increase his customers and generate more and more revenue.
Merchandise makes a cost sheet to see if the product is feasible or not in terms of cost and revenue. Merchandiser has to calculate the cost of products including all wastes and accessories to tell the final cost of the product to his customers.
Merchandiser must have a negotiating power on the price to convince his buyers on specific price to lessen the chances of loss.
Merchandiser must send the sample to his buyers for confirmation and satisfaction. At this stage, Sampling is also done to avoid loss.
As merchandiser has direct contact with his buyers so the buyers have to give information about their product's requirements and if there is any problem the merchandiser has to inform his buyers in return.
It is the responsibility of merchandiser to prepare the product according to the requirement of buyer.
Merchandiser must be aware of the quality, packaging and on time delivery.
financial information cannon garments Limited
Cannon garments Limited are new buying house industry and its total capital is near about 1000 (lace Taka). Cannon garments Limited have 100 lace Taka and 900 lace has taken from the Bank.
| | |
| --- | --- |
| Financial Information | Taka (lace) |
| Bank Investment | 900 |
| Cannon garments Limited | 100 |
| Total Investment | 1000 |
Export performance of cannon garments Limited:
View form the export statistics, it is observed that the company sales turnover has been accumulated in every year. Growth in annual sales of the company has been raised. It can be estimated that the company export performance is growing day by day.
SL
Year of Export
Export Value(Value in lace $ US)

01

2005

400

02

2006

570

03

2007

700

04

2008

950
Table: cannon garments export sales turnover (Since the year of 2005-                    2008).
SIZE & GROWTH OF MARKET:
The Company's marketing operations continued its emphasis on export sales over the years as depicted below:
 
Year – 2008
Year – 2007
Year – 2006

Tang Top

99,800

527,903

539,417

0.68%

3.68%

3.95%

T-Shirt

14,554,342

13,817,314

13,129,599

99.32%

96.32%

96.05%

Total  Sales

14,654,142

14,345,217

13,669,016

100%

100%

100%
Sales Revenue

Tang Top

9,455,588

32,576,936

46,956,494

0.45%

1.82%

2.26%

T-Shirt

2,093,214,675

1,756,441,450

2,029,968,545

99.55%

98.18%

97.74%

Total  Sales

2,102,670,263

1,789,018,386

2,076,925,039

100%

100%

100%
The above figures show that the export sales increased by 19% in 2007over the previous year with greater exposure to international market scenario and risk.
LAST FOUR YEARS SALES TURNOVER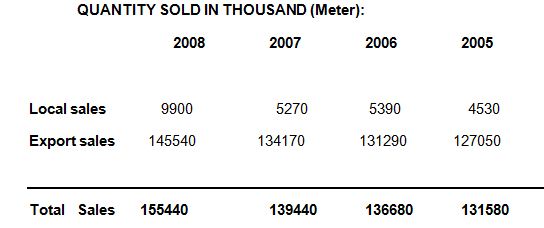 Marketing and Merchandising Department
The duty of this department is to communicate with the buyers and aware about the pricing based on fabrics materials and production cost. Marketing division is supported by an independent sample production in order to meet all sorts of sample enquiry from the end of buyers. The marketing strategy is designed to sell quality product at low price. Merchandising section consists with the sorts section it has planed to customize every inch shelf space in each story with goods in the right quantity and at the right time.
Financial Department
         Cannon garments Limited finance its money from the bank. Facilities will be provided to open back to back LC for exportable items and the proposals for importing capital machineries with soft term loan with lesser interest rate. They have an independent unit dealing accounts and financial activities of the company. They fund allocation of the industry is directly led by the general manager (Finance and Admin) under the supervision of chairman of the industry. This unit responsibility covered the areas; determine daily cash flow requirements, credit collections, inventory control, recording and monitoring, allocation of resources, providing financial data on company's strategic decisions.
Commercial Department
   Every employee in this department are sincere in there work. They prepare all the documents regarding exports and imports with care. They also follow up customer's formalities and banking. If they wish they can ask the buyer about the account. And the department also consists with the accounts and finance department.
Sample Department
           Buyers usually provide sample to the garments factory. They also give sketch pad in which they mention their requirements. By considering their sample and other requirements, the factory tries to supply the products.
Production Department
           Production department is one of the important part of a buying house because its handle how to manufacture the product completely. In production unit they follow the sketch of style of a give sample. Each of the manufacturing unit is run and managed by the individual director of the production. Directors are assisting by dedicated production team to achieve maximum output in the production. Daily productions are measured production analysis team.
 Quality control Department
                  Cannon garments Limited have trained quality control team who closely supervise production line in each of the manufacturing unit. Individual quality control team is assigned for each manufacturing units to look after product quality and productivity. They also prepare production planning and all issues are controlled evaluated by the concern director of each manufacturing unit.
 Communication:
           Communication may be through Internet or face to face setting. In cannon garments Limited both two ways are available. Merchandiser of the company communicates their buyers with directly. They also are their own website for the buyer.
 Determining Price
           Once the merchandiser of cannon garments limited receive client's product specification such as sketch, design, measurement, design sheet, tech pack, fabric construction & color or even sample. They explain the clients about the manufacturing cost, time and other factors. If the cost is reliable for the buyer they finally agree to make business contract with the company.
Sample making
When the estimated price is acceptable then the merchandiser of cannon garments Limited develops the sample from their industry according to the sample will be evaluated by the buyers.
Packing
           Packing is a important part for maintaining merchandising. If the merchandisers are not aware about packing the product may hampered. As for reason they may loss a lot of money after completing the packing it is ready for shipment.
 Payment by L/C
           Business transaction begins with a purchase order which represent by the mail or phone call or a fax received from the buyer. But it is not secure to the company. The order should treat as an agreement binding both parties the buyer and seller. For that contract they are L/C. It is for the seller to use to obtain payment for the merchandise shipped. The L/C means it is issued by the bank for the buyer and received and accepted by the seller. It cannot be cancelled or withdrawn by the buyer or the opening bank unless with the consent of the buyer.
Workers Health, Safety, working environment and other benefits:
Salary payment date            :           Within 7th of every month
Overtime payment               :           Along with monthly
                                                            Salary as per workers attendance
Washroom                             :           Separate washroom and toilet for male and female.
Medical Benefit                    :           An M.B.B.S. Doctor is appointed for the treatment of workers. In case of work related accident the company bears the cost of treatment and surgery.
Emergency Exit                    :           Emergency exit sign board marked for easy evacuation.
Other Benefit                        :           Separate lunch Area
                                                            Festival Bonus
                                                            Annual Picnic
Working Environment         :           Congenial and attractive working conditions prevail in the factory.
Product development:
Develop sample for buyer upon receipt of spec / sketch and other details.
Organize fabric and accessories from local and foreign sources.
Negotiate price and delivery.
Strictly control the quality, right from beginning of production to export and follow fit comments of the buyer.
Day-to-day in-line inspection by the standby quality controllers.
Undertake Initial, mid term and final inspections by our highly skilled technicians.
Keep day-to-day Email / Fax / Phone/chat communication with buyer.
We believe in commitment and positive attitude, which is the route of success in every sphere of trade and life.
Research & Development:
Research and development or RESEARCH AND DEVELOPMENT is related with product development.
Concerned Merchandiser forwards the Fabrication Info to the Product Library and will get the exact match.
 If there is required match, Documentation and Planning is done, March is developed and PD Plan is made by the PD center.
 If there is no exact match, Technical evaluation (Pricing), Documentation and Planning is carried out. RESEARCH AND DEVELOPMENT starts working here. After that PD Plan is made by the PD center.
 Responsibilities of the research development &Manager:
She decides the fabric styling, finishing Routes. He submits the fabric in the Lab.
He compiles the results.
He sends the results to the buyer.
If OK for the results, Data is inserted into the computer for making the file. If result is not OK, we refinish the fabric.
RESEARCH AND DEVELOPMENT sends the developed samples to the P.I. Lab, for the quick wash and sees the results after the 3 washes and required GSM is produced. After the quick wash, 20-30 g (weight) of the fabric is reduced just because of chemicals and detergents. Maximum sample weight is 10 Kg but is according to the merchandiser's requirement. Yarn Count, Single Knit/Double Knit, Width and GSM is calculated and observed in RESEARCH AND DEVELOPMENT
 SWOT Analysis
 Full meaning of SWOT is Strength, Weakness, Opportunity and Threats. Strengths and weaknesses are influenced by organizations internal environment and opportunities and threats are influenced by organizations external environment. SWOT analysis provides an opinion and judgment whether an organization's business condition is healthy or unhealthy.
  Strength determines how well the company would be able to perform in the light of prevailing resources and competitive condition weaknesses determines lacking or different competitive capabilities in the key functional areas of the company. Opportunity of the company determines company's important avenues for profitable growth potential utility to sustain in the competitive advantage. Threats determine barriers to companies' profitability and competitive well being.
Strengths:
The management is solely directed to maintain a culture for the betterment of the quality of the service.
Employees are sharing good atmosphere in cannon garments Limited. That is why it will give them the inspiration to work efficiently.
The top level management is very strong. They can take decision on time and manage all things in systematic way.
The labor forces of the company are cheap and readily available.
Weaknesses
Cannon garments Limited do not have adequate transport facilities.
Employee turnover exists because of the dissatisfaction of job in buying house sectors.
Difficult to handle with always upgraded new technology.
Opportunities
Cannon garments Limited have planned diversification in product line in order to meet the customer demand for any kind of products. This expansion plan in diversified product would be definitely a positive step to grip competitive advantage and also to raise volume of exports.
Cannon garments Limited have emphasized on market segmentation in orders on regular basis. In this way, the company can gain potential market opportunities.
Cannon garments Limited has planned to modernize logistic computer support. The best service could be entertained to the foreign buyers.
Threats
Key competitors of cannon Garments Limited are offering competitive price than cannon Garments Limited which caused major threats to affect company business policy.
Foreign low cost competitors who are investing in the country in this sector are also threats for cannon Garments Limited.
 Cannon Garments Limited is also affected by the govt. regulations of export and import policy.
Conclusions
        It was a great pleasure for me to work in merchandising sector of cannon garments Limited, which provides me a wide range of scope to observe different function of buying house industry through the cordial assistance of the employees and seniors. All the employees of cannon garments Limited tried to give optimum service.
           Now a day the buying house industries are facing a lot of challenges because of changing demand of world. Besides this many competitors are also a main factor that makes this sector challenging. So cannon garments Limited should take proper step to survive properly in this sector by removing their weaknesses. They should give authority to take independent decision at high level officer. If that, the company can be benefited because of taking decision the work some time delay. They should justify competitive key factors in the management practices like cost, product quality, image & reputation, distribution & control of resources, capabilities etc.
             From the learning point of view I can say that I really enjoyed my internship at cannon garments Limited from the very first day. I am confident that these three months internship program at this buying house will definitely help me to realize my future carrier in the job.