Fiordland National Park is a beloved natural symbol of New Zealand, and it is globally recognized as part of the wider UNESCO World Heritage Site, Te Wāhipounamu (Place of the Greenstone). With an area of 12,607 square kilometers, it is by far the biggest of New Zealand's 13 national parks (4,868 sq mi). Glaciers, mountain ranges, and distinct flora and fauna have existed since New Zealand was a member of the supercontinent Gondwanaland.
It began as a reserve in 1904 and became a national park in 1952. This isolated region of New Zealand's South Island is home to the country's best national park, with mountains, large expanses of pristine rainforest, and towering coastline fiords carved out by melting glaciers. Te Wahipounamu (South West New Zealand), which includes Fiordland, Mount Aspiring, Mount Cook, and Westland national parks, was designated as a UNESCO World Heritage site in 1990.
In practical terms, the Fiordland "public reserve" was established as a park maintained by the Department of Lands and Survey, comparable to a National Park. Fields of brilliant purple Russell Lupins bloom over New Zealand's South Island every year, beginning in late November and peaking in early December. The National Parks Act of 1952, which brought Fiordland National Park into the fold, legally designating it New Zealand's third National Park, resulted from the consolidation of management of these parks.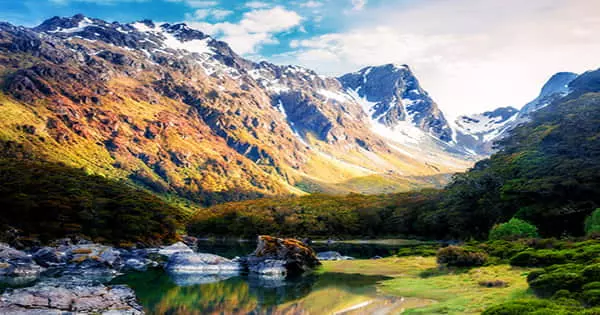 With numerous rare and endangered indigenous species calling the region home, it is an ecological paradise of the greatest kind, and it lies at the vanguard of New Zealand's famous conservation efforts. Because of its difficult and harsh terrain, human activity in Fiordland has been restricted. The park's fjords (fiords), mountains, forests, waterfalls, and lakes, notably Lake Hauroko, New Zealand's deepest lake, are known for their rough majesty.
The sole primary route into the park, State Highway 94 (SH 94), reached the Homer Tunnel region in 1935, but Milford Sound was not accessible by vehicle until the tunnel was completed in 1953, making it the only fiord in the national park having road access to date. The park is surrounded on the east by the Humboldt, Livingstone, and Takitimu ranges, and on the other sides by the Tasman Sea. Hydroelectric power is generated by the lakes Te Anau and Manapouri.
Mori first came to Fiordland to hunt, fish, and harvest takiwai (a unique form of New Zealand jade or pounamu). When it was planned in the 1960s to increase the level of Lake Manapouri to aid hydro-electricity generation at West Arm, Fiordland became the site of one of New Zealand's most major conservation disputes. There are limestone caverns, and Sutherland Falls, one of the world's tallest waterfalls, flows 1,904 feet (580 meters) across three cascades. A dense layer of temperate rainforest covers the lower slopes of the mountains.
Later, European sealers and whalers found refuge in the fiords and constructed a few tiny villages, which were the first European settlements in New Zealand. However, the sheer steepness of the mountain, tremendous remoteness, and New Zealand's wettest climate discouraged anyone but the most hardy from living in the area. All of the islands near the park's shore, as well as the distant Solander Islands, are included in the park's protected area. Despite the fact that the park's seaward limit is at the mean high water mark, eleven adjacent marine reserves preserve significant amounts of water in numerous fiords.
The park is home to red, silver, and mountain beech trees, as well as coniferous rimu, miro, kahikatea, and totara trees, as well as kamahi (Weinmannia racemosa) and other broad-leaved species. The rare flightless takahe and kakapo (a parrot species), both previously thought to be extinct, are among the birds found there, as are bush robins, tits, fantails, parakeets, warblers, tuis, and many other species.
The Darran Mountains, near the park's northern edge, have numerous summits that rise to over 2,500 meters (8,200 feet), with views of Mount Aspiring / Tititea in Mount Aspiring National Park to the north. The Franklin Mountains, Stuart Mountains, and Murchison Mountains, which are further south, reach about 2,000 meters (6,600 feet), with the peaks decreasing in height from north to south.
Fiordland National Park is famous across the globe for its stunning array of fiords, which are named for sounds, ironically. A fiord is a geological word for an ice-carved terrain inundated by water (typically the sea), whereas a sound is a geographical phrase for a wide ocean entrance. A diverse understory of shrubs and ferns, frequently dominated by crown fern, forms a rich understory of flora, with mosses and liverworts covering the forest floor.
Many endangered natural species, including dolphins and bats, as well as reptiles, insects, and birds call the park home. The opossum and stoat, which were brought into the park, have become a threat to other animals. Hunting is encouraged to manage invasive animals such as red deer and wapiti. The fjords and coastal areas are home to dolphins, seals, and penguins. Despite accounting for 15% of New Zealand's conservation estate, the National Park receives less than 1% of the Department of Conservation's pest-control budget.