San Cristóbal Island (Spanish: Isla San Cristóbal), commonly known as Chatham Island, is located in the eastern Pacific Ocean and is one of the Galapagos Islands. It is one among the Galapagos Islands oldest, dating back 2.4-4 million years. It is the easternmost island in the Galápagos archipelago, as well as one of the oldest geologically. It was originally known as Chatham Island by the English. It is also the capital of the Galapagos Islands, and it is officially part of Ecuador's San Cristóbal Canton.
It is the easternmost of all the islands, located 600 miles off the coast of Ecuador. San Cristóbal is the Spanish (and official Ecuadorian) name for the patron saint of mariners, St. Christopher. The old English name of Chatham Island, named from William Pitt, 1st Earl of Chatham, is gradually being replaced by that name. The island has its own airport, San Cristobal Airport, from which aircraft to and from mainland Ecuador arrive and leave. San Cristóbal is the archipelago's most populated and fertile island, with 195 square miles (505 square kilometers).
Given its proximity to South America, it's no surprise that it was the first island that naturalist/biologist Charles Darwin visited. San Cristóbal is the Galapagos' fifth biggest and easternmost island. It is made up of three or four extinct volcanoes that have fused together. It is the island with the oldest permanent habitation in the archipelago, and it is where Darwin first stepped foot on the island in 1835.
The availability of fresh water on this island, which is restricted elsewhere, was the cause for it being inhabited first. The freshwater comes from El Junco, a tiny lake on the island. San Cristóbal, a volcanic island with the highest point of 2,940 feet (896 meters), is the Galapagos' sole island with a reliable water supply (from rainwater that gathers in broken craters). On San Cristobal Island, a correctional colony was created, which was used to house inmates from the mainland.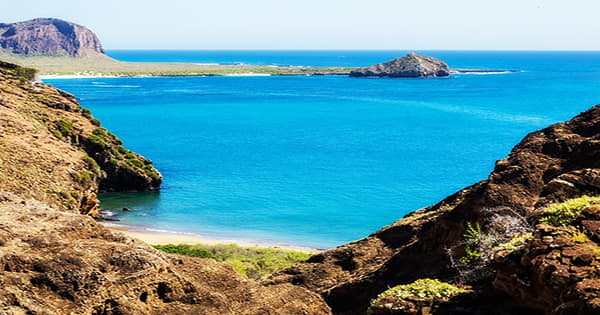 Despite this, the island became a military station for Ecuador. Sugar cane fields and a sugar mill had been constructed on the island by the late nineteenth century. The USS Albatross, a Navy-manned research vessel belonging to the United States Fish Commission, arrived on Charles Island in April 1888 and landed at an abandoned colony. On Naufragio (Wreck) Bay lie the towns of San Cristóbal (the Galapagos' formal capital) and Puerto Baquerizo Moreno.
San Cristóbal is 558 km2 (215 sq mi) in size, with a maximum point of 730 meters (2,400 ft). The capital of the Galapagos province is Puerto Baquerizo Moreno on San Cristóbal. Many government buildings, an Ecuadorian Navy base, and an airport with daily flights to the mainland are all located there. The population is estimated to be around 6000 people. San Cristóbal is the archipelago's most fertile island and, after Santa Cruz, the second-most populous.
The Galapagos Academic Institute for the Arts and Sciences (GAIAS) of the Universidad San Francisco de Quito is located in the port town. Paying a visit to La Galapaguera is, in reality, one of the most intriguing highlights of San Cristobal Island activities. There is a breeding effort to learn more about giant tortoises at this refuge for giant tortoise species. In 1835, Charles Darwin, an English scientist, arrived in San Cristóbal and began collecting material for his book On the Origin of Species (1859).
Visitors come from far and wide to see the flora and wildlife of old San Cristobal's famed beaches and lagoons. It's also one of the greatest scuba diving locations in the Galapagos. Frigatebirds, Galápagos sea lions, Galápagos tortoises, blue and red footed boobies, tropicbirds, marine iguanas, dolphins, and swallow-tailed gulls may all be found on this island. BirdLife International has designated it as an Important Bird Area (IBA). Calandrinia galapagosa, Lecocarpus darwinii, and trees like Lignum vitae and Matazarna make up the vegetation. Sharks, rays, and lobsters can be found in the adjacent seas.
The Galapagos Islands enjoy a mild and consistent climate year-round, with an average temperature of 75-80 degrees Fahrenheit. San Cristobal, Galapagos, has good weather throughout the year, and even at its highest point, it does not become too chilly. Laguna El Junco, the archipelago's largest freshwater lake, is located in a crater in the highlands of San Cristóbal, in the island's southern half. There is a warmer wet season from January to June and a colder dry season from July to December, which is the primary difference in weather throughout the year.
Guayaba and blackberry are two of the more aggressively imported plants in San Cristóbal. There is plenty of intriguing fauna to see on this island. Some of the bigger animals, such as Galapagos sea lions and Galapagos tortoises, may be found on San Cristobal Island. Dolphins are occasionally spotted in the seas near the island. San Cristóbal is also home to the Galapagos Islands' largest fishing fleet, which is made up of two different fishing cooperatives.
Frigate birds, red-footed boobies, blue-footed boobies, tropicbirds, and swallow-tailed gulls are among the island's birdlife. Fisheries and conservation have clashed in Galapagos' recent past; today's task is to collaborate with fishermen to develop management techniques for the Marine Reserve that will protect Galapagos biodiversity while also providing a sustainable resource for a segment of the population. The bulk of San Cristóbal's population live in the port city of Puerto Baquerizo Moreno, Ecuador's Galápagos Province's capital.
San Cristobal Island is a year-round attraction, so you may come at any time of the year. The best time to visit San Cristobal and the Galapagos is from January to July. Snorkeling is a popular San Cristobal pastime, and it may be done at a number of different visiting locations. This provides a fantastic opportunity to view the island's unique aquatic life. The frigate birds, along with other land birds, sea lions, turtles, and tortoises around the archipelago, begin their mating season in March on San Cristobal.